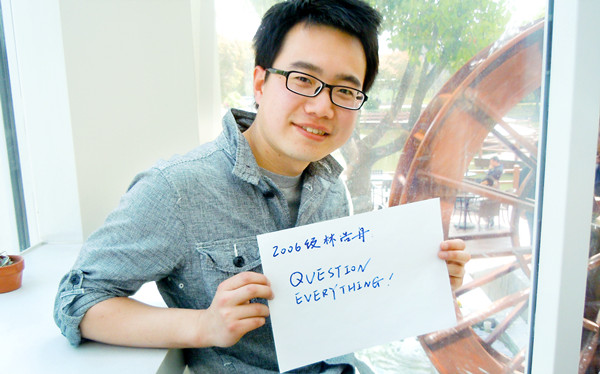 We interviewed Lin Haozhou, a charismatic young man with a sunny disposition, by the lotus pond at Shanghai Jiao Tong University (SJTU) on a beautiful spring day in 2015.
During the interview, we were deeply impressed not only by his humor and warmth but also by his profound insights into the society and life, which reflect his unique experiences.
Born in 1988, Haozhou caught the first train to the University of Michigan- SJTU Joint Institute (UM-SJTU JI) as JI was established in 2006, tooting the 2+2 program, upon his graduating from high school. Following his heart, Haozhou chose JI without hesitation and thereby started his life journey.
Pioneer: giving and changing

"As one of the first students enrolled in JI, have you ever thought about being a trendsetter?" We began the interview with this question.
Using Jack Ma, a successful businessman, as an analogy, Haozhou said: "The idea of leading others never occurred to me since we were 18-year olds experiencing the confusing teenage years without knowing the next move. Planning for the future was of higher priority at that time."
As a pioneer in JI, Haozhou had founded the JI debate team and the volunteer teaching group. He founded the former due to his passion for thinking and arguing about controversial issues. The debate team has been going strong and won the championship at the SJTU freshman debate competition in 2014. To make full use of the long winter vacation, he also initiated the volunteer teaching group by contacting some primary schools and high schools in rural Yunnan by himself. The volunteer teaching group continues to expand and has been cooperating with several schools. It has won the honor of "Heroes of SJTU." Haozhou's altruistic actions have left a legacy at JI.
Haozhou had been enthusiastic about volunteer teaching and the experience impacted him deeply. He remembered when he was going to play cartoons for the children in Daxi Primary School. They ran to him so excitedly like flying down the stairs. "Those kids were neither naughty nor tricky as they have been stereotyped. Rather, they were quite shy," he said. "They masked their tender hearts beneath their tough appearances." When talking about dreams, he found that most kids simply dreamed of studying in the Tani town at the foot of the mountain. The town seems so far and so large for them that they have never thought about any world beyond. Other kids dreamed of buying their parents new clothes and many more said they hoped to "serve their hometown and motherland." Haozhou felt that the kids might not understand what they really desire and their lofty words were taught by their teachers and textbooks. In fact, most kids found studying unnecessary as many went back home for farm work without even finishing primary school. "They did not see the possibility that studying hard might change their lives," said Haozhou, feeling sad for the children being "stuck" in an environment that does not value education.
When Haozhou was a volunteer teaching in a high school, he realized that many students felt inferior, perplexed and guilty for their families because they could not help ease the tough economic conditions. That made Haozhou reflect on the education system in China.
"There are many possibilities in life, and there are many different ways of living in the world. We tend to think that our way of living is the only way simply because we share the similar background with the people around us. However, this is not true in most cases. We are often blinded to the wide possibilities in the world." When it comes to those high school students, Haozhou admitted: "I could not teach them much; instead, they had taught me a lot, far more than what I taught them."
Therefore, after returning from the volunteer teaching, Haozhou always told people: "The meaning of volunteer teaching is not teaching knowledge in the textbooks, but showing them the outside world and numerous life possibilities. Of course, we cannot force our way of living on them; however, our actions might open more choices for them."
"You never know about the choices in life. You may seem to be doing something meaningless," said Haozhou. "However, as long as we offer something and make a change in people's life, we are creating some meanings. Volunteer teaching is like planting. Only if we keep watering the plants can they have a chance to thrive."
On creating the legacies of the JI debate team and the Yunnan volunteer teaching group, Haozhou was humble. "The achievements are not attributed to me, but to all who have followed my steps and kept both groups flourishing."
Change: following one's heart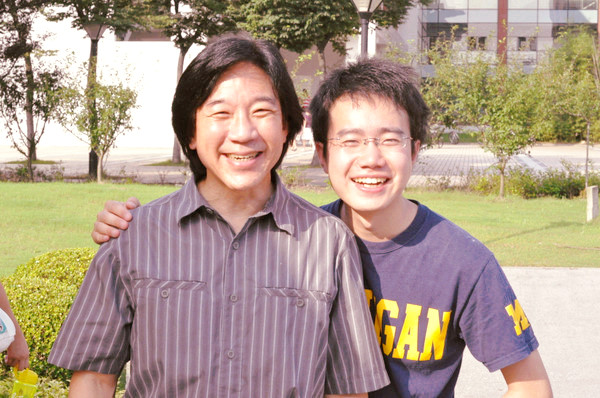 There are more examples of how Haozhou bravely made his own choice and took responsibility for his life.
Haozhou first majored in Mechanical Engineering (ME) at JI, but he found out that he was not good at designing or spatial imagination, and lacked the ability of building stuff. Therefore, he transferred to Computer Science (CS) at the University of Michigan (UM). After studying CS for two years, he realized that neither science nor engineering suits him. Rather, he decided to go into the humanities and social sciences, so he was admitted to studying the Law Doctor Degree at St. Louis Washington University. Immersed in the intricacies of law, Haozhou finally discovered the thing that really suits him. However, instead of studying in America in which he had little interest, he was more concerned about the people and current affairs of his motherland. Therefore, he returned to China resolutely and began studying law at SJTU.
Many people cannot understand his brave and seemingly reckless choices, but Haozhou was determined. "Talent" and "interest" were the two key reasons for his choices.
When it comes to interest, Haozhou said he was very interested in architecture, but he admitted that he was not good at special manipulation. "I like architecture but it does not suit me because I've got no talent," he admitted. As for talent, he is always highly regarded for his personal skills, but he did not choose to study finance or business, as suggested by many of his classmates, because "I am not interested in interacting with people."
According to Haozhou, interest and talent are two factors that must be taken into consideration when making choices. It is a continuous process of "trying, failing, and reflecting," during which we may gradually discover the cross points of interest and talent and finally find the things that really suit us. Haozhou's shifting to law is an example.
When asked why he studied law, Haozhou simply answered "because I like it." He was interested in law and the Chinese society ever since he was in middle school. "There is something deep in our heart that never changes," said he, and it was the tenacity that guided him to the study of law. One should have the courage to follow one's intuition and heart. That is also why "people always become the ones who they want to be."
Haozhou used the word "passion" frequently. He also distinguished "like" from "enjoy" and especially from "the sense of achievement." "When you feel a sense of excitement for one particular thing, you must know it," said he. "Passion is what drives you out of your bed every morning." Following your heart is choosing your real passions. Even if the choice may bring about great pressure or difficulties, there will always be a strong faith supporting you, Haozhou said.
Regarding choices, he remarked: "When we are exploring our interests, we are bound to discover our uniqueness. We should not be afraid of being unique. The individuality lies not in our clothes or hair style, but in the courage to choose a lifestyle different from others."
Since following the trend is common in today's society, people tend to feel lonely when making different choices from the majority. Some will be doubted by others and even begin to consider themselves as losers. Being different means pressure and burden in many occasions, so many are afraid of making different choices. However, with his experience, Haozhou tells us: "You are just different from others, which is nothing wrong at all."
Abroad: exposure to more possibilities 

When we asked Lin Haozhou what his plan had been for the future when entering the university, he replied mockingly: "I did not have any clear long-term plan for the future at that time, while going abroad was the only clear plan for me." However, after studying abroad, Haozhou realized that "going abroad is not the end, but a means."
Haozhou pointed out that very often we hope to do something simply because of the expectations from the society or our parents, or because "the majority considers something as good and defines it as a dream." Life under this definition can be a good life, but it is by no means the only kind. Never shall we spend our limited time living in an unexamined way, which, seriously speaking, is a waste of life. Haozhou quoted Socrates: "The unexamined life is not worth living." He believes that a truly good life should be based on one's own faith and designed after one's own consideration, instead of simply a copy of others'. "Once I find out that my choices all meet my values after serious consideration, I will choose to do so." This illustrates the way of understanding life by understanding oneself. Life is not judged by any outer criteria but by one's own heart and reason. Understanding the real pursuit of life leads to a new attitude towards life.
During his time in the U.S., Haozhou always had a copy of Diary of Studying Abroad written by Hu Shi by his bedside. He said he was greatly inspired by Hu's experiences and reflections. "After going abroad, one can reevaluate one's perception of life and redefine the meaning of success under the clash of different cultures and values. One may be able to see more possibilities of life."
In order to see these possibilities, Haozhou kept choosing by trial and error. "That's life." Making choices exposes him to all kinds of challenges, but it also helps him understand himself better. He keeps questioning his behaviors and thoughts until he finds the sparks deep in his heart. Then he can live a meaningful life without regret.
Many joked that Haozhou returned to his former life after coming back to China, but he disagreed. "I did not return to who I was, but I found a better self."
Summarizing all his experiences, we asked him whether he ever regretted his choices.
He said he sometimes regrets for not being brave enough. "We are sometimes restricted by our families or even the society, but more often than not, we are held back by ourselves. Sometimes we want to give in, but we live only once, so we had better look forward with courage rather than looking back."
When asked about his plan for the next ten years, Haozhou smiled and gave us a clear answer. Many of his friends started up new business in the Silicon Valley after graduation. Instead of joining the bandwagon, he believes that he was starting up a new venture for his own life. "I will stick to the things I love. I am enthusiastic about academic research. My passion is the exchange and clash of thoughts. I hope to discover my direction in academic research and make some progress with some social influence. Maybe ten years is not enough; I may need longer time. As long as one lives in this world, one should be concerned about the society and try to influence people in some way." Every JIer should do so. "JI students will be future leaders and thus should shoulder such responsibilities."
The life is wonderful so never give up exploring the rich possibilities the life offers. No one can learn all the skills in a lifetime, but it is worthwhile to keep learning and expanding oneself.
Choice: making life more meaningful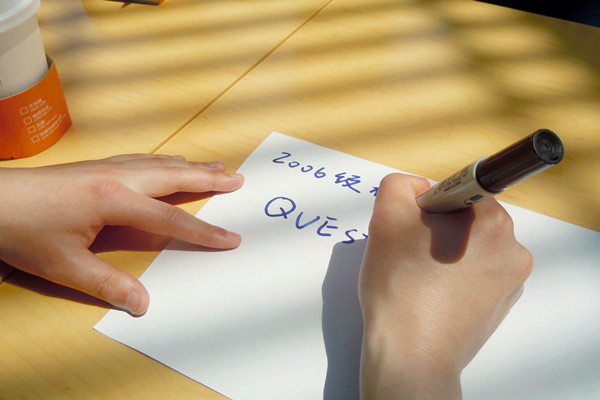 Lin Haozhou characterizes JI with three words: "Productivity, Creativity and Responsibility." He thinks these are what every JIer could and should learn at JI.
"The four years in university are extremely precious, beautiful and creative. They may be the best time of one's life or the starting point of a better life. It depends on your choices."
"No one can stay 18 or 19 years old forever. Rather than regretting the elapse of the precious four years, we had better seize the time to create something miraculous and wonderful."
At last, when asked what he would say to encourage fellow students, Haozhou wrote down "Question everything," quoting the sendoff wish to JI's first graduates from Dr. Horst Hohberger, the popular JI math lecturer who had a great influence on him. It is evident that Haozhou has indeed lived up to "Question every choice."
In the spring breeze, Lin Haozhou concluded: "There are only two ways to find out what we really want. One is to keep thinking; the other is to keep trying."
For more interviews and articles,
scan the QR code and follow us on WeChat
【密缘十年】