Face recognition engine, multi-functional drink cooling machine, vivid and rich video interaction system were just a few samples of the 76 dazzling innovative projects exhibited at the University of Michigan- Shanghai Jiao Tong University Joint Institute's (UM-SJTU UM) 2015 summer Design Expo held at SJTU Library on August 5, 2015. The semi-annual expo showcased students' hands-on projects from JI's rich variety of innovative courses including "Introduction to Engineering," "Design and Manufacturing," " Business Basics for Entrepreneurs," "Mechanical Engineering Lab," and "Major Design Experience."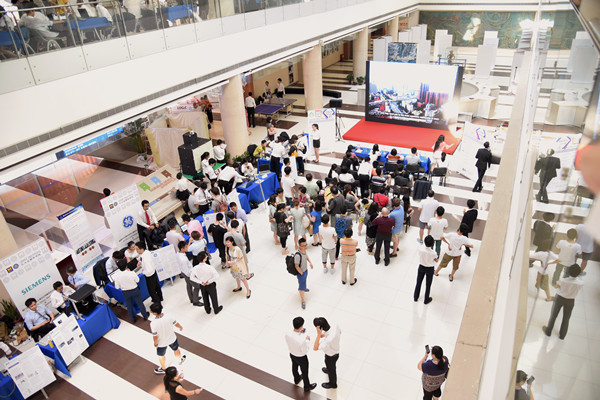 The Expo in the SJTU Library
Freshmen's Smart Ideas to Improve Daily Living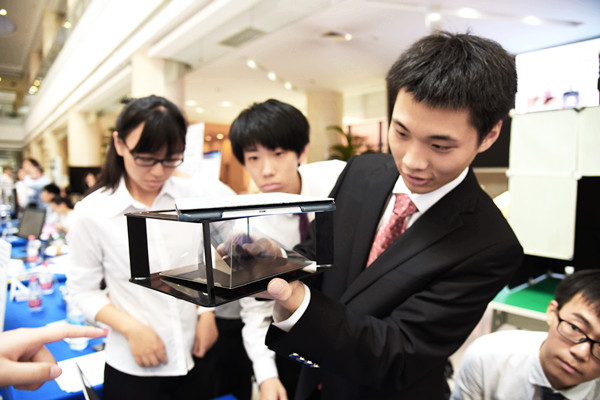 How do you like an icy cold drink when the outdoor temperature is 38 degrees Celsius? Are you worried about passwords being hacked? Would you like to experience 3D holographic projections at home? Small problems we often encounter in everyday life become boundless imagination at JI's freshmen course "Introduction to Engineering."
As JI's brand course, "Introduction to Engineering" not only stimulates first-year students' interest in engineering, but also helps develop their capabilities to solve practical problems. For example, cleaning windows is dangerous for high-rise dwellers and hiring professional cleaners is very expensive. To solve this problem, a team propose a "window cleaning robot," using a magnet, instead of vacuum suction, to produce a smart compact window cleaning machine that keeps cleaning the glass in "Z" lines, automatically adjusting the direction when touching a window pane.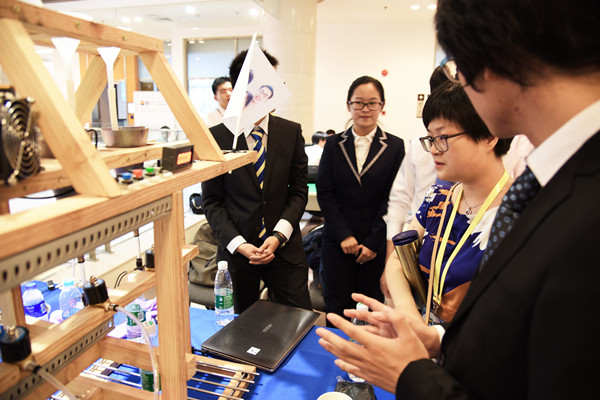 On a hot day, a refreshing cold drink is a great luxury. Most of the drinking fountains in China take 15-20 minutes to spout out icy cold water after being turned on. A team's "energy-saving power-generating cold/warm water machine" aims to shorten the time to within 30 seconds. Team members discovered that a semiconductor cooling chip can produce cold water within half a minute and electric heating rods can produce hot water in one minute. Placing the boiled hot water in a modified device can generate power due to the temperature difference, thereby saving energy.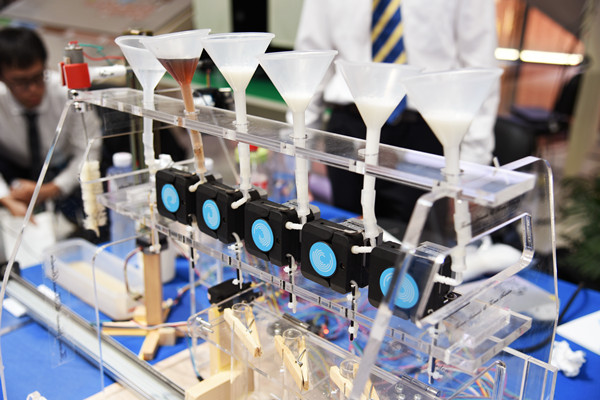 During chemistry experiments, many students encounter problems of inaccurate liquid measurement. Cleaning test tubes and measuring repeatedly could result in breaking of tubes/flasks and injuries at times. To solve these problems, the students in the "Introduction to Engineering" course invented an automated experiment system based on Arduino microcontroller, which, once the users input experiment data, will complete the procedures automatically, with precise control of the liquid volume, thereby avoiding re- measurements and risks of breaking the tubes.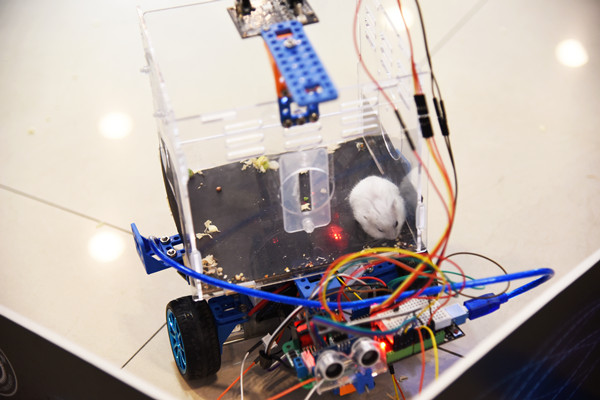 "Who Said a Hamster Cannot Drive a Robotic Vehicle?"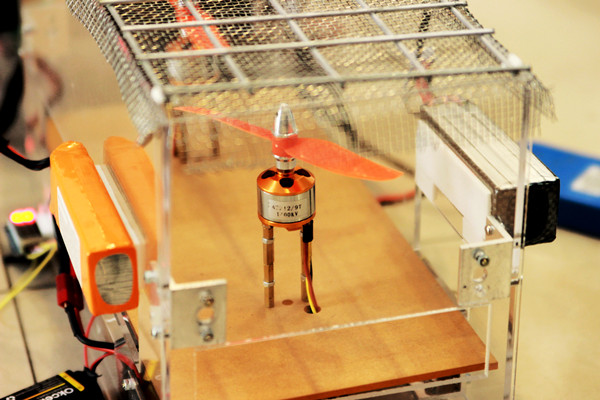 Automatic Shoe Cleaner
Professor Shane Johnson, one of the instructors of "Introduction to Engineering," remarked that the course allows students to participate in interesting projects that stimulates their creative thinking. Students are encouraged to identify problems in everyday life, use basic engineering knowledge and find ways to solve problems. In addition, the course teaches English writing skills for writing scientific papers.
Entrepreneurship Roadshow Reflects Industrial Development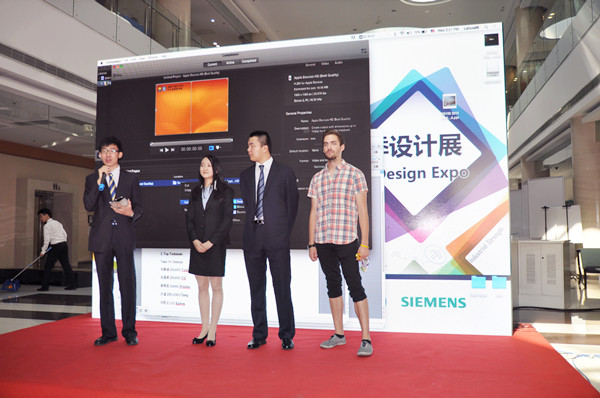 While browsing the rich variety of creative inventions, visitors were also attracted by the Entrepreneurship Roadshow staged in the central hall. Teams from JI's "Entrepreneurship" course took turns introducing their pioneering design in business projects.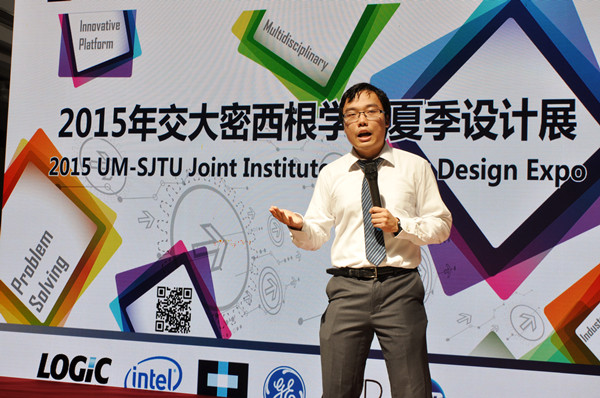 Team "ACE-wash" presented their laundry revolution through a video clip, which showed an office worker who needs to change shirts every day but has difficulty removing the "rings" around the neck and cuff without expensive professional cleaning. Team "ACE-wash" proposed an innovative laundry machine dedicated to shirt cleaning. It will complete the whole laundry process automatically, including intensive washing on tough spots and wrinkle-free drying, saving water and energy.



Facing the robust social media, Team "InstAim" keenly grasped the opportunity and designed a micro-channel-based application to find academic counselors for students. This application can automatically match the nearest lower-priced and high-quality school counselors with students in need by subject. In order to ensure the quality of counselors, the team has also established an academic counselor evaluation system so the highest rated instructor gets the first priority.
From a corner of the stage came the "click, click" sounds of a camera shutter. It was Team "Opps" showcasing their business model: providing personal photography services for people, especially young women, who want personal albums. Consumers and photographers can register for free on the program. Profit comes mainly from the registration fees and commissions of the photographers. The program recruits photographers and programmers from the campus and has begun test run across universities.
Professor Vincent Chang, the main organizer of Design Expo, remarked that many engineering students have a lot of good business ideas, but compared with business students, they lack marketing and sales experience. JI's "Entrepreneurship" course combines lectures and real case analysis to develop the skills and vision the students need for innovation and entrepreneurship. The business cases were cited from world-class business schools such as Harvard Business School, London Business School, INSEAD and University of Hong Kong. Through case studies, the "Entrepreneurship" course trains the students' critical thinking and risk awareness. It teaches students important knowledge of business models, venture capital and other business essentials, so that students understand what entrepreneurship is, how innovation and entrepreneurship work and how start-ups create values. Students need to complete a business design project as a team in one semester and make a presentation at the Design Expo. In order to let students experience real business competitions, an entrepreneurship roadshow and voting session were added to this Design Expo for the first time.
Projects "tailored" for the enterprise to boost professional training
In addition to freshmen's creativity show and upper-class students' business roadshow, a number of capstone projects sponsored by multinational companies are also a major feature of the Design Expo. Among the 31 capstone projects, 26 were sponsored by 7 international industry giants such as General Electric, Siemens, HP, Intel, Covidien, Logic Solutions and AVD. Their topics were derived from key projects of those enterprises.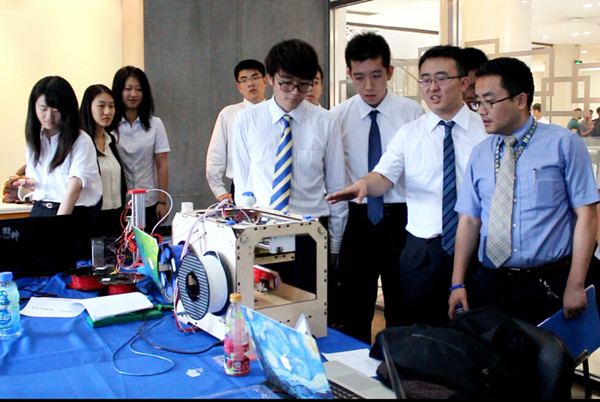 "Bioprinter for Heterogeneous Biomedical Scaffold Fabrication" sponsored by Covidien
As the testing ground for SJTU's capstone design reform, the Joint Institute introduced a new approach that merges the mechanical engineering and electric and computer engineering into a required course focusing on topics with industrial relevance. Students are guided by JI teachers as well as corporate engineers. Every student has to submit both a team paper and an individual paper in English. There is a final oral defense for the team projects.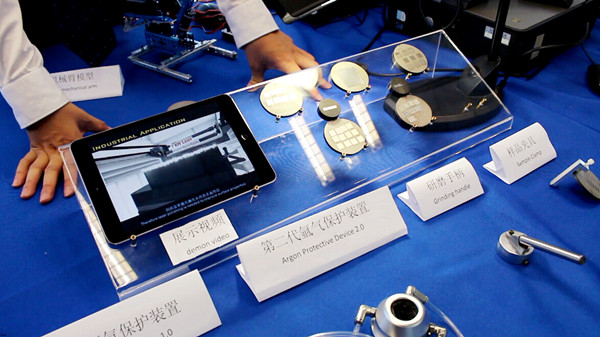 "Laser Polishing of Metallic Surface for Industrial Application" sponsored by the General Electric
JI Students get hands-on experience from solving practical engineering problems under the supervision of both JI faculty and company engineers. This collaborative model helps students apply multidisciplinary engineering knowledge to actual projects and provides opportunities for students to work on projects in a corporate environment. It strengthens students' real life practice experience and improves their ability to solve practical problems. Sponsor companies include Covidien, General Electric, Intel, National Instruments, Siemens, HP and other well-known international companies.
Since 2010 when JI started the first corporate-sponsored capstone design projects, more and more multinational companies joined the bandwagon and began sponsoring projects that are related to their marketing trend. Within 3 months, students learn to solve design problems by hands-on practice. In addition, students learn about professionalism, ethics, entrepreneurship, environmental sustainability, etc. Corporate-sponsored capstone projects provide students with opportunities to exchanges with corporate engineers and improve their capabilities to solve practical engineering problems.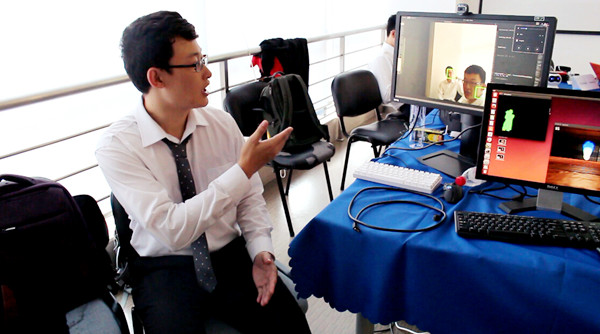 "Deep Eye – A Face Tracking Engine Based on Deep Learning" sponsored by Intel
Through corporate-sponsored projects, students also learn team work, communication skills, and project management, which enhance their career opportunities. Taking the example of the Face Recognition project sponsored by Intel, it lasted for 3 semesters and was participated by 15 students. After graduation, 5 students were hired by domestic research institutes and 3 were hired by IBM, Jefferies, and Synopsis respectively. The other students were admitted to graduate programs (mostly ECE) at Carnegie Mellon, Columbia, Stanford, U.C. Berkeley, U.C. LA, and the University of Michigan. Five among them have already obtained master's degrees and been hired by Amazon, Deloitte, Epic, Facebook and Google.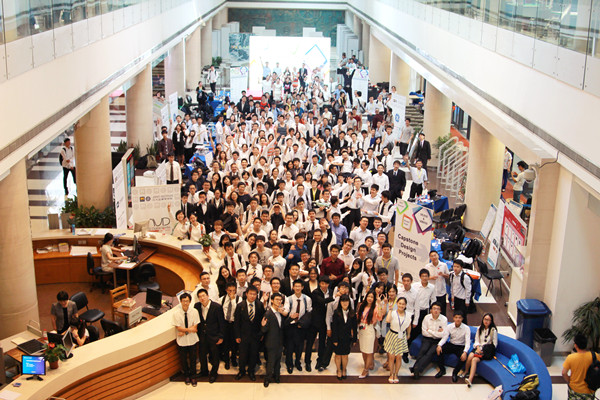 Participants of the Design Expo
Over the past five years, the percentage of JI's corporate-sponsored capstone design projects has increased drastically from 33% in 2011 to 84% in 2015. The outstanding performance of JI students has received accolade from the industry and proved success of the model of corporate collaboration. "JI students are outstanding and have maintained high quality in their projects. This win-win collaboration has played an important role in helping the companies explore new research areas, innovative ideas and direction of technology development."
Winners of 2015 JI Summer Design Expo:
Capstone Design:
Gold prize: Laser Polishing of Metallic Surface for Industrial Application
Silver prize:Lifting Analytics for Wind Turbine
Scanning A3 Media by A4 E-­‐Duplex CIS
Best Video:Time sheet Management through WeChat Enterprise Account
Best  Innovation:Auto-­‐Pilot Control System for Small Unmanned Aerial Vehicle: A Quadrotor
Best Teamwork:Monitoring and Parking Assistant System for Electric Vehicles
Introduction to Engineering:
Best project: Visual Heart Rate and Breathing Baby Monitor System;
Computer Aided Chem Lab Assistant
Best Technology:Wearable blind assistance system
Muscular Dystrophy Smart Arm Aid System
Best demonstration:3D Holographic Display with Synchronized Video Collection
Entrepreneurial Management:
Best Commercial Innovation:TraveLife
Best Innovation:Ace Wash