The 2015 Commencement of the University of Michigan- Shanghai Jiao Tong University Joint Institute (UM-SJTU JI) was held at SJTU on August 7, officiated by Jiang Sixian, Chairperson of SJTU University Council, JI Honorary Dean Jun Ni, Dean Peisen Huang and all associated deans. Special guests included John Wu, Chairman of H&F Fund Management Group and Jie Sun, Ctrip co-president and chief operating officer. The proud and moving moments of the 200 plus graduates of Class 2015 were witnessed by parents, faculty and staff.
Dean Huang congratulated the graduates on their big day. He proposed a standing ovation to all the parents for their selfless sacrifice and loving support. He invoked the memory of the three students who had perished during a tragic accident three years ago and would have been at the commencement. He thanked the graduates for leaving beautiful memories at JI. He was proud of their accomplishments and had high expectation of them as innovative future global leaders. To send off the fledglings, Dean Huang cited a passage from Mark Twin: "Twenty years from now you will be more disappointed by the things that you didn't do than by the ones you did do. So throw off the bowlines. Sail away from the safe harbor. Catch the trade winds in your sails. Explore. Dream. Discover."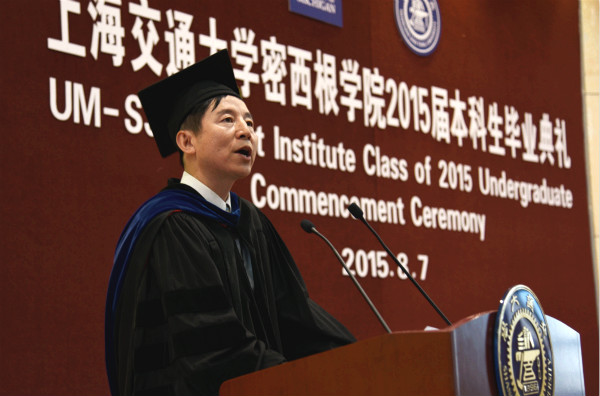 Besides wishing the best to the graduates, JI founder Jun Ni shared his motto of the 9 C's: Curiosity, Confidence, Competence, Courage, Caring, Cooperation, Communication, Consideration and Cross discipline. He hoped the motto would help them face challenges and guide them throughout their lives.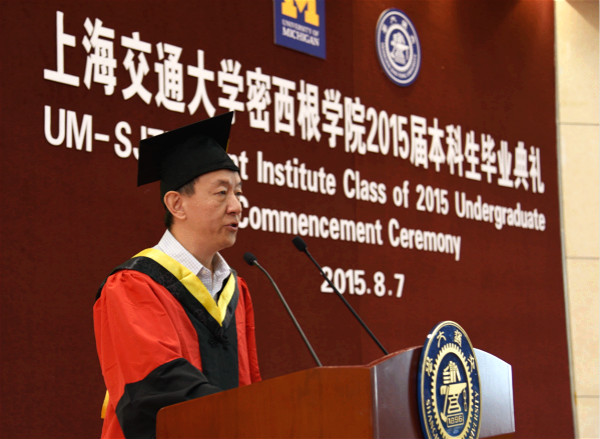 Mr. John Wu, Chairman of H&F Fund Management Group and a member of the JI Advancement Advisory Board, delivered an inspiring commencement speech (link). Mr. Wu had studied at both SJTU and the University of Michigan. He joked that he had been one of the first students of the 2+2 program. He gave the graduates a last lesson by sharing his experience of study and entrepreneurship in the U.S. He remarked that "Life should be an adventure. It is the very uncertainty that makes life interesting." He encouraged students to keep learning throughout their lives and 'try to be lucky' which can be done because "optimism is not only an attitude in life, it is also a skill in life."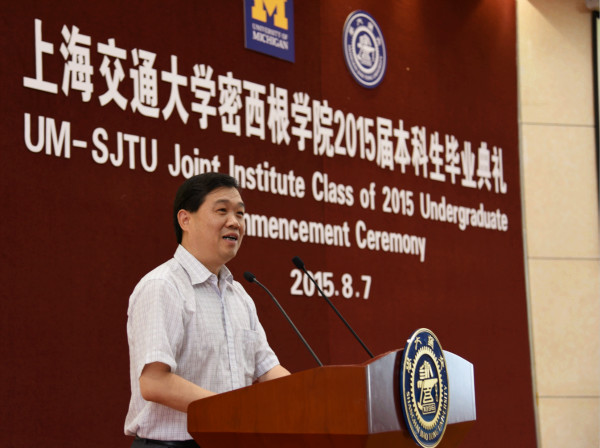 A parent representative thanked JI for teaching their children well and urged the students to face their challenge with courage. He assured them that their parents would always stand behind them and be their safety harbor.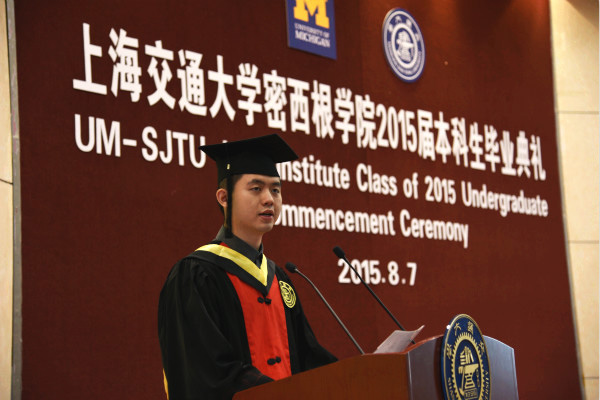 Fangzhou Xia, valedictorian of JI Class of 2015(speech link)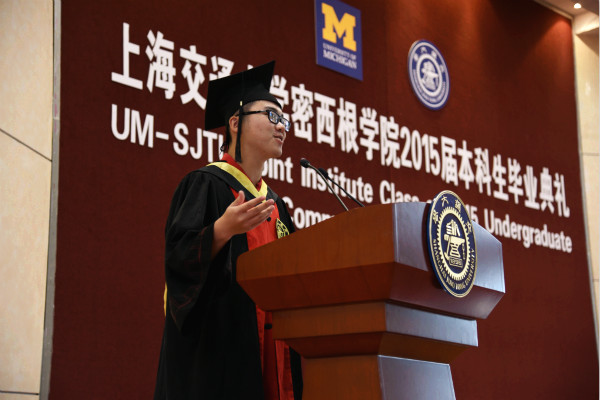 Yiming Yuan, valedictorian of JI Class of 2015(speech link)
Fangzhou Xia and Yiming Yuan, valedictorians of Class of 2015, spoke on behalf of dual-degree and 4-year-at-JI students respectively. They expressed deep gratitude to JI. Xia called on his classmates to live up to the exhortation of their beloved late instructor Jason Daida: "Save the world. If that doesn't pan out, save that part of which you were called to help." Yuan said, "Once, JI lit up our lives; now, it is our turn to unite and light up every corner of the world."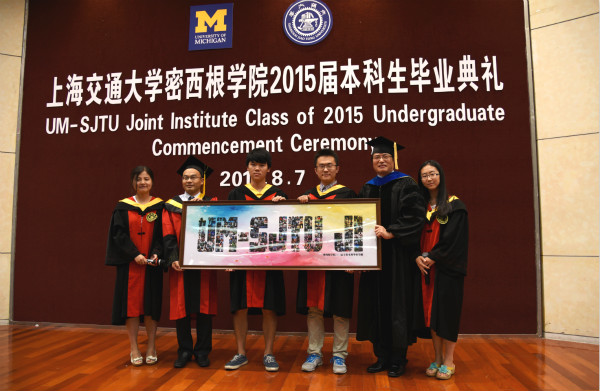 To show their appreciation, the Class of 2015 presented a gift to JI – a poster of class pictures surrounding the eye-catching UM-SJTU JI, which was accepted wholeheartedly by Dean Huang and Associate Dean Xinwan Li.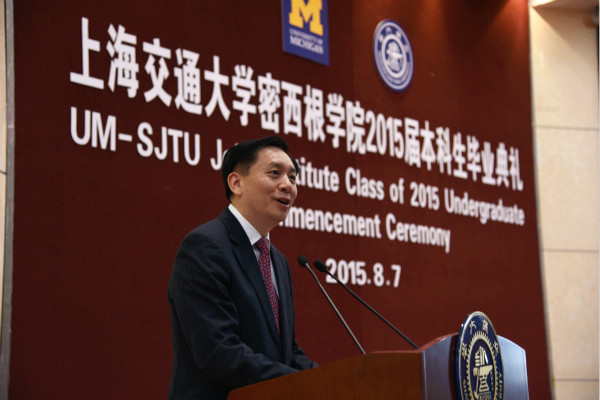 Jian Sixian, Chairman of SJTU University Council, gave the graduates 3 pieces of advice: "Keep healthy, aim high and remember the SJTU motto of 'Gratitude and Responsibility.'" He hoped that one day SJTU would take pride in the graduates' successes.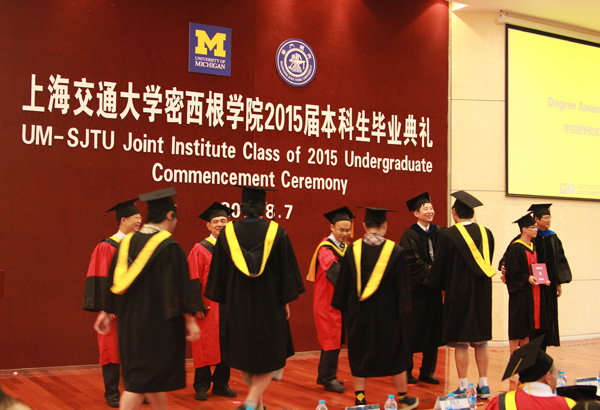 Finally, witnessed by parents with joyful tears and proud faculty and staff, every student received his/her hard earned SJTU diploma and JI learning certificate from the officials and guests, ready to embark on the next stage of their life journeys.