On April 10, 2016, the University of Michigan- Shanghai Jiao Tong University Joint Institute (UM-SJTU JI) reached her tenth anniversary milestone, 2 days after the 120th anniversary of its parent university, Shanghai Jiao Tong University. A series of commemorative events were held on this historic day. The VIP-studded celebration ceremony kicked off at the Chen Ruiqiu Auditorium at 10 in the morning. Distinguished attendees incuded Jiang Sixian, Chairman of SJTU Council, SJTU President Zhang Jie, Ma Dexiu, former Chairperson of SJTU Council, Shengwu Xie, former SJTU President, James Holloway, UM Vice Provost for Global and Engaged Education, Zongqin Lin, SJTU Executive Vice President, Xuemin Xu, SJTU Vice President, John Wu, founder and Chairman of H&F Fund Management Group, and his wife, Jane Sun, Co-president of Ctrip.com, Mr. and Mrs. Yu Liming, President of Zhejiang Liming Engine Parts, Co., Jun Ni, JI Honorary Dean, Peisen Huang, JI Dean. The auditorium was packed by a huge turnout of JI students, faculty, staff and alumni, SJTU officials, guests from the industry and journalists. The ceremony was officiated by JI Party Secretary Xinwan Li.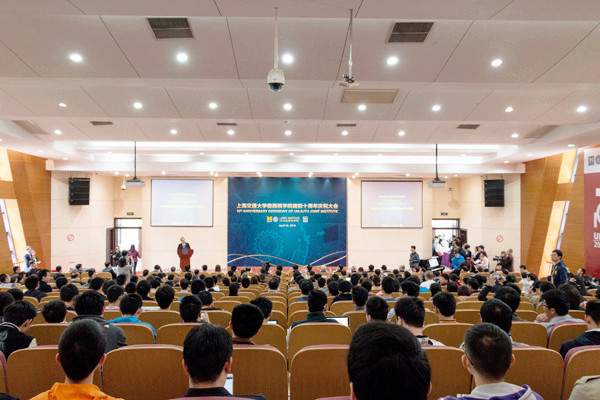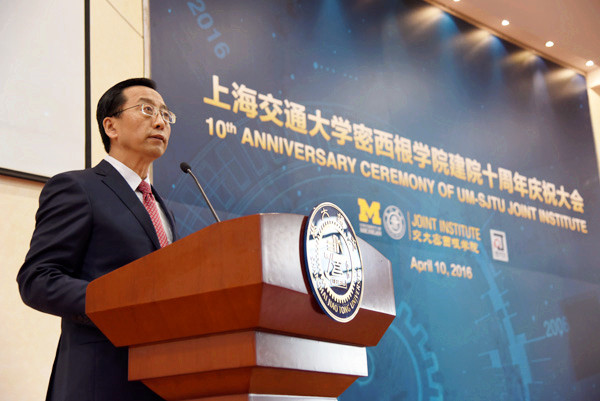 After the solemn national anthem, President Zhang congratulated JI on its remarkable achievements over the past ten years. He said in SJTU's 120-year history, the university adheres to the innovative tradition of "making progress and daring to be ahead." In recent years, SJTU has been promoting internationalization and strives to become a world-class university. JI is a result of the successful collaboration with the University of Michigan. Over the past decade, UM and SJTU have been expanding research collaboration to medicine and management. JI's successful experience has not only impacted SJTU but also become a model of higher education reform in China. JI has also set an innovative example of international education for the world. In the future, JI will continue to play a pivotal role in the ever changing global society. Zhang sincerely wishes JI success in this important leading role.
UM representative James Holloway congratulated on both JI's tenth anniversary and SJTU's 120th anniversary. He said he was very proud to be involved in the creation and development of JI and felt gratified about JI's achievements in just ten years. Since JI's establishment, there have been more frequent close interactions and exchange programs between the two universities. The ten-year UM-SJTU research collaboration agreement signed in 2015 has further deepened future cooperation between the two partners. Holloway remarked that the University of Michigan has learned a lot from collaborating with SJTU and JI. Lessons drawn from the partnership will be used by UM as she expands her global network in China and around the world.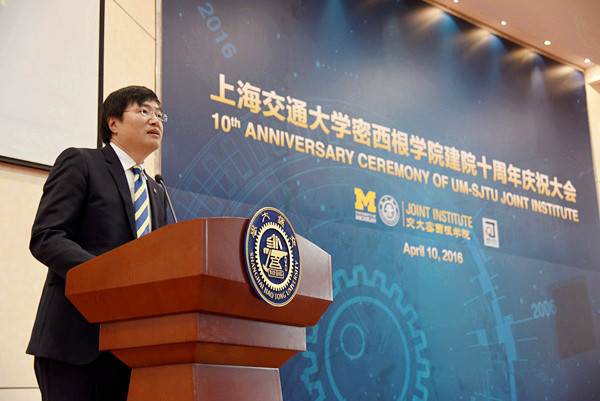 Dean Peisen Huang delivered a key-note speech on Internationalization, Innovation, Interdisciplinarity and Quality. He first extended a warm welcome and deep gratitude to all who have contributed to JI's success with wisdom and generosity. In his address, Huang reflected on JI's development and accomplishments over the past 10 years and highlighted JI's future goals of Internationalization, Innovation, Interdisciplinarity and Quality. He pointed out that, as the result of a strategic partnership between SJTU and UM, JI has made a breakthrough in academic programs, management system, talent training and faculty building. JI has succeeded not only as a model for China's higher education reform but also as an innovative example of international education. Dean Huang is confident that based on this foundation, JI will continue to improve and meet the society's demand for innovative leaders with global visions.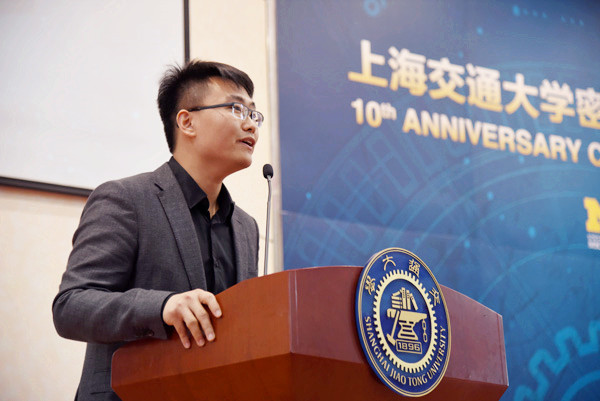 On behalf of JI alumni, Shaolong Sui, class of 2011, co-founder and Chief Operating Officer of Robo Terra Education Technology Co., shared his experience of starting his own company. He attributed his entrepreneurship to JI's spirit of "Engineering Global Leaders."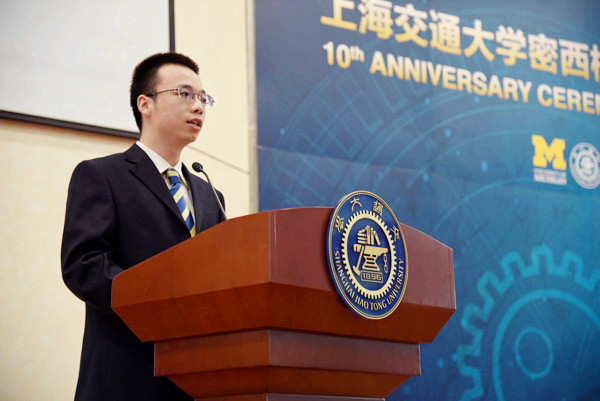 Representing the current JI students, Peng Yuan, an ECE major from Class of 2016, expressed deep gratitude to the Joint Institute. He proposed "Daring to explore" and "persevering" as JI students' motto when they embark on their future journeys.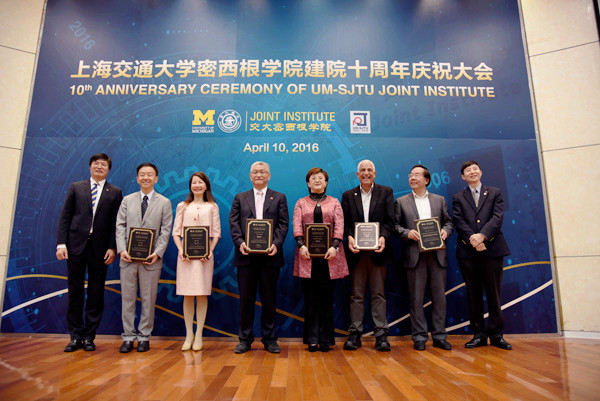 JI's growth and development is inseparable from the support of all sectors of the society. Those donors present at the ceremony received certificates of appreciation for their great contributions. (from left: Peisen Huang, John Wu, Jane Sun, Yu Liming, Xiaomin Zheng, Richard Rogel, Tongkang Jin, Jun Ni.)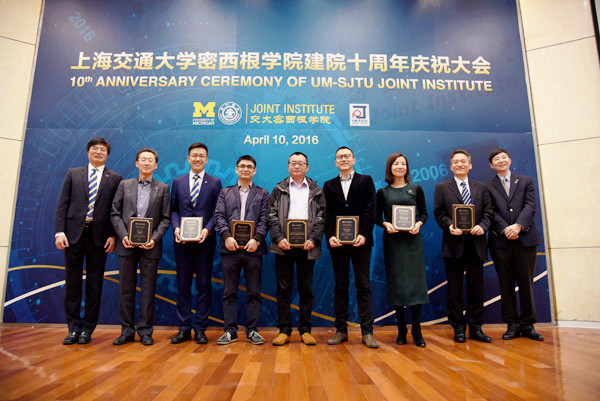 JI officials presented certificates of appreciation to those who have contributed to JI's development over the past decade.
On behalf of donors, Mr. John Wu exclaimed, "We are very proud of the Joint Institute for her great achievements in talent training over the past decade. My wife (Jane Sun) and I are very happy for the opportunity to make contributions to this innovative institute. Again, thank all donors for supporting JI. "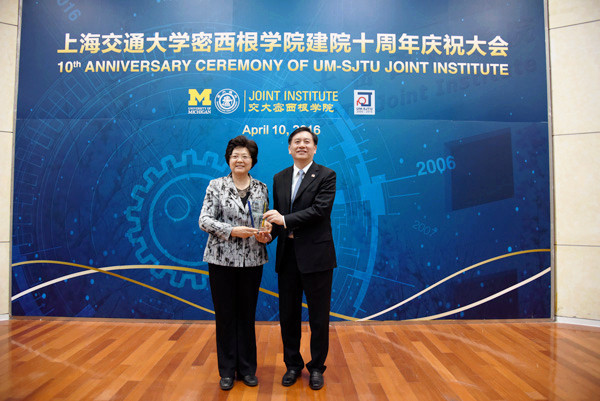 As a token of gratitude for those pioneers' tremendous efforts in establishing JI, Dean Huang distributed the JI Founding Meritorious Awards to former leaders of UM and SJTU, including Ma Dexiu, Mary Sue Coleman, Shengwu Xie, and Jun Ni. Choked with emotion, Madame Ma said, "We should cherish the hard-won relationship with the University of Michigan, create a world-class university based on JI's collaboration model and achieve innovative breakthrough in education, technology, talent training and faculty building."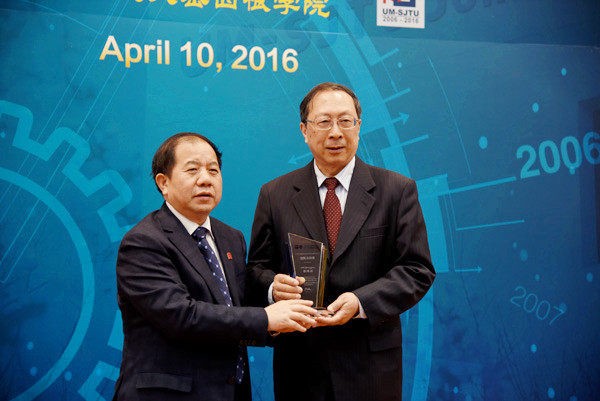 Zongqin Lin presenting JI Founding Meritorious Award to Shengwu Xie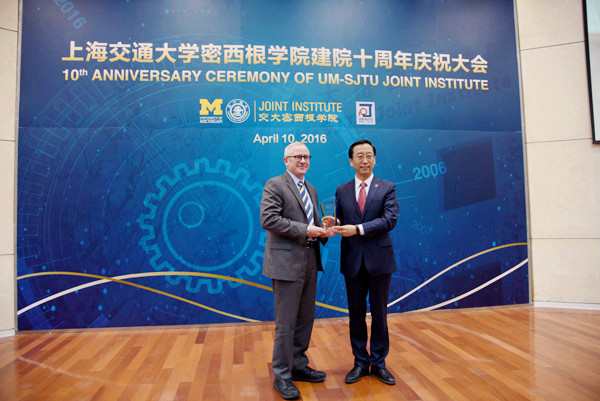 James Holloway receiving the JI Founding Meritorious Award on behalf of Mary Sue Coleman. He remarked that during her terms as the President of University of Michigan and even until now, Coleman has been working hard on building the UM brand. During JI's decade of development, she had been tirelessly supportive, so she deserves this award as JI's hero.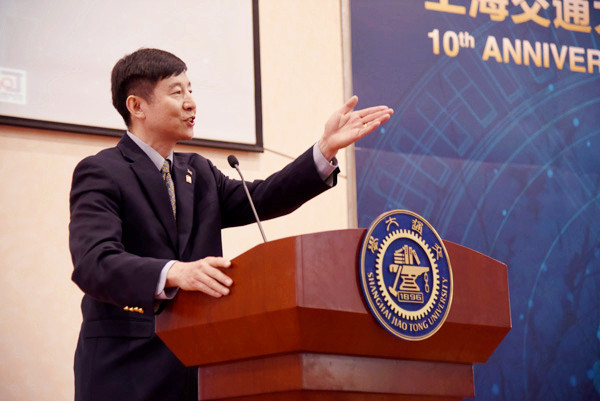 With deep feelings, Honorary Dean Ni looked back over the past decade, where JI started from scratch and strived from obscurity to today's glory. He warns that JI will face many challenges in the future. As a base of national higher education reform, JI should be bold to experiment and explore a new path without fear of failure. He looks forward to JI's greater achievements in the next decade.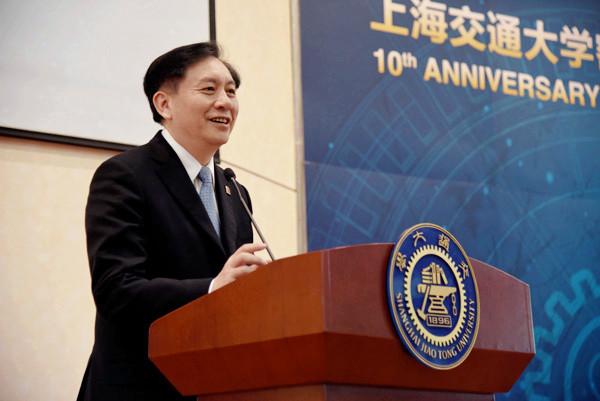 Closing of the ceremony, Chairman Jiang Sixian reconfirmed JI's extraordinary achievements over the past ten years. He remarked that the tenth anniversary is not only a landmark but also a starting point for a bright future. As the co-chairman of JI's Development Advisory Board, Jiang made two wishes for JI's future: 1) as a special testing ground, JI will continue to lead the development of Sino-foreign educational cooperation; 2) JI will become a top engineering school in the world.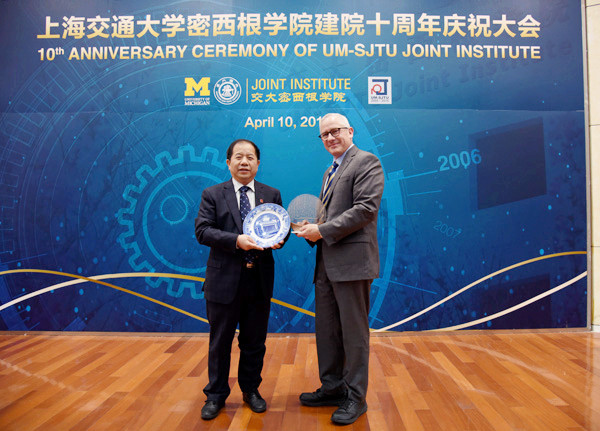 Two universities exchanged gifts to commemorate SJTU's 120th anniversary and JI's tenth anniversary. In the afternoon, two events were held concurrently. The launch ceremony of JI Alumni Association was followed by a forum on Innovation, Entrepreneurship, and Leadership, which attracted many JI alumni, entrepreneurs, and corporate representatives. The International Symposium on Global Education was participated by renowned educators and educational specialists, who exchanged ideas and shed lights on global education.