The eighth Shanghai Jiao Tong University (SJTU) Freshman Innovative Mechanical Competition was held at the School of Mechanical Engineering on April 22. This year the event was sponsored by LiuGong Machinery Co., Ltd. and co-organized by the University of Michigan- SJTU Joint Institute (UM-SJTU JI) and SJTU School of Mechanical Engineering. The highly anticipated game attracted more than 20 teams, including six JI teams and teams from Schools of Mechanical Engineering, Naval Architecture, Ocean and Civil Engineering, and Electronic Information and Electrical Engineering. After fierce competition, eight teams made it to the final contest. Among them, JI's two teams won the championship and second place, another triumph after last year's championship.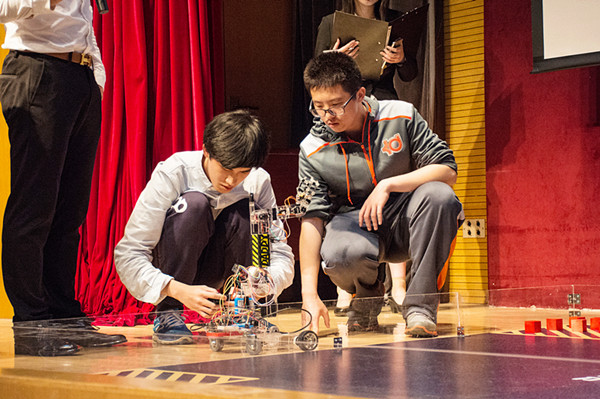 Team members adjusting wheeled robots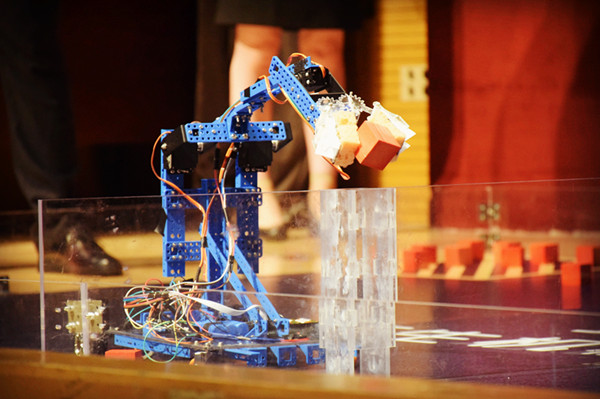 Robots competing to grab cubes and placing them in the scoring area.
The theme of this year's competition is for each team's wheeled robot to grab the most number of cubes and place them in the scoring area. The competitions got exciting when teams tried to outsmart each other and deployed blocking device to prevent rivals from scoring.
Two robots struggling for the third place
Compared to the preliminary, the quarter final was particularly intense. To grab the cubes, some teams used a vacuum pump and some used a mechanical claw. The lifting device ranged from mechanical arms to parallelogram structures. One novel design after another demonstrated SJTU students' innovative and practical capabilities. Some teams installed a rail and other device to interfere with the opponent's attempt to score, which makes the competition ferocious. The graffiti painted on the robots added some fun to the tight games.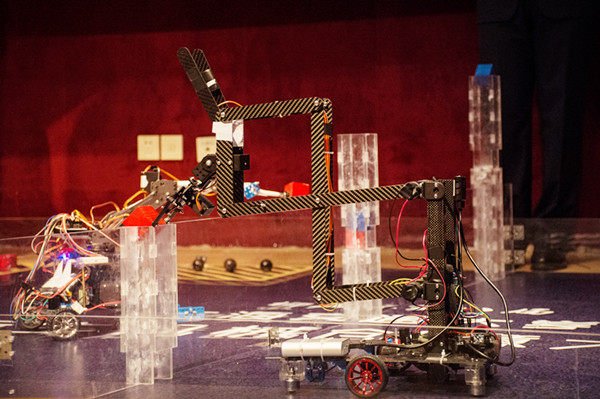 The showdown between the robots of JI Team 2 and JI Team 4
Within five minutes of the game, the competitions were heating up. Sometimes both robots locked horns around the scoring barrel, trying to sabotage each other's attempt to score. After cutthroat elimination, JI's Team 2 and Team 4 advanced to the final battle with a vacuum pump and a mechanical claw respectively. Each team performed equally brilliantly. The last 30 seconds were particularly exciting. It was not until the last 5 seconds that the champion emerged. At the end, JI Team 4 beat Team 2 by merely 10 points.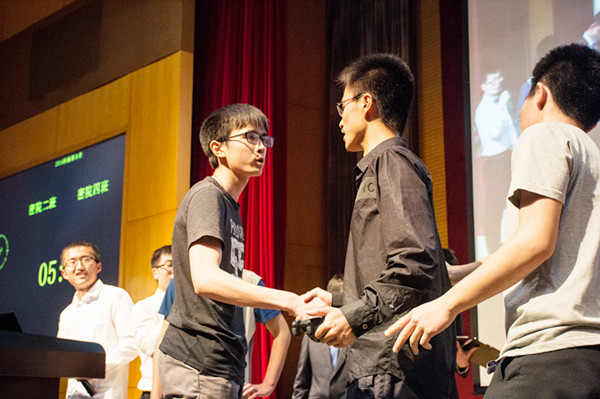 Players of JI Team 2 and JI Team 4 shook hands after the game
Since 2008, the increasingly popular SJTU Freshmen Innovative Mechanical Competition has attracted a large number of engineering students due to its different theme every year and the open competitive platform. Through this competition, many students got hooked on mechanical design and innovation. By representing SJTU to compete at the national level, winners had the opportunities to excel toward a greater innovation platform.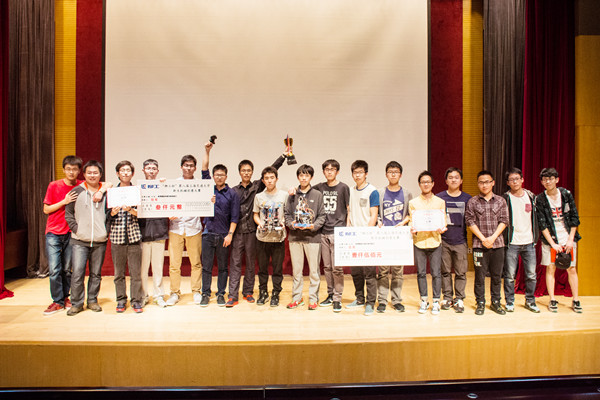 JI freshmen Team 4 and Team 2 won the first and second places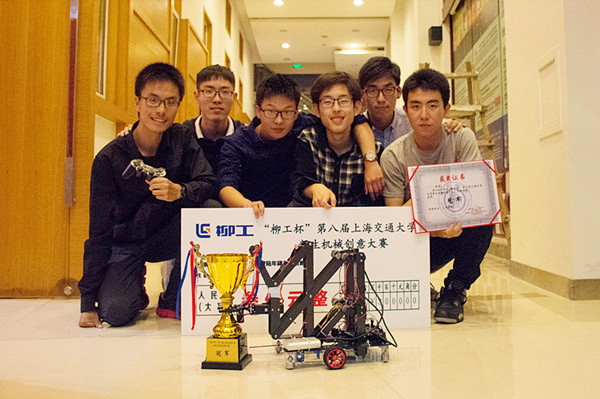 Members of JI Team 4