On April 7, the University of Michigan- Shanghai Jiao Tong University Joint Institute (UM-SJTU JI) hosted a sharing session on cultivation and development of innovative talents at the CIMC Auditorium of Long Bin Building, on occasion of its 13th anniversary.  JI Dean Peisen Huang, Party Secretary Xinwan Li, Associate Dean Chien-Pin Chen, Associate Dean Gang Zheng, Deputy Party Secretary Scott Yang, representatives from SJTU International Affairs Division, Shanghai Feili Xuncheng Electrical Technology Co. Ltd, Intel (China) Co. Ltd, Mckinsey & Company China, ZTE Health Co. Ltd, Shanghai Baiyulan Remote Medical Center, and Shanghai Health Telemedicine Network Co. Ltd, JI and UM alumni, JI faculty and staff members, students and parents attended the event officiated by Scott Yang.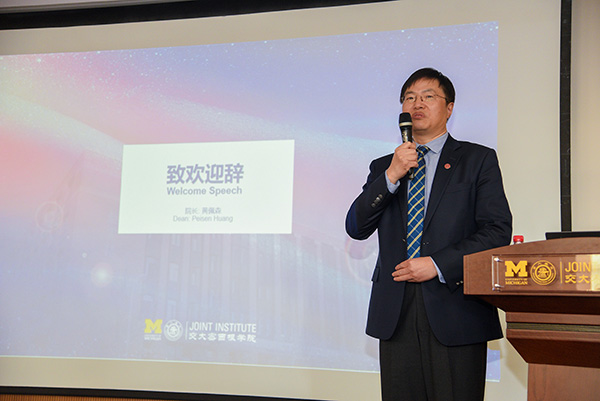 Peisen Huang delivered welcoming speech. He welcomed attendees for coming to the anniversary event held at Long Bin Building for the first time on a day signifying the 123rd birthday of SJTU and 13th birthday of JI. He shared updates of JI in aspects such as entrepreneurship education, interdisciplinary education, innovation center, smart connected systems, capstone projects. Over the past year, JI spent vigorous efforts on innovation and interdisciplinary education, featuring the establishment of Center for Entrepreneurship and Center for Interdisciplinary Education. The Global Degree Pathways concept was carried out well with cooperation agreements with University of Michigan, Royal Institute of Technology, University of California, Irvine, Trinity College Dublin, North Carolina State University, Stony Brook University. Meanwhile, JI planned Dual Master Degree Program with Ross School of Business of UM, in which the students can pursue a Master of Engineering degree from JI and a Master of Business from Ross. JI also set up JI Innovation Network committed to expanding the network-based innovation cooperation community in which JI collaborates with different types of NGO and corporates to improve co-development of school-enterprise innovative initiatives, technical innovation and talent cultivation through various innovative courses, boot-camps, forums, workshops, competitions, and other activities.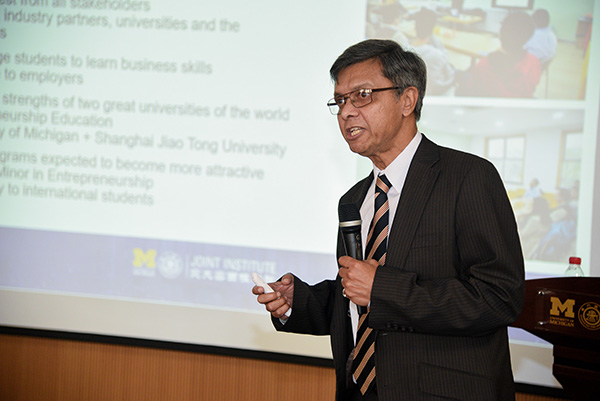 Pradeep Ray, Director of JI Center for Entrepreneurship introduced the center playing an important role of entrepreneurship education at JI and reviewed various activities since its establishment. In 2018, an entrepreneurship competition was held by the center, attracting 30 teams from different universities in Shanghai. A joint entrepreneurship school was launched in collaboration with Karlsruhe Institute of Technology of Germany. The center also held Entrepreneurship Week 2018 in September, inviting university professors, science and technology experts to talk about cutting-edge entrepreneurship topics, and organizing company visits to bring students immersive experiences.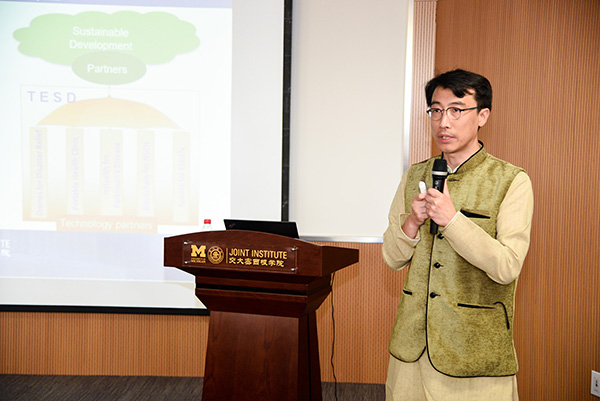 Faculty Advisor Soong-Chul Ro introduced the Technology Entrepreneurship for Sustainable Development plan initiated by the center. The plan serves to create an umbrella platform for showcasing the idea of Technology Entrepreneurship utilizing abundant resources of the university with partners in the field of sustainable development along the Belt and Road region. The Bangladesh Challenge program under the plan was completed in February this year with a field trip to the country participated by 12 SJTU students. Co-operative programs were carried out with local partners including Dhaka Universit, Rural Development Academy, A21, Grameen Shakti. Further cooperation is underway involving projects such as smart-charging, empowering people with energy, education and health for Char, agri-technology, and technology for the disabled.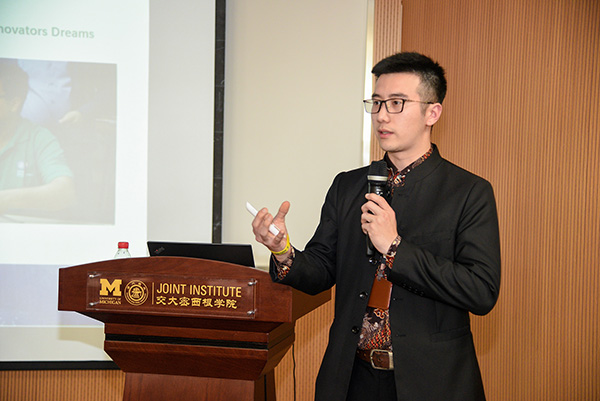 Case sharing by students and alumnus representatives on Bangladesh Challenge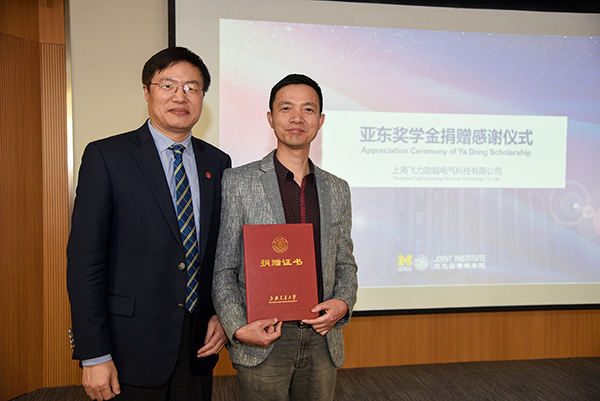 Peisen Huang awards donation certificate to General Manager Weicheng Liu of Shanghai Feili Xuncheng Electrical Technology Co. Ltd.
As a token of appreciation for support from all sectors of society, Appreciation Ceremony for Ya Dong Scholarship was held during the event. Ya Dong Scholarship was set up by Shanghai Feili Xuncheng Electrical Technology Co. Ltd in 2018, in a bid to support and award outstanding JI students dedicated to becoming innovative talents with a global vision. "Ya Dong" implies the message of "descendants of the dragon on the East of Asia", a good wish for the talent development of the joint institute.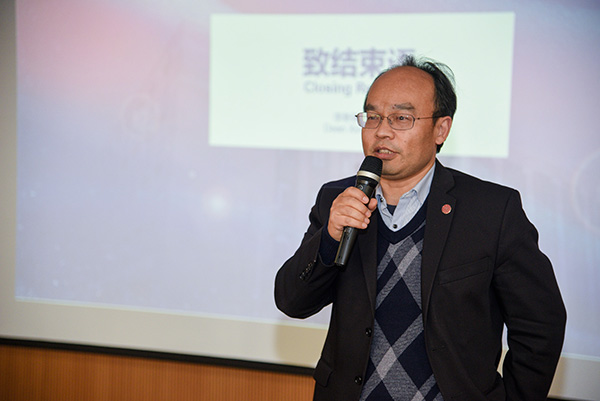 In his closing remarks, Xinwan Li said he was deeply impressed by the Bangladesh Challenge program delivering the message that the distance between the underdeveloped and the developed is actually not that distant. Over the past 13 years, JI has experienced many challenges and achieved rapid development and outstanding achievements through the process of overcoming the challenges.  As of today, JI has attracted the best students, faculty and staff, established the best facilities and programs, and cultivated a big batch of outstanding talents. He thanked the generous sponsorship by enterprises. JI will make best use the relevant fund to create more vigorous international atmosphere and more equal opportunities of education and career development, said Li who encouraged alumni and JI friends to come back often, provide suggestions and support, and embrace a brighter future of the joint institute.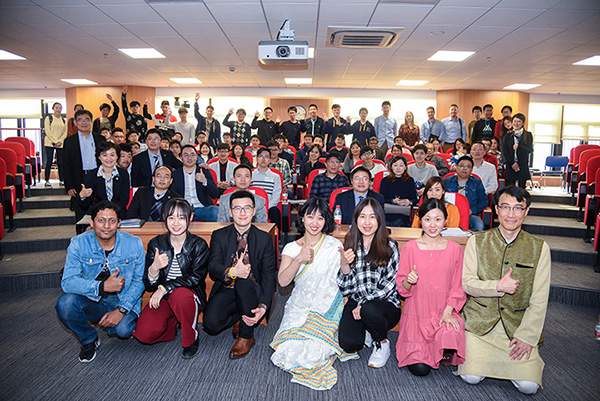 Group photo of attendees