The University of Michigan – Shanghai Jiao Tong University Joint Institute (UM-SJTU JI, JI hereafter) has joined hands with partners from home and abroad to host International Entrepreneurship Week 2022 (IEW2022).
IEW2022 will be held virtually this year on October 19 and October 20 under the theme of "facing the ever-changing world, building up a self-ecosystem, and realizing sustainable development".  The annual event is expected to bring together academics, practitioners, entrepreneurs and various ecosystems around the globe to discuss the positive impact that innovation and entrepreneurship could bring to the sustainable development of industry, economy and the whole society.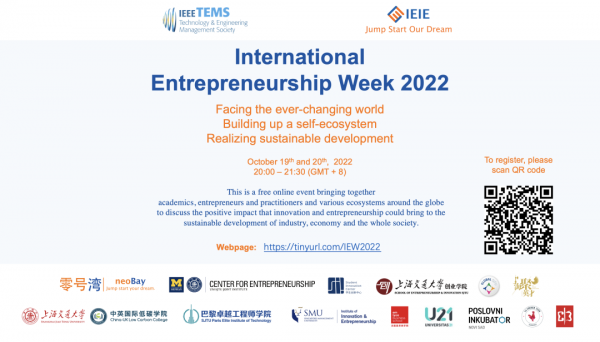 Co-organizers of IEW2022 include Centre for Entrepreneurship (CFE) of JI, neoBay Global Innovation and Entrepreneurship Community, Shanghai Minhang Overseas Talents Entrepreneurship Park, International Ecosystem for Innovation and Entrepreneurship (IEIE), and Technology and Engineering Management Society attached to Institute of Electrical and Electronics Engineers (IEEE TEMS).
Entrepreneurship Week was started in 2018 at the Long Bin Building of JI on the Minhang campus of SJTU in Shanghai.  CFE was established in April 2017, as an extension of collaborative work across UM and SJTU on entrepreneurship education that aims to demonstrate Leadership in Inter-disciplinary entrepreneurship activities through global bodies, such as IEEE, UN bodies and industry partners.
For more information on IEW2022, please log onto https://tinyurl.com/IEW2022.