International students of the University of Michigan-Shanghai Jiao Tong University Joint Institute (UM-SJTU JI, JI hereafter) gathered at CIMC Auditorium of Long Bin Building on the evening of October 23 for a "Love, Death & Robots Stream Night", an event featuring lucky draw, movie-watching, free popcorn and drinks that also serves to announce the formation of the new international student association (ISA) team.
Kantaphat Leelakunwet from Thailand, a junior student majoring in Electrical and Computer Engineering, assumed the role of president from Seungyeon Yang, a South Korean student who delivered a handover speech reflecting the ISA team's achievements over the past year.
"ISA is not just an organization; it's a family, a community where we who come from different corners of the world find a sense of belonging. Our goal is to provide support, information, and encouragement to JI international students in order to create a more collaborative and effective learning environment. We plan to achieve this by hosting events and publishing informative articles on social media platforms. Additionally, part of our mission is to showcase JI's diversity through videos, articles, and events, as well as make JI a more integral community between local and international students. But most importantly, we are here to support each other, to be a home away from home," said the new president of the ISA team.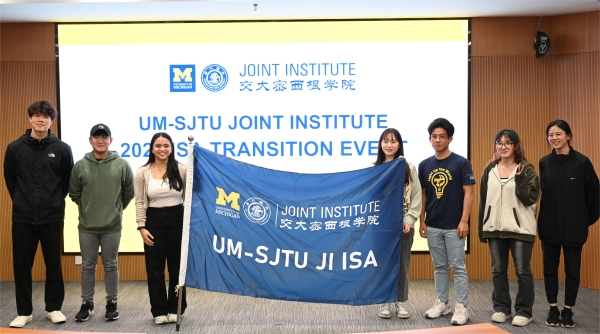 The new team members pose with the ISA flag.
The JI ISA is dedicated to promoting friendship and cultural exchange between Chinese and foreign students. It plays a pivotal role in cultivating a culturally rich and inclusive international campus while boosting the sense of belonging and identity among international students. The ISA team comprises not only the president but also two vice presidents, three ministers, and three members, representing a diverse range of students from different countries.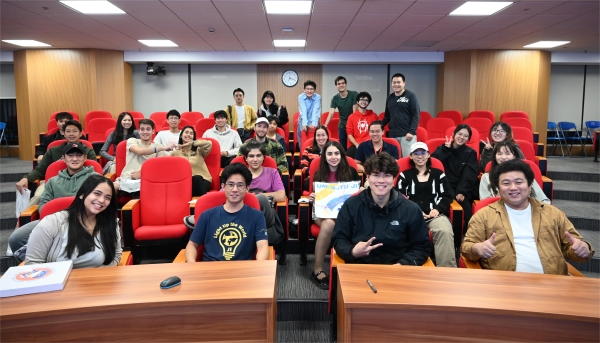 Event attendees take a group photo.
For more information on the student organization, please log onto https://www.ji.sjtu.edu.cn/admission/international-undergraduate-admission/um-sjtu-ji-isa/.