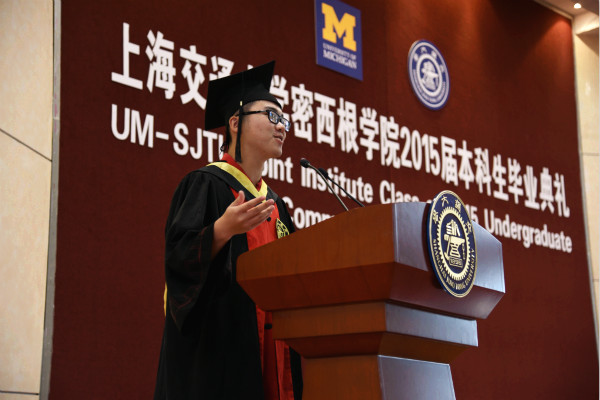 Good morning staffs and students!
I am Yuan Yiming from class F1137103. I am very honored to stand on this stage to thank my Alma Mater, JI.
Recently, more and more canteens are closing down and more and more high school students are coming to tour. The renovation construction of the nearby dorms are slowly finishing and students from other schools are returning from their overseas trips. I thought to myself, if I don't graduate, the 2015 group is coming.
It was like a four-year long dream where JI loaded the best memories of our youth and kept our most memorable moment. Four years ago, for we have just entered college, a forty-fifty page long report was an unbearable number and now it has become the minimum. Four years ago, Wikipedia was our main source of research and now we wouldn't even consider it. Four years ago, the e-reading room was everyone's favorite and now it has become the YLM center. Four years ago, we were still living under the roof of the law school and now the letters "UM- Joint Institute" have been engraved onto that cylindrical building with another brand new building under construction.
JI's facilities have been gradually improving and our knowledge structure has been slowly built for the past four years. Four years ago, we arrived at this young institute with curiosity and confusion, not knowing where to go. Four years later, we say goodbye to this institute we have grown with and we leave for our destinations with faith and dreams. Today, I would like to share a phrase with everyone here, lighten up! JI lightened up our world and gave us the chance to light up more lives.
Remember the year when we first came to this school? It was the energetic and vigorous professors at the front of the classrooms who lightened up our world and it's them who made us understand that a JI life is meant to change the world! I really want to give thanks to Mr. Jason Daida from JI, he taught me that "engineers save the world" was never just a slogan. When we saw disabled children sitting on specially designed wheel chairs, when we heard the first non-water toilet was built in Ghana thousands of miles away, it was at that moment when I felt deeply that we are still puerile but we can still make changes for the world. Thank you for every teacher who was with us during the most important 1400 days of our lives. Your intelligences are like stars. They each light up in our sky and slowly gathers into a galaxy for they will shine forever in my world!
Mr. Daida once said, "Save the world, if that doesn't panned out, save the part you were called help of." So then for this four years, I learned to lighten up others with my faint light.
I would like to thank the JI student union. I handed out fliers, rode tricycles and borrowed the east square. The barbecue of ice and fire, the east square's noise, the JingJing hall's bustling and the sparkling under the spotlights! This is where I grew up. We got used to getting to events early and watching shows from the stage side here. Perhaps we first joined this because we envied the spotlights but during this four years we have learned more important things, which is to save the stage for the most suitable ones and light up others with our own hard work. We should not forget for the past four years, many students lightened up JI with their own hard work. The JI T-shirt designed by Li Yanrong, the cute little dinosaur designed by Su Shan, the career development booklet "on the way out" created by Li Jihan and his team, the JI journal first published by Qu Zhi and Yang Jianfan, the exciting shows brought by Fan Yijun. They brought humanity, thoughts and beauty everywhere with their actions. This is a deep mark us F11 left for the JI culture. I suggest to applause for us and every single student who lightened up JI's culture with their passion. They are he heroes here.
And for me, I desire to go further and light up more people. So I went to Yunnan Ruili Meng Xiu Township Meng Xiu middle school and became an honorable senior chemistry teacher. I can still clearly remember on the third day there, I met a little girl who was holding a baby. She was a student who didn't get to high school two years ago and now she is already a mother. Her life was at an intersection only at the age of 15. I was very shocked at the moment. So fate is written in such an unfair book and that scene became my motivation for striving. We are not saviors but we wish to help them even just a little. Even if we don't succeed in the end, our persistent can still touch them and give the courage to face the future with a smile.
The truth is, we have a lot more of these stories around us. Our fellow student came back to China to start a business and lightened up the Chinese high school life with robotic education. Our schoolmate joined the army to protect our country. Our schoolmate spent the holidays doing voluntary work in Cambodia, shining in foreign countries. JI has being organizing aid education for Yunnan for almost ten years. JIers have the world inside us.
One should think about the sources of all the gifts we receive. JI has lightened the world for us and now we should gather our light and shine every spot on the world around us.
In fact, standing on this stage today is also an opportunity for me to represent class F1137103 and thank those who lightened up our world.
Three years ago my schoolmates and I experienced the darkest time of our lives. For the first time I felt death so close to me. Time did not heal this wound but we can be brave and walk with the scar. We will never forget the solidarity and strength JIers show when facing disasters. We will never forget the tears Dean Zhang Jie dropped for us at the school anniversary. We will never forget the West 34 Ayi who blocked all the malice from the world for us during all those anxious nights. We will definitely remember the night at the east square where countless students shined darkness with lights and chanted "fighting SJTU," "fighting JI," and let us believe "we will never go alone," it was at that moment I felt this is my home.
Today I am leaving this home and I would like us to slow down our pace and feel the warmth of this family. Let us play basketball once more with our friends. Let us have another drink with our roommates. Let us buy one more egg pancake from the Hualian supermarket. Let us have one more meal in the canteen. Let us read one more book from the library. Let us say one more thank you to our seniors. Let us play one more song and say goodbye with a smile!
At last, I want to thank all our parents here and sorry, for the past four years the time we spent with you was way too less. No matter where we are in the future, you will always be our first thought. Thank you for all your support.
I want to express my gratitude to all the teachers. Thanks to you, you really make a difference in our life. Thanks to you, you show us a new way to view this world. We will never forget your wisdom, your patience, your kindness and your humor. I believe I spent wonderful four years here because of you. Thank you very much.
At last, thank you all my schoolmates here. Goodbye to you who lightened my world at the most beautiful time.