The winner list of the 2015 Zhen Jiang Scholarship for Overseas Graduate Study has been announced recently. JI's Peng Yuan, Class of 2016, is one of the winners. He is the third at the University of Michigan- Shanghai Jiao Tong University Joint Institute (UM-SJTU JI) to win this honor, following Yanrong Li and Ming Zhong, Class of 2015.
Zhen Jiang Scholarship for Overseas Graduate Study is provided by the Zheng Jiang Industrial Charity Foundation in Hong Kong to fund overseas graduate study in engineering for students from China's top universities. Each year, ten scholarships are awarded. Candidates are graduating undergraduates or those who have graduated within the last two years. Winners should be admitted to one of the top ten American engineering schools to pursue master or doctoral degrees. The 500,000 USD scholarship will be dispensed while students are progressing in their programs. The competition is fierce, involving tough examinations and interviews by a panel of prominent scholars and industrial elites.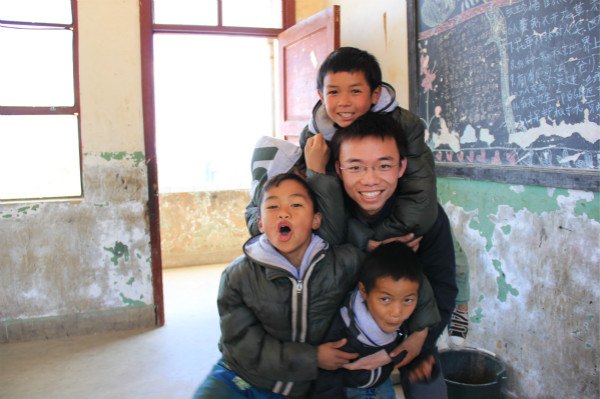 Peng Yuan had volunteered to teach in remote Yunnan schools, bringing knowledge and hope to village children. 
Peng Yuan is a senior ECE major at JI. He is number one in his class, with a solid academic foundation. He has obtained A+ on 64 out of his accumulated 143 credit hours. He has served as a team leader and performed outstandingly in several courses, such as 32-bit MIPS pipelined CPU design and 16-bit adder design with CMOS. Beyond JI, he has earned certificates on four courses with Coursera. He has won in multiple international competitions, including ranking top 20% in the International Knowledge Discovery and Data Mining Competition and winning a first prize in COMAP's Mathematical Contest in Modeling (MCM). He won the title of 2015 SJTU Model Student. He has been very active in extracurricular activities: as the president of the JI Students' Union he had organized 34 events; his extraordinary contribution while volunteering in Yunnnan village schools won him a SJTU award; he was one of the two SJTU students to attend the U21 Student Leader Conference held in Singapore. He has co-founded a company named KeBin in Shanghai.