To kick off the job hunting season for the University of Michigan- Shanghai Jiao Tong University Joint Institute's (UM-SJTU JI) Class of 2017, in the fall semester of 2016, JI Employment and Career Development Center is holding a series of seminars on "Zero Distance to Workplace," inviting the leading enterprises of various industries to inform JI students about the opportunities of employment and internship. So far, three companies have come to JI, attended by nearly 300 students.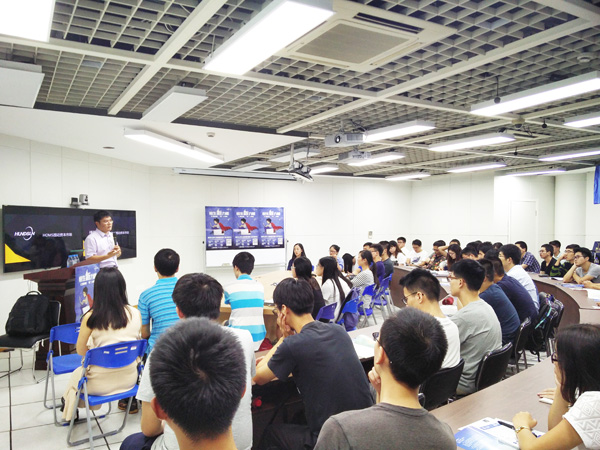 Mr. Feng Wang, Vice President of Hang Seng Electronics, analyzed the dynamics of the financial IT industry
On September 21, Hang Seng Electronics, China's only top 100 global financial IT company, presented a seminar titled "connecting to the trillion, simplifying the finance" at JI. Mr. Feng Wang, Vice President of Hang Seng Electronics and senior lecturer of Hang Seng College, and Mr. Xupeng Zhou, Manager of High-level Human Resources, shared information on the cutting-edge finance IT industry and how science and engineering students can enter this emerging hot market.
That evening, Hangzhou Aimsphm Intelligent Technology Co., Ltd., founder of "Big Data Concept" and the world's leading industrial data technology company, held an information seminar and job fair at JI. Fangji Wu, Chief Engineer, and Tianhua Lu, Director of Product Strategy, explained in detail the industrial data technology, as well as the opportunities and challenges faced by China's industrial transformation and upgrading to 4.0.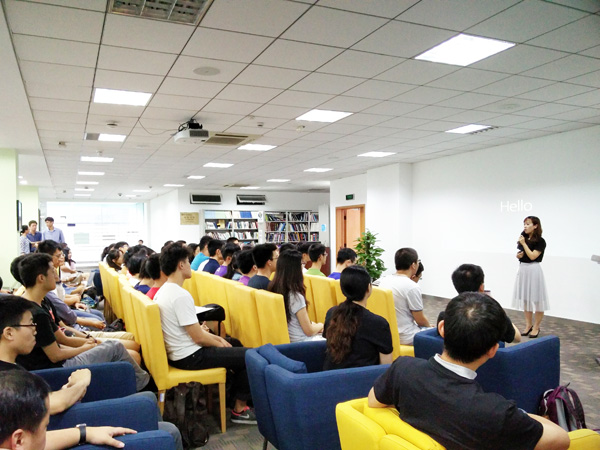 Bella Ge, from Apple's Human Resources, introduced Apple's corporate culture.
On September 28, Apple held a job fair at Yu Liming Student Center. Ten managers from the R & D, Procurement, Design, Supply Chain and other departments described the employment needs of each department and showed students how to apply their professional knowledge in industrial production. At the lectures and round-table discussions, students realized that the spirit of innovation is not simply looking far, but it also requires keeping feet on the ground, the pursuit of excellence and technical capabilities. This year marks the fifth anniversary of the exclusive partnership between JI and Apple. JI students' outstanding performance in US headquarters and Chinese companies has built a reputation. On behalf of JI Employment and Career Development Center, Candice Liu, JI's Co-op and Career Guidance Councilor thanked Apple and looked forward to further cooperation in talent training and recruitment between JI and Apple.
In addition to seminars, in the near future, JI Employment and Career Development Center will send a "Talent Express" to Microsoft, Huawei, ZTE, United Electronics, Synopsys, Johnson & Johnson, InBev and other enterprises, directly supplying them with outstanding JI graduates and interns as well as helping students gain a competitive edge in the job market.
Starting in October, JI's "Zero Distance to Workplace" seminar series will invite McKinsey, a leading global management consulting firm, and Klein Semiconductor Equipment Technology (Shanghai) Co., Ltd., a leader in the semiconductor industry. For more information, students may pay close attention to JI's Canvas website.