Quotes
• What I've gained from many years of teaching is not just experience, but more the gratifications from seeing students solve problems with what they have learned and graduate proudly with great accomplishments. My joy also comes from receiving unexpected emails from alumni thanking me for having taught them something useful or even casual greetings from current students.
• Teaching is not only a noble calling but also a profession with great social responsibilities. I always think that a teacher's first job should be molding students' characters rather than imparting knowledge. A teacher should lead by example. This is the biggest challenge that every teacher faces.
• As an educator, it is more important to teach the students how to learn, stimulate their interest in learning, and instill in them the passion for learning.
• Before becoming a qualified engineer, one should first be an honorable man.
Gang Zheng is one of the winners of the 2017 Teaching and Education Award at Shanghai Jiao Tong University and has been voted by students as the Most Popular Teacher at SJTU. In his class, even the most obscure engineering concepts become lively and interesting. He is passionate about teaching and is committed to doing his best for China's engineering education.
Teaching is a career I aspired to
In 2005, Gang Zheng obtained his Ph.D. in electrical engineering in the United States. While his classmates were still wondering about career paths, he had landed a position as an assistant professor of electrical and computer engineering at Gannon University in Pennsylvania. He followed his heart to become a teacher. "On earning my Ph.D., I had been a TA for a while and was quite accomplished. Since then, I have been enjoyed working in education, especially in teaching."
While studying and working in the United States, Zheng became increasingly aware of the huge differences in education between China and the United States. During an exchange opportunity, he learned that Shanghai Jiao Tong University was establishing a joint institute with the University of Michigan, combining the educational characteristics of both countries, to nurture the world's best engineers and leaders on China's soil. This endeavor resonated with his educational ideals. In 2009, Zheng made an "impulsive" decision: giving up his US teaching job and permanent residency to become a full-time lecturer at the UM-SJTU Joint Institute.
Gang Zheng has never regretted that decision. "Returning to China, I felt the Joint Institute would be a worthy place to dedicate myself for life. From the government to SJTU, many people were working hard to build such an education special zone. When you know it will affect China's higher education in the long run, it is the most rewarding place to fulfill a sense of mission. And that was what attracted me the most."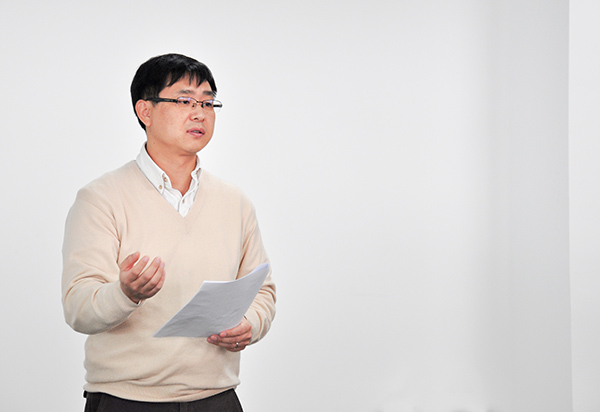 Gang Zheng answering student's questions at a JI town hall meeting
During his tenure at the Joint Institute, Gang Zheng has successively held the positions of an adviser for undergraduates of the electrical and computer engineering (ECE) major, Associate Dean's Assistant for Academic Affairs, Undergraduate Teaching Director, and Associate Dean for Undergraduate Education. He plays several roles. In addition to teaching and administration, he serves as chairman of the Undergraduate Teaching Committee and is responsible for the academic affairs of all undergraduates. He is also an instructor for the ECE major and oversees JI's international programs including the dual degree program. Leading JI's faculty of humanities and social science, he spearheaded the revision of English writing course and English general education system. In addition, he is also actively involved in teaching, research, and management of the Joint Institute, having served as a member of the School Practice Teaching Committee. Currently, he serves as a member of the Zhiyuan Honors Course Construction Committee and Undergraduate Teaching Steering Committee.
To succeed in teaching a course, one should learn to "slack off" properly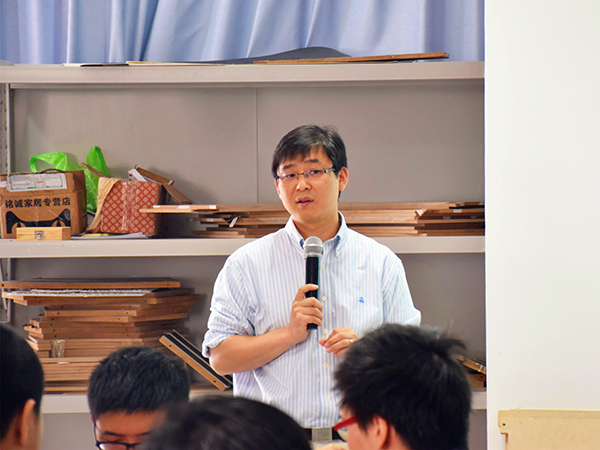 At the Joint Institute, Gang Zheng's fundamental courses are always well received by his students. He attributes this to his teaching experience in the United States. "In the United States, university professors need to attract students. Being meticulous in teaching basic courses entices students to take the courses and learn with more enthusiasm." On the other hand, he would properly "take it easy" on high-level courses, not giving his best shot, leaving students room for independent thinking and self-exploration, so that they learn to learn on their own after graduation and can adapt to the society more quickly.
In Zheng's opinion, a successful undergraduate education does not necessarily aim at cultivating the elites, but more at shaping students' character and interest so that they can become professionals adaptable to the demands of the market. To his class content, Zheng always adds material to augment students' quality, rather than only focusing on the professional knowledge.
During his eight years at JI, Zheng adheres to JI's student-centered principle and insists on offering high-quality courses. Drawing on the experiences of the University of Michigan and other top American universities, he has implemented JI's talent training objectives into every course, developed a comprehensive curriculum, assured an effective quality teaching system, and standardized the talent training mechanism.
In response to a large number of students studying abroad, Zheng shared his personal experience and encourages students to help build their motherland.
Breaking through imitation, doing his best for China's engineering education
Education reform is not easy for a special education zone such as the JI. From the initial fumbling and stumbling to establishing the JI brand today, Zheng has witnessed JI's progress step by step. He believes that trials and errors are not futile. "We can't just copy and paste the American system. By comparing their advantages and disadvantages, we have learned to better our system."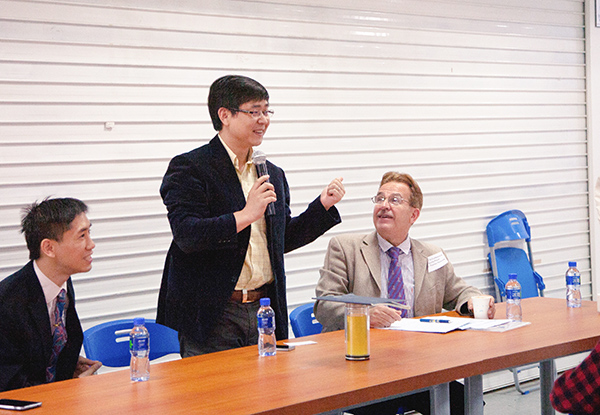 Gang Zheng at a JI Teaching Assistant Training Conference
At JI, there is no clear distinction between majors. JI's unique capstone design course integrates two major programs and lays the foundation for the development of interdisciplinary studies. "The JI is no longer the same as the American universities who have well-defined disciplines. JI's disciplines are open and crossed, so we have the advantages in interdisciplinary development, and now we are ahead," remarked Zheng. "This is our own way. We are not afraid to try, and time will show the future direction. "
JI accredited by ABET, a landmark achievement in China's higher engineering education
Over the past decade, JI has won numerous awards including "Shanghai Model of International Education Collaboration," "National Award for Best Higher Education," "Model of Chinese Higher Education Reform" recognized by Chinese State Council, and the prestigious "Andrew Heiskell Award for Innovation in International Higher Education."These achievements can be attributed to the hard work of Zheng and his colleagues. However, Zheng did not stop here. In order to comply with the international engineering education standards, he had aimed at obtaining ABET accreditation, one of the most authoritative certifications in engineering education.
The preparation for ABET certification was complex, covering the entire process of talent training from enrollment to alumni's feedback, involving training programs, training objectives, academic evaluation and guidance, quality control and promotion, teacher level, hardware and software teaching facilities, laboratory facilities, safety, financial and human support at all levels of the institute.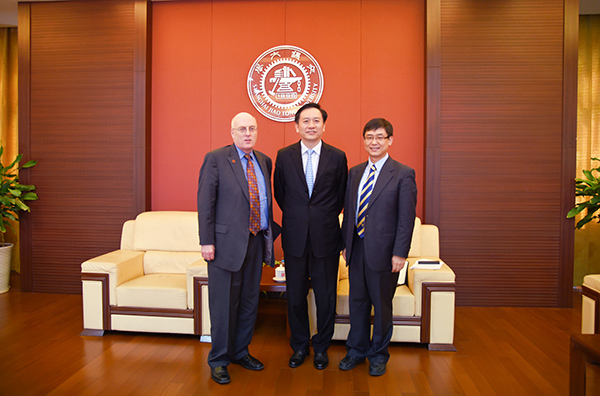 Gang Zheng accompanied ABET experts to meet with Shixian Jiang, party secretary of Shanghai Jiao Tong University
Facing the heavy tasks and limited resources, Zheng relied on the strong support of university leaders at all levels and mobilized all JI faculty and staff. He himself often burned the midnight oil to prepare numerous ABET-related reports and materials. After three years of hard work by the entire JI community, the two undergraduate majors, i.e., mechanical engineering and electronics and computer engineering, obtained the ABET certification in 2016. "I like challenges. I have encountered resistance and difficulties during the education reform. Overcoming these obstacles is a great achievement for me. "
ABET accreditation has played a huge role in promoting the influence and competitiveness of Shanghai Jiao Tong University and the Joint Institute both at home and abroad. It is a milestone of the higher engineering education in China. In this regard, Zheng attributes the success to the enthusiasm and teamwork of the entire JI community, which is the most valuable trait of the JI. "
In 2016, Zheng became the deputy head of the ABET Accreditation Working Group of the National Chiao Tung University, guiding and participating in the ABET certification preparation for other departments of the school. He formally became SJTU's ABET Accredited Assessment Expert in 2017.
Name Card
Gang Zheng, the third prize winner of the 2017 Teaching and Education Award at Shanghai Jiao Tong University, is currently Associate Dean of Undergraduate Education and an Associate Professor of electronics and computer engineering at the JI. He earned a doctoral degree from the University of Colorado, Colorado Spring. From 2005 to 2009, he was an Assistant Professor of electrical and computer engineering at Gannon University in Pennsylvania, USA, and served as the director of an embedded system laboratory and a consultant with General Electric Company (GEC). He joined JI in 2009 and has been awarded many honors such as the Most Popular Teacher's Award and Candlelight Award by Shanghai Jiao Tong University.