Dr. Christopher Cooley and Prof. Robert Parker from the UM-SJTU Joint Institute have recently received the 2014 Doak Prize from the Journal of Sound and Vibration for their paper titled "Unusual gyroscopic system eigenvalue behavior in high-speed planetary gears".The Doak Prize aims to "highlight the most successful paper in the Journal of Sound and Vibration" over the previous four years as judged by the journal's senior editorial panel. The selection criteria include academic excellence, practicality, novelty, and originality of ideas.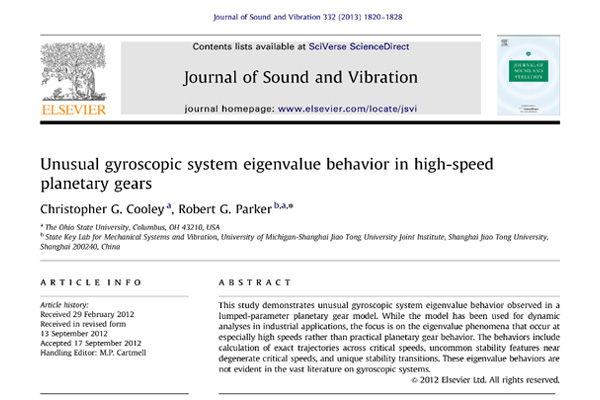 Their paper investigated the undesirable vibration and instability which occurs in planetary gears when operating at high speeds, such as those used in aerospace engines. Planetary gears rotate during operation, which leads to gyroscopic effects. These are the same gyroscopic effects that are responsible for the stable motion of a spinning top and the accurate spiral pass of a football. However, unlike the spinning top and football, the rotation of planetary gears has a destabilizing effect which results in large-amplitude vibration. Determination of the unstable speeds and how stability is lost was a focus of the work by Dr. Cooley and Prof. Parker. Their results discovered interesting stability behavior and transitions in planetary gears which have not been seen in other gyroscopic systems. Unrestricted to planetary gears, the results from this work can also be applied to more general gyroscopic system.
Background Information:
The Doak Prize is named after the late Prof. Phil Doak, the founding editor of the Journal of Sound and Vibration. The prize will be presented at the 22nd International Congress on Sound and Vibration in Florence, Italy, in July 2015.