The graduate students of the University of Michigan- Shanghai Jiao Tong University Joint Institute's (UM-SJTU JI) Class of 2016 received their graduate degrees on March 25. The graduation ceremony took place at the Yu Liming Student Center, officiated by Chien-Pin Chen, Associate Dean for Graduate Education.
On behalf of JI faculty and staff, Dean Peisen Huang congratulated the graduates. He pointed out that 2016 is a special year– we witness the graduation of our first class of doctorate students while celebrating JI's tenth anniversary. He complimented the students' excellent performance during their study. He encouraged the graduates to keep an engineer's curiosity, be adventurous and try new things, and be highly responsible and professional. He expected them to be models of future engineers and lead China onto the world's stage.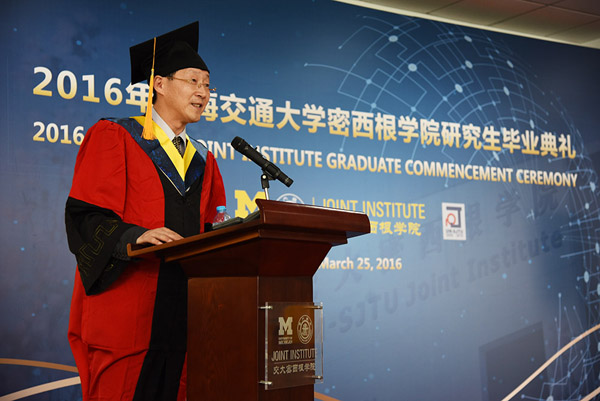 Mr. Jianuo Shi, General Manager of KLA-Tencor Corp., delivered the commencement address. As a pioneer in China's semi-conductor industry, he shared his experiences and reflections from the perspectives of being true to oneself, perseverance, responsibility and giving. He prodded the graduates, "When you come back to SJTU in 30 years, I hope you will not only share your passionate dedication to your work and the resultant achievements, but also share your contributions to the society using your talents. "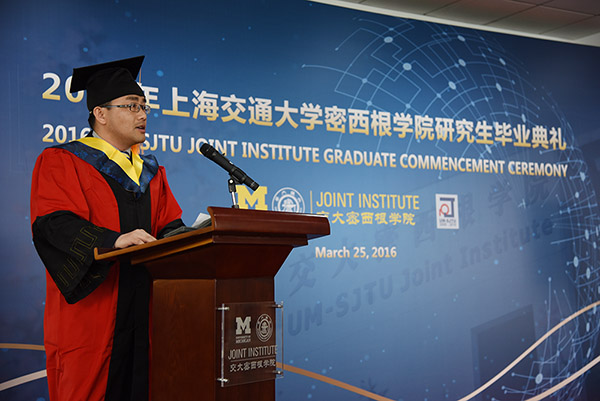 Representing the JI faculty, Chengbin Ma, Assistant Professor, congratulated the graduates and their families. He hoped they would remember JI's motto of Internationalization, Innovation, Quality and become responsible and generous engineers. He encouraged them to be open-minded in facing future challenges.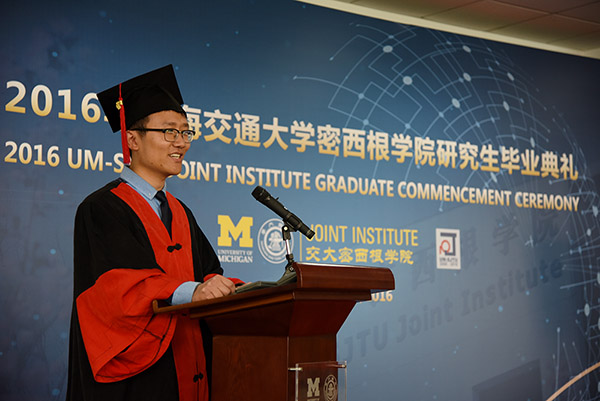 Representing the graduate students of Class of 2016, Minfan Fu, Ph.D. in Electronic Science and Technology, spoke of gratitude and gratification. As one of the first students entering JI in 2006, he reflected on his ten years of study at JI. Growing with JI, he has matured and reaped what he will treasure for the rest of his life. To his classmates who will embark on the next stage of life, he shared rapper/poet Michael Franti's words, "Love yourself like your life depends on it, because it does." He told them to love life, enjoy pressure and learn to know oneself.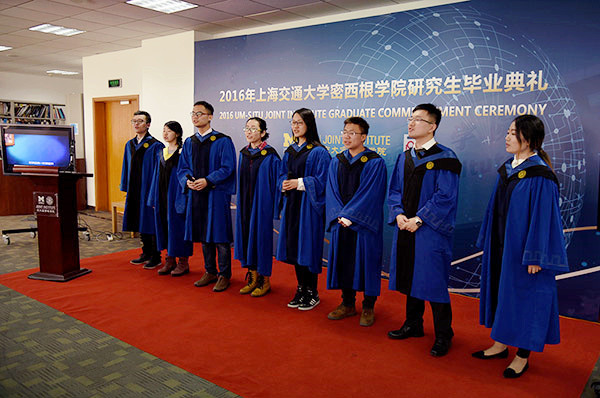 The graduate students of JI Class of 2016 singing "At the First Moment" for farewell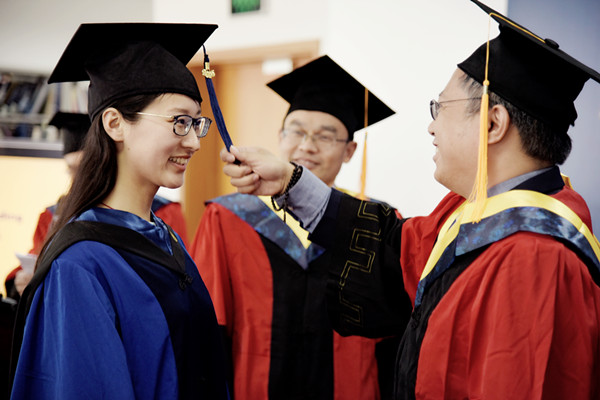 Professor Mian Li toggling tassel for a graduate
Subsequently, all the graduates walked onto the podium to receive their hard-earned degrees. On their next life journey, JI spirit will accompany them on any endeavor towards a bright future.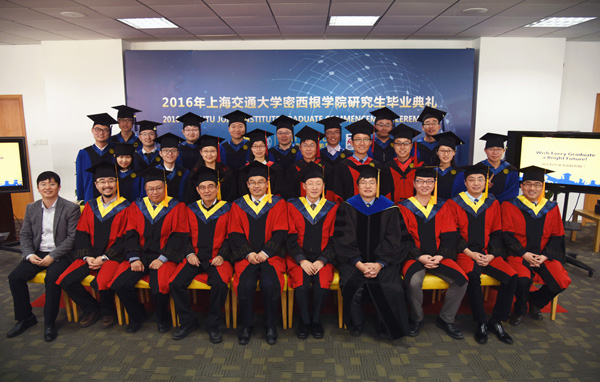 The graduate students of JI Class of 2016