The University of Michigan-Shanghai Jiao Tong University Joint Institute (JI) held the sixth meeting of its Development Advisory Board (DAB) on November 16 at Long Bin Building. JI Honorary Dean Jun Ni, Dean Peisen Huang, Party Secretary and Associate Dean for Research Ming Yang, Associate Dean for Academic Affairs Chien-Pin Chen, Associate Dean for Undergraduate Education Gang Zheng, Deputy Party Secretary and Executive Director Scott Yang, Director of Institutional Advancement Office Kathy Xu, Deputy Director of Smart Connected System Research Center Mian Li, and Co-director of Center for Interdisciplinary Education  Jie Li attended the meeting, with DAB members from various industries. Xiaomin Zheng and Zhenhuan Yu, vice general managers of Zhejiang Liming Intelligent Manufacturing Co., Ltd also attended the meeting as special guests. Peisen Huang presided over the meeting.
Peisen Huang introduced JI's recent development after the fifth DAB meeting, discipline development plan, construction of  Smart Connected System Research Center to the attendees. The newly-built Long Bin building donated by couple John Wu and Jane Sun, co-presidents of DAB, has become the new landmark of SJTU Minhang campus, receiving visiting groups from Ministry of Education, Shanghai and universities at home and abroad. On the 21st UM-SJTU Board meeting held in May, the two universities consented to promote the Dual Master's Degree Program jointly developed by JI and Michigan Ross School of Business and discussed the initial ideas on the establishment of Smart Connected System Research Institute in Jiading District. The international programs of JI including dual-degree, exchange, study abroad, Global Degree Pathway programs witnessed steady development. Coverage of JI scholarship expanded year by year, reaching 18% of JI students. In terms of talent training, nearly 85% of graduates of 2019 chose to further their study, and half of the graduates studying in the United States were admitted to universities with top ten engineering major. Many teachers and students earned accolades at home and abroad. JI also boasts outstanding alumni. Some have joined the top universities at home and abroad and some alumni entrepreneurs were placed on the Forbes lists. JI will promote enrollment, teaching staff and majors at home and abroad to meet the diverse needs of students. The Joint Smart Connected System Research Center will cooperate with the industry on building the latest 5G network, aiming at accurate coverage of the experimental platform and in-depth integration with industry applications. Moreover, the center will continue to deepen cooperation with enterprises, build an Intelligent Manufacturing Technology Research and Capability Development Center, set up the Minor of industrial artificial intelligence, provide relevant training services, and develop research achievements in intelligent medical treatment and intelligent travel.
Kathy Xu introduced the fund raising, operation, review and development of Sam & Daisy Wu Scholarship, and expressed her gratitude to DAB members for their significant contributions to JI.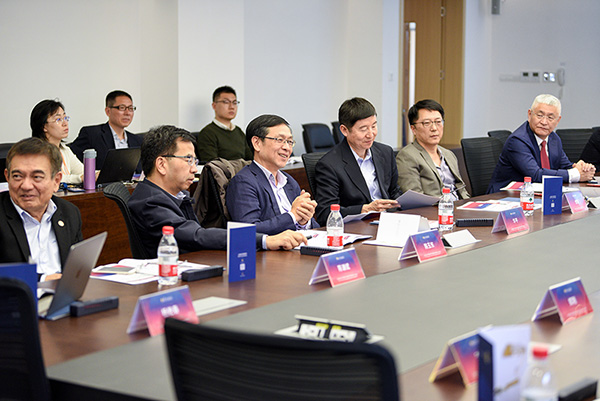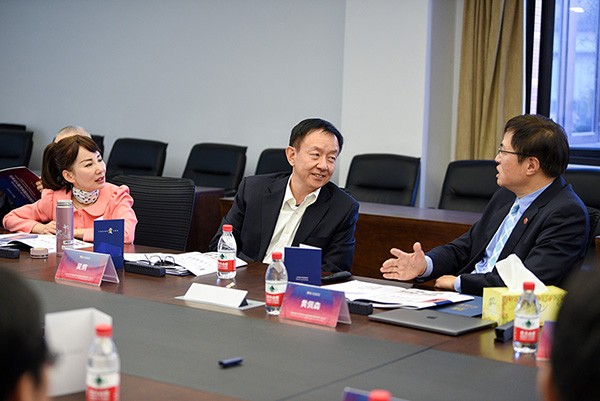 Discussion session of DAB meeting
讨论环节中,DAB理事们就学院智能互联系统研究中心建设、计算机科学专业开设、师资队伍建设等议题建言献策,并针对如何吸引国际人才展开深入的交流和探讨。吴炯表示,师资是学院未来发展的重中之重,学院应当积极拓展校内外各类资源,并进行有效利用,储备培养一批国际一流的教学科研后备人才。孙洁提议,从教师、学生的角度出发,通过情怀引领和与工业界的多元合作,为教师的科研发展和学生的职业发展提供有力支持。
During the discussion session, DAB members provided their advices on the construction of Smart Connected System Research Center, establishment of major of computer science and buildup of faculty team, and conducted in-depth talks on how to attract international talents. John Wu said faculty are of the utmost importance to the future development of JI. JI should, therefore, exploit and make effective use of various resources within and out of SJTU as well as reserve and cultivate a batch of world-class teaching and research reserve talents. Jane Sun proposed that faculty's research development and students' career development should be well supported through emotional resonance and diversified cooperation with the industry, sticking to "teacher-and-student-oriented" policy.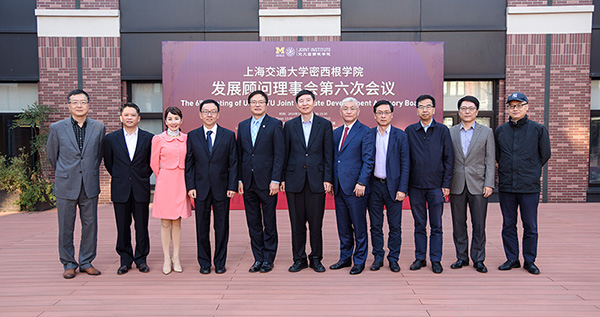 Group photo of some DAB members
(From the left: Lin Zhang, Chunhe Gong, Jane Sun, John Wu, Peisen Huang, Jun Ni, Liming Yu, Ping Hua, Yudong Chen, Guangxin Li, Qiang Cheng)
As the development advisory body of JI, DAB provides guidance and support for JI dean and management team on strategies and resources, and plays an important role in promoting long-term development, international exchange and cooperation. DAB is made up of successful industry leaders, philanthropists and alumni from UM and SJTU. The DAB meeting is held once or twice a year.