Student Projects
VE/VM450

Midea E-Transparent Refrigerator Design
Sponsor: Jie Ren, Midea
Team Members: Enhao Zhang, Haonan Shen, Hongyi Wang, Keyue Zhu, Qichen Fu
Instructor: Prof. Jigang Wu
Team Members:
Enhao Zhang
Haonan Shen
Hongyi Wang
Keyue Zhu
Qichen Fu
Instructor:
Prof. Jigang Wu
Problem Statement
Today's customers have higher standards for home appliances. The challenges are mainly reflected into two aspects. First, traditional refrigerators are too monotonous in exterior appearance designs, which could not catch customers' eyes and maintain their competitiveness. Second, there is an increasing need to integrate intelligent systems into refrigerators. This project is to find a solution to build a transparent and smart refrigerator design model.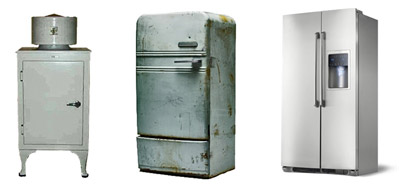 Fig. 1 The design evolution of refrigerators
Concept Generation
Sub-system concepts are innovative appearance, smartness and additional functions. And 3D model will be demonstrated as the appearance, and other smart functions will be shown on various platforms separately for validation.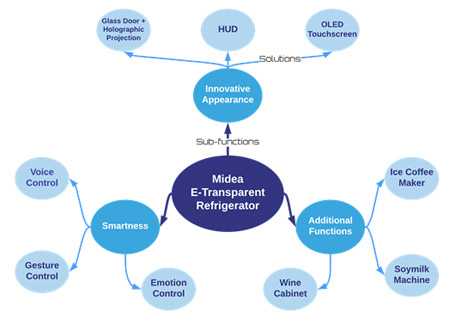 Fig. 2 Detailed structure function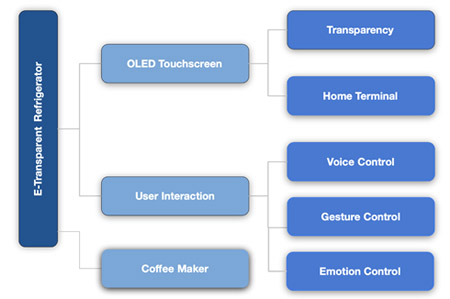 Fig. 3 Concept Diagram
Design Description
The design consists of a 34 inches transparent OLED screen and a recognition system. The visual recognition system consists of four cameras, namely a dot projector, a depth camera, an infrared camera and an optical RGB camera. The dot projector and the depth camera are used to generate mesh of face and hand. The infrared camera is then applied to refine the 3D model. The optical camera finally adds texture to the mesh.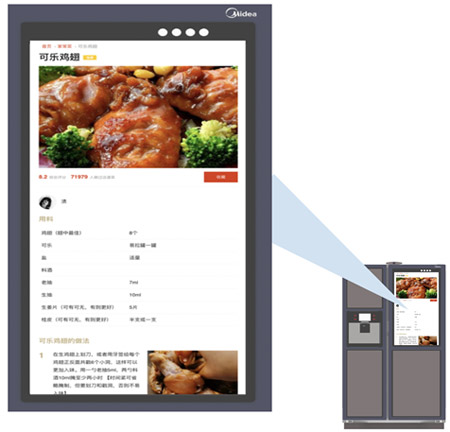 Fig.4 OLED screen and recognition system
User Story
We use a series of user stories to illustrate how our designs of the refrigerator can be utilized to provide users with better user experience. Fig 5. shows the following usage scenarios: transparent refrigerator via OLED screen, online shopping, recommending diet and drinks based on mood, and non-contact door opening.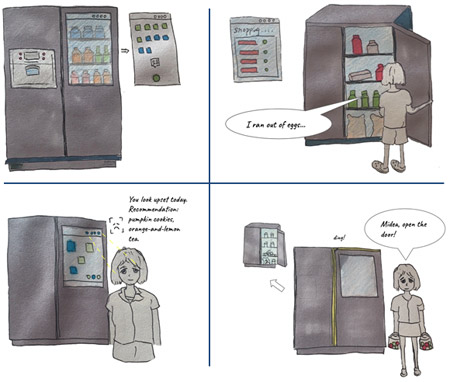 Fig. 5 User stories
Validation
3D Model:
A 3D model was built to validate the final design. The model was first designed in Rhino 6 and was modified in Unigraphic NX to be changed from plane to solid structure. The model was then printed out in 3D and was of the size of 134mm * 75.7mm * 265mm, which is around ⅛ of the regular size. Two acrylic plates were used as the door to enhance stability.
Gesture Control:
A leap motion sensor was used to simulate the four-cameras set for 3D hand detection. Java code is written based on the leap motion SDK to transform the hand gesture to controlling signals (e.g. forward, backward, pause, resume recipe video).
Emotion Control:
We validate the emotion control in Python. A webcam will be used to capture the facial expression of the user. Then, a pre-trained tensorflow model will be used to predict the probabilities of detected emotions.
Conclusion
Compared with current designs, our design will be both innovative and functional. According to customer evaluation survey, our design meets the following criteria: large screen size, visual feelings and side design, interactive control, extra integrated functionalities, and lifestyle of young people.
Acknowledgement
Sponsor: Jie Ren from Midea
Instructor: Jigang Wu from UM-SJTU Joint Institute