Credit Transfer
If you have studied abroad and taken courses at another overseas institution, you can have the course transferred to JI. The credits you earn could be counted towards graduation.
Credit Transfer Process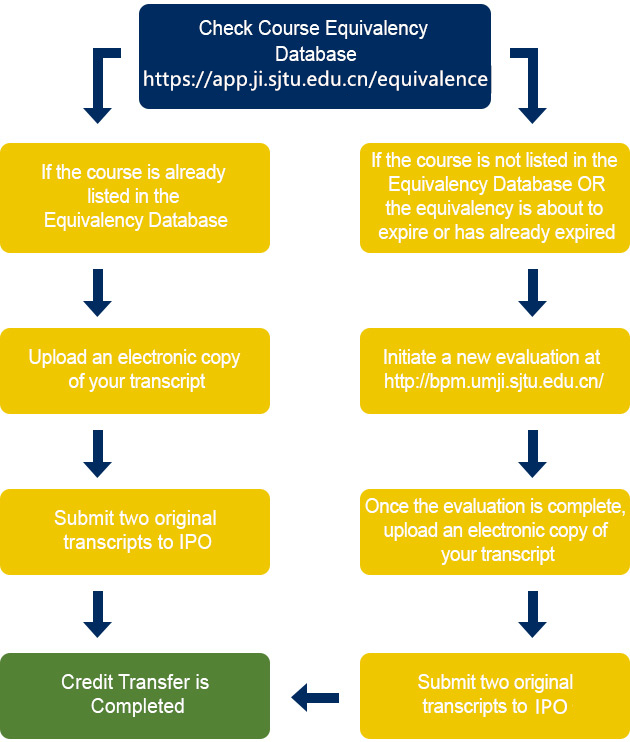 Credit Exemptions and Graduation Audit
The transferred credits will be counted towards the graduation requirements of JI, but will not be calculated towards GPA. The transferred credits will be calculated towards the graduation requirement based on credit exemption, which means the course names and codes won't appear on the official SJTU transcripts nor in the degree audit check system at http://degree.ji.sjtu.edu.cn/.
Guidelines on How to Start a New Course Evaluation
Required Documents for Course Evaluation
Required document: Course syllabus
Additional document: Course schedule or timetable as proof of contact hours if the course syllabus does not list the actual number of contact hours. Course slides, assignments, projects, presentations, notes, or other materials necessary for the evaluation may also be required. Some documents may be requested at a later date.
The course evaluation application will be rejected if students do not provide the necessary documents.
Calculation of Contact Hours, Credits and Course Level
During the evaluation, contact hours, course credits and the course category will be calculated and determined by JI.
Contact Hours
Only Lectures and Laboratory classes will be taken into account.
Exercise classes may also be counted if they are a fixed part of the course and participation is expected. Supportive evidence for the hours of Exercise, Recitation, Tutorial Classes and etc. should be provided if students want these hours to be calculated. An email with the explanation from the course instructor or from the host university or college may serve as a source of evidence.
Unless relevant evidence is provided in the initial request, it is assumed that students agree with the contact hours being calculated only by Lecture and Laboratory hours.
Please email to ipo_exchange@163.com with your name, student number, course code and name if you need further assistance on determining the contact hours.
Credits
The number of credits calculated by JI is based on the contact hours and may be different from that awarded by the host university.
Course Level
All courses transferred back to the JI to be used towards graduation will be evaluated as 400 level or lower level courses.
Appeal
Once the result of a course evaluation is available, students will receive an email notification. Students are only allowed to appeal the results within 72 hours upon receiving the results if it is from one or more of the following scenarios:
Your credit transfer was refused.
You believe your course may have been transferred to a wrong level.
You believe your course should be counted for more credits.
If you want to change your email registered in JI system, please contact the IT office (ji-it@stju.edu.cn) before starting the transfer process.
Transcripts With Pass/Fail
Transcripts should show the course grade in letter grades. Courses graded simply as Pass/Fail are not transferable. In addition to that, students must receive a passing grade at the host university to be able to earn the credits at JI.
Credibility of the Documents and Materials
All documents, materials and information students provide in the credit transfer process should be authentic and original. Any suspected behaviors will be reported to the Honor Council and the Undergraduate Committee.
Sample Study Plans for Studying Abroad
Sample Study Plan for ME Major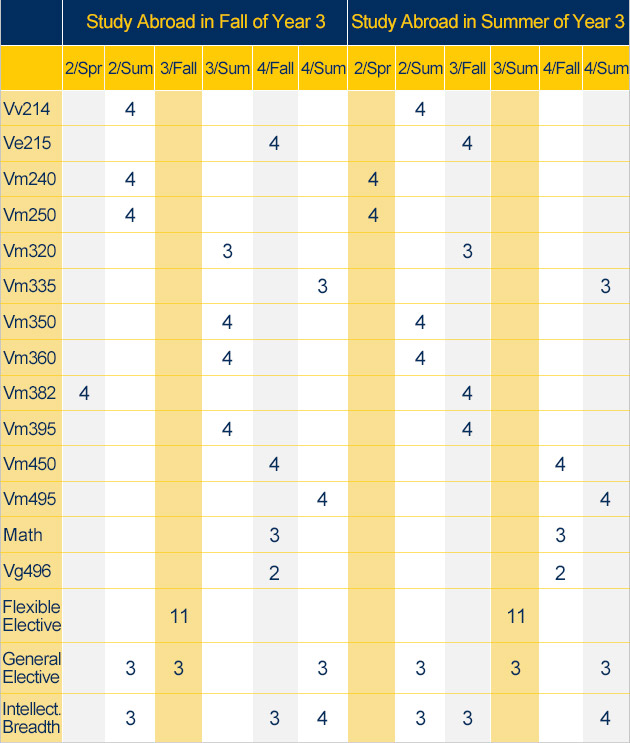 In order to take Vm250 in the spring term of Year 2, Vm020 must have been taken in the preceding fall term.
To spend a semester abroad in the Year 3, take either Vm382 or Vm240 and Vm250 in the spring term of Year 2.
To go abroad in the Senior year, make sure that Vm495 is taken in the Junior year.
Sample Study Plan for ECE Major
When going abroad in the summer of Year 3, taking Ve216 in the spring of year 2 is important since it is a prerequisite for many further courses.