Efficient DNN Algorithms, Accelerators, and Automated Tools towards Green AI
Date: 2020/12/17 - 2020/12/17
Academic Seminar: Efficient DNN Algorithms, Accelerators, and Automated Tools towards Green AI
Speaker: Yingyan Lin, Assistant Professor in the Department of Electrical and Computer Engineering at Rice University
Time: 10:00 am-11:00 am, Dec. 17th, 2020 (Beijing Time)
Virtual Talk Link: https://umji-sjtu.zoom.com.cn/j/61939356544?pwd=OGMzdGpmdjZZQmM1c1dINUxONW5ZUT09 (Meeting ID: 619 3935 6544; Password: 051165)
Abstract
While machine learning powered intelligence promises to revolutionize the way we live and work by enhancing our ability to recognize, analyze, and classify the world around us, this revolution has yet to be unleashed. First, powerful machine learning algorithms require prohibitive energy consumption (e.g., hundreds of layers and tens of millions of parameters), whereas many daily life devices, such as smartphones, smart sensors, and drones, have limited energy and computation resources since they are battery-powered and have a small form factor. Second, the excellent performance of modern deep neural networks (DNNs) comes at an often exorbitant training cost due to the required vast volume of training data and model parameters, e.g., training a single DNN can cost over $10K US dollars and emit as much carbon as five cars in their lifetimes, raising various environmental concerns.
To address the aforementioned gap and challenge, the Efficient and Intelligent Computing (EIC) Lab at Rice University has been developing efficient DNN algorithms, accelerators, and automated tools. In this talk, I will share some promising techniques we recently developed and exciting projects that we are working on.
Biography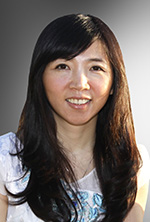 Yingyan (Celine) Lin is an Assistant Professor in the Department of Electrical and Computer Engineering at Rice University. She leads the Efficient and Intelligent Computing (EIC) Lab at Rice, which focuses on embedded machine learning and aims to develop techniques towards green AI and ubiquitous machine learning powered intelligence. She received a Ph.D. degree in Electrical and Computer Engineering from the University of Illinois at Urbana-Champaign in 2017, a Best Student Paper Award at the 2016 IEEE International Workshop on Signal Processing Systems (SiPS 2016), and the 2016 Robert T. Chien Memorial Award for Excellence in Research at UIUC. She was selected as a Rising Star in EECS by the 2017 Academic Career Workshop for Women at Stanford University. Dr. Lin is currently the lead PI on multiple multi-university projects and her group has been funded by NSF, NIH, ONR, Qualcomm, and Intel. Her group regularly publishes at top-tier conferences such as NeurIPS, ICML, ICLR, etc.