The launch ceremony of the University of Michigan- Shanghai Jiao Tong University Joint Institute (UM-SJTU JI) Alumni Association and a forum on Innovation, Entrepreneurship and Leadership were held at SJTU on April 10, attended by JI alumni, entrepreneurs and corporate representatives. As an activity to commemorate JI's tenth anniversary, the event also attracted many current students and parents.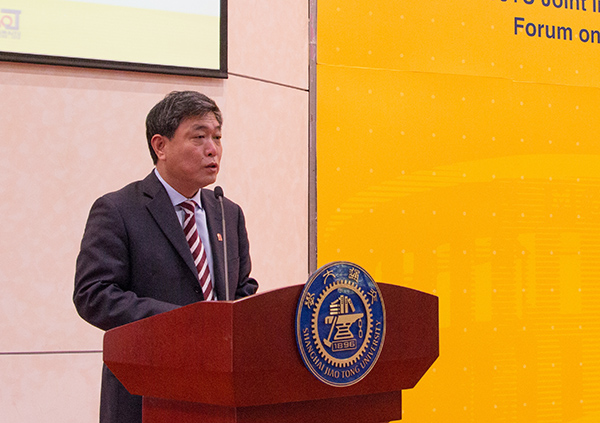 On behalf of SJTU, Vice President Ansheng Zhang expressed his high expectation of the JI Alumni Association. He emphasized SJTU's strong support for alumni associations, which serves important functions of unifying alumni and promoting SJTU brand. After ten years of impressive development, the launch of JI's alumni association is of strategic significance, which he hoped would serve as a starting point for building JI into a world-class university.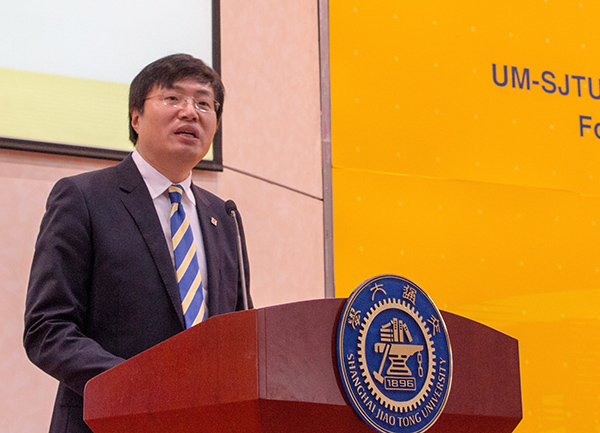 JI Dean Peisen Huang remarked that as JI has advanced to her tenth year and our outstanding alumni are increasingly active in all walks of life, it is timely to establish the JI Alumni Association, which he hoped would forge forward, bearing the unique "JI Spirit" and the SJTU motto of "Gratitude and Responsibility," to serve the large number of alumni and promote the development of JI and SJTU.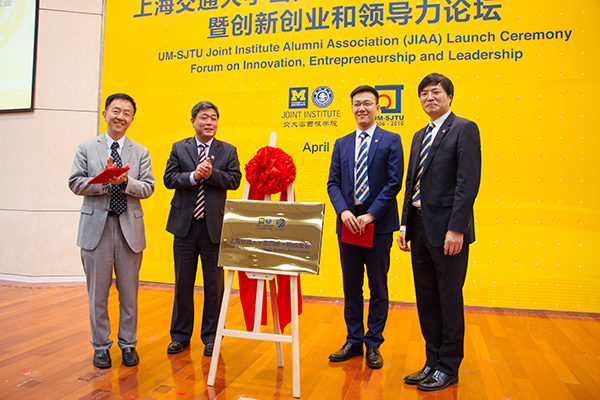 Then Vice President Zhang announced the establishment of the JI Alumni Association. Dean Huang announced the appointments of John Wu, founder and Chairman of H&F Fund Management Group, and alumnus Zongchang Liu, Class of 2012, as the association's adviser and president respectively. The plaque of the JI Alumni Association was unveiled.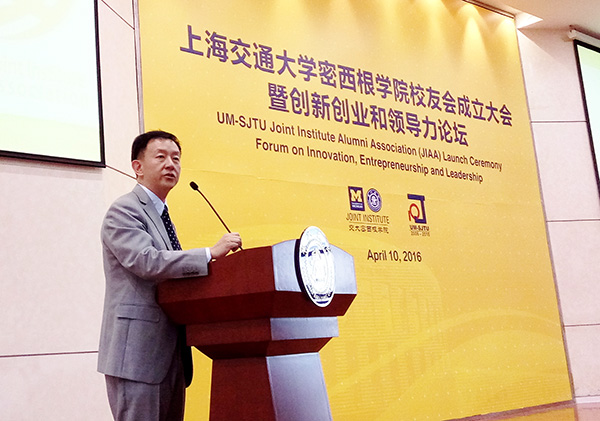 As an alumnus of both SJTU and UM, John Wu congratulated on this milestone event. He praised JI's education ideas and innovative education model. He hoped to collaborate with the JI Alumni Association.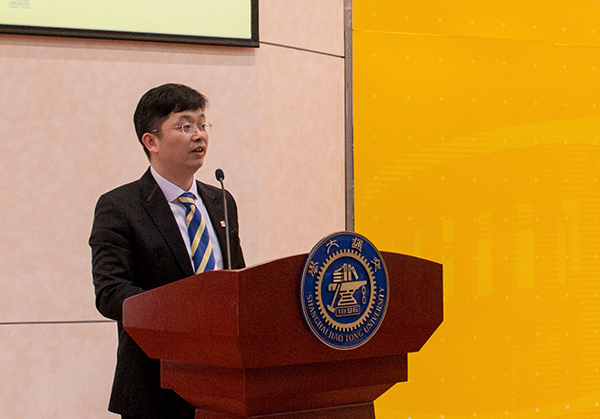 Scott Yang, Director of JI Academic Affairs, reported on the preparation process for establishing the JI Alumni Association since April 12, 2014. On April 9, 2016, at the first alumni association preparatory committee cum first council meeting, alumni representatives of each class elected the first members of the Alumni Council.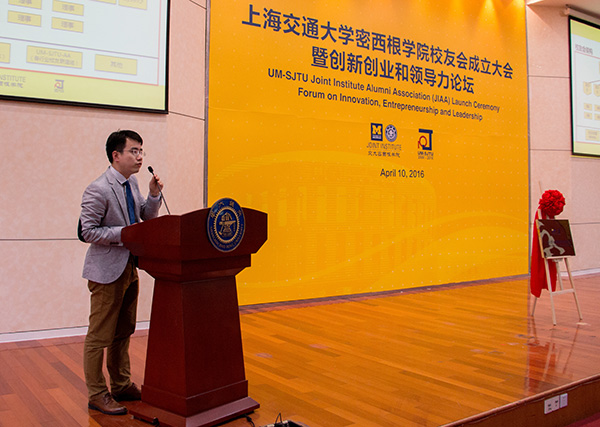 At the meeting, after statutes drafting team representative Lin Hao Zhou, Class of 2010, explained the structure and draft statutes of JIAlumni Association, elaborating on the membership, organizations, funds and other regulations, "The Statues of UM-SJTU Joint Institute Alumni Association" were formally adopted.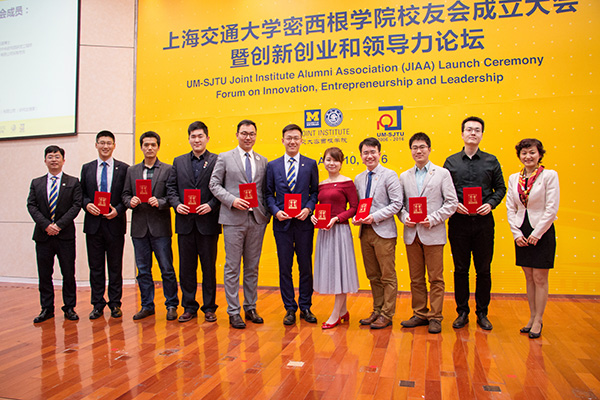 Then members of the first JI Alumni Council received letters of appointment from Scott Yang and Kathy Xu.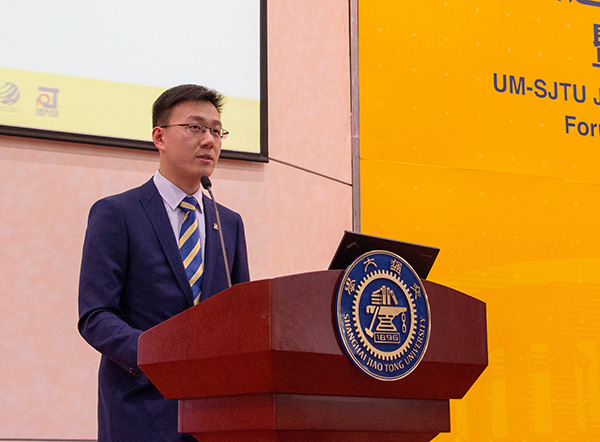 In his speech, using the analogy of connecting alumnus nodes to the core of JI family, Zongchang Liu, the first president of the JI Alumni Association, pointed out JI Alumni Association's role as a platform to connect alumni with diverse professional and educational background back to the JI family. This network will become a valuable asset for all alumni and current students. He also laid out the association's future five tasks and hoped to get everyone involved. Then, Liu answered questions about donation channels, foreign cooperation and contact means.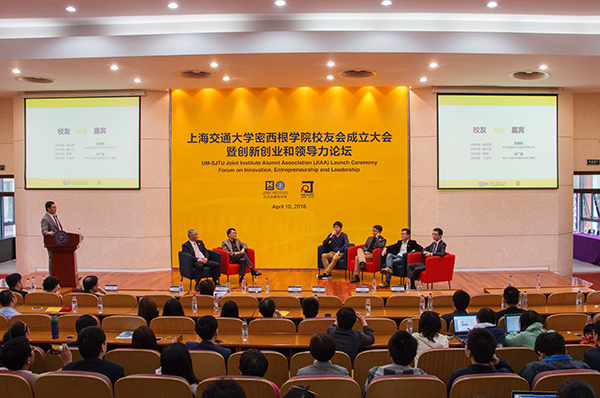 Taking advantage of the alumni gathering, a forum on Innovation, Entrepreneurship and Leadership was held right after the launch ceremony. Special guests included Yu Liming, President of Zhejiang Liming Engine Parts, Co., and Larry Li, Executive Director of DFJ Dragon Fund China, both being members of JI Development Advisory Board. Several alumni were invited to share their experience in innovation, entrepreneurship and leadership, including Junhao Jiang, Class of 2010, Technical Director of the Little Red Book, Shaolong Sui, Class of 2011, CEO of RoboTerra China, Hai Huang, Class of 2011, co-founder of Career Dream, Yuzhou Wang, Class of 2013, CEO Executive, Assistant to the Chief Commercial Director of Video++. The forum was monitored by Hao Sun, Class of 2011, founder of Enso Medical.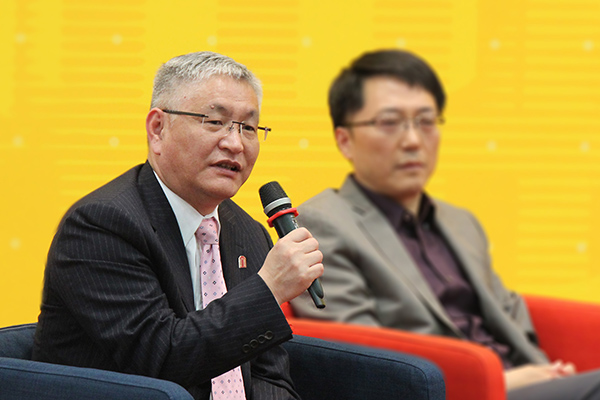 Yu Liming talked about his hard entrepreneurial experience in the early days and it is the full support of his wife that helped him forge forward and finally achieve today's success. On leadership, he believes enterprises should have cohesion and good plans, and focus on "employee cares, customer satisfaction, social returns."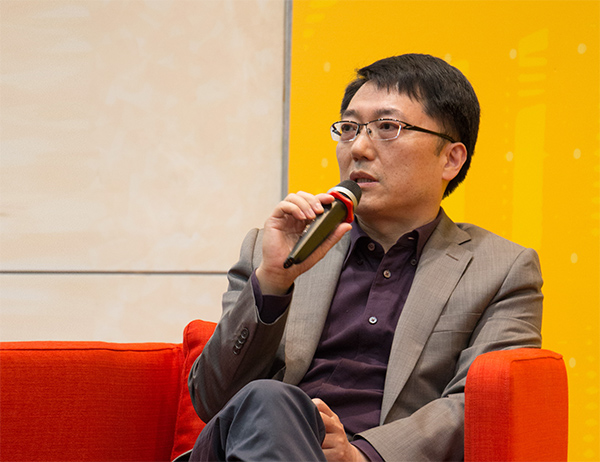 Larry Li said his motivation for entrepreneurship is the ability to choose his own future. He remembered when he was starting his business, the majority of his peers chose to stay in school. He chose to be among the few to develop Shanghai. He also stressed that entrepreneurship is not just to make money, but rather to fulfill one's ideals.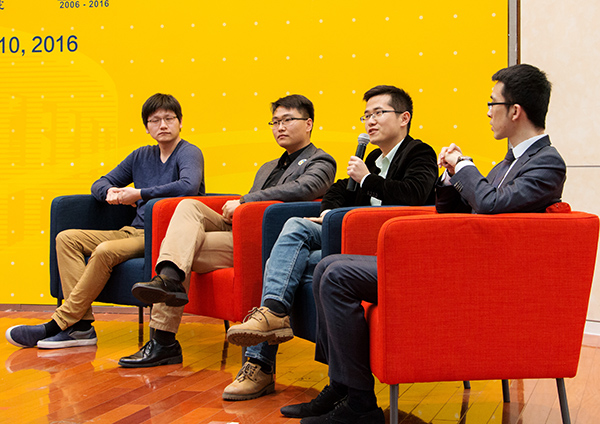 From left to right: Junhao Jiang, Shaolong Sui, Yuzhou Wang, Hai Huang.
Four alumni shared their entrepreneurial stories. On the question whether leadership is innate, Junhao Jiang thought that personality is born, but leadership can be developed and each personality suits different style of leadership.
Turning to innovation, Shaolong Sui proposed to stimulate the creativity of employees, provide professional platform for employees to express themselves, let them find the right position and enjoy the joy of creating something.
Hai Huang reported how he abandoned his enviable Morgan Stanley job and found a company in Zhongguancun in Beijing. He encouraged alumni and students to pursue their dreams.
Yuzhou Wang remarked that extensively promoting venture capital may lead to bubbles. However, to promote innovation and entrepreneurship is correct. The current capability of innovation-driven economic growth is not strong and the promotion of innovation can help China complete the transition quickly.
Finally, on the current idea of a "mass innovation, mass entrepreneurship," Larry Li and Yu Liming encouraged young people to be creative, but discouraged new college graduates from jumping into entrepreneurship hastily. Their messages to young people are: make good use of the current environment, accumulate, experiment, realize your potentials and bring new "Chinese strength" to social development.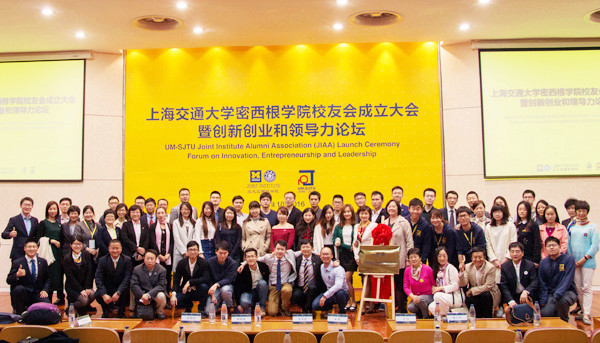 Guests, alumni, parents, teachers and students posed for pictures.