The seventh Shanghai Jiao Tong University Freshman Mechanical Competition was held on the evening of May 15. This year the highly anticipated event was sponsored by Zhejiang Liming Engine Parts Co., Ltd., organized by the University of Michigan- SJTU Joint Institute (UM-SJTU JI), and participated by the innovation clubs of both JI and the SJTU School of Mechanical Engineering. A total of eight (out of 32) teams made it to the final contest. Mr. Yu Liming, President of Zhejiang Liming Engine Parts Co., Ltd., and JI Dean Peisen Huang were present to cheer the students, as well as a large turnout of faculty, staff, and students. JI's four teams performed very well and won the first and the third places.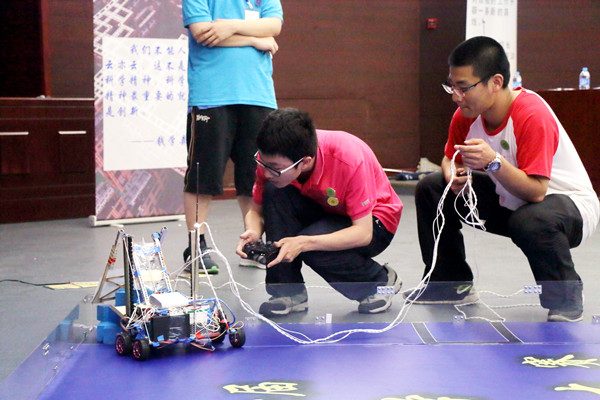 Since 2009, the increasingly popular SJTU Freshmen Mechanical Competition has attracted a large number of engineering students with a different theme every year, open competitive platform and bold innovative spirit. The 2015 contest was the largest over the years, with participating teams from Naval Architecture, Ocean and Civil Engineering, and Institute of Aeronautics and Astronautics as well.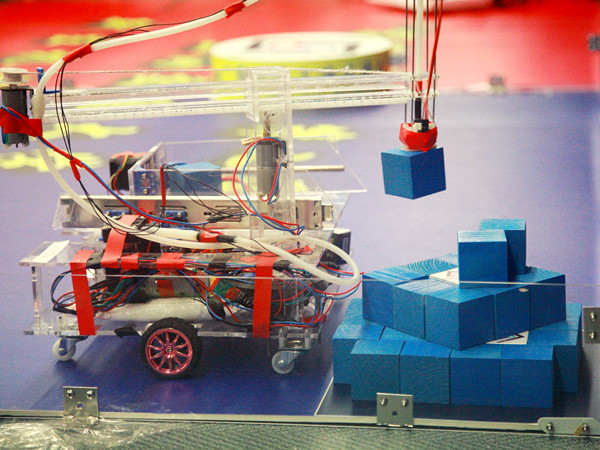 The theme this year is for the competing robot cars to sort and pick up blocks from one location and pile at their home bases.  


All finalists showcased their creativity and imagination. Some robots were simple and practical, using just one stick; some were sophisticated and highly efficient, applying the principle of vacuum and supplementing with laser light to improve the grabbing accuracy; some robots competed with a sense of humor, funny expressions eliciting chuckles from the audience. The competition was fierce, the atmosphere tense with no allowance for error. The excited audience applauded and cheered. Finally, JI's Class 102 won the championship with a perfect defense mechanism of a funnel-shaped cover.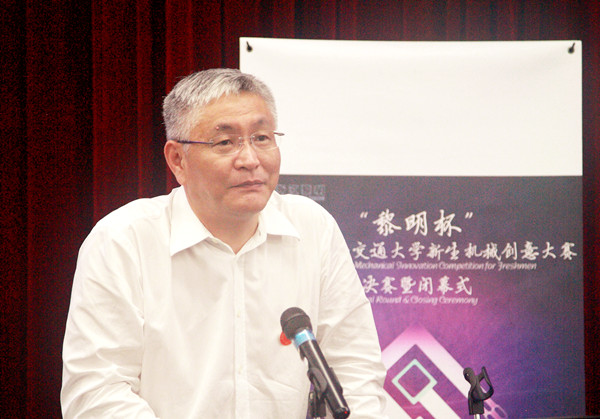 Mr. Yu Liming remarked that he was impressed by students' passion and capabilities. He encouraged them to keep improving and strive for better results.
From the competition, the students have learned not only knowledge in mechanical and electrical engineering but also teamwork.