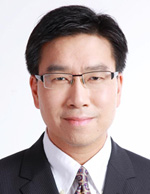 The UM-SJTU Joint Institute's Associate Professor David Hung was elected as a SAE International (Society of Automotive Engineers) Fellow by the SAE Fellows Committee in Oct 2013. Among the twenty-two newly elected SAE Fellows in 2013, Professor Hung was the only one selected from any university or institution in China.
SAE Fellow is the highest grade of membership bestowed by SAE International, a global association that serves more than 138,000 engineers and related technical experts in the aerospace, automotive and commercial vehicle industries. It recognizes outstanding engineering, scientific and leadership accomplishments by an individual that have resulted in meaningful advances in automotive, aerospace, and commercial vehicle technologies. The program, established in 1975, recognizes an average of 20 recipients worldwide for this honor each year. A total of 736 members have been elected as SAE Fellows since the inception of the program.
The SAE Fellows Committee selected Professor Hung based on his outstanding contributions to the measurement and characterization of fuel injector spray using novel optical & analysis techniques, and for leading the development and publication of SAE J2175, the first international standardization practice of gasoline injector spray measurement.  He will be honored with other new SAE Fellows at the Fellow Reception and SAE Awards Ceremony to be held during the SAE World Congress in Detroit in April 2014.
A member of SAE International since 1999, Professor Hung is currently serving as a vice-chairman of SAE Gasoline Fuel Injection Standards Committee.  He has received four other SAE awards, including Henry Souther Standards Award and SAE/InterRegs Standards and Regulations Award for Young Engineers, for his contributions to develop international engineering standards and regulations for the global automotive industry.
Brief Bio of Professor David Hung:
Dr. David Hung is an associate professor of the JI. He received his Ph.D. in mechanical engineering from Carnegie Mellon University, USA, in 1998.  Previously, he was an associate professor in the Department of Mechanical Engineering at Michigan State University, and he also held employments in the US at General Motors, Delphi and Visteon Corporations where he researched on advanced powertrain systems, gasoline direct injection engine, and optical diagnostics.  His research projects were funded by the US Department of Energy and other agencies.  Professor Hung joined the JI in June 2010 with a dual appointment as a professor in the Institute of Automotive Engineering, School of Mechanical Engineering at SJTU.  He has published over 70 papers in archival journals and conference proceedings including Nature Physics, International Journal of Engine Research, IEEE Transactions of Mechatronics and SAE Transactions.  He has been granted 10 US patents. He is serving as an editorial board member of the highly regarded journal Progress in Energy and Combustion Science. He has received numerous funding from Chinese agencies, including the MOE's new century talent award, SJTU inter-disciplinary research grant, NSFC grants, and the inaugural Shanghai 1000 scholar & oversea talent expert award by the Shanghai municipal government. At the JI, he has been teaching upper level and graduate subjects in automotive engineering and mechanical engineering laboratory courses, training students on engineering skills and team work through interactive learning. He received the 2012 SJTU Excellent Teaching (First Prize) Award.  In addition, as the lead instructor for Vm495, he has been recognized with other JI faculty members in the core mechanical engineering discipline to win the 2012 SJTU Teaching Achievement Award for JI's reform and innovation in training mechanical engineering students.