On December 3, fifteen JI seniors arrived at Hewlett-Packard IT R & D (Shanghai) Co., Ltd at Zhangjiang High-tech Park, Pudong. They presented their HP-sponsored capstone design projects which they had completed in collaboration with HP over the past two months.
Students presenting their projects
Testing the HP fingerprint identification-based printer
For the 2014 fall semester, Hewlett-Packard has sponsored three projects: (1) HP Fingerprint Identification-based printers; (2) Optical Character Recognition of HP AiO Printer; (3) Scanning Process Visualization of HP AiO Printer. Each project was designed and completed in time by a team of 5 JI senior students, under the supervision of 3 HP engineers, including Zhenxin Tang, Chengqun Yang, Ye Cheng, and JI professors Mian Li and Vincent Chang. Each project is a challenge to the students' communication skills, team work, and innovative thinking. Students have learned a lot from the process. A senior remarked, "During the 2 months, we have not only learned knowledge and skills, but we have also discovered our potentials, had better insights into our future directions, and gained more understanding about engineers, enterprises, and social responsibilities. We are very grateful for this kind of training and opportunities."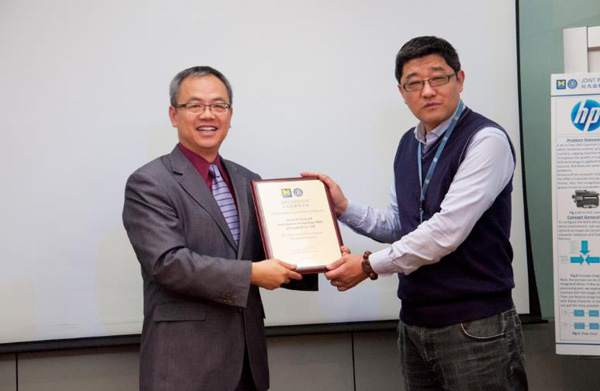 Prof. Vincent Chang thanked HP representative Mr. Peng Zhang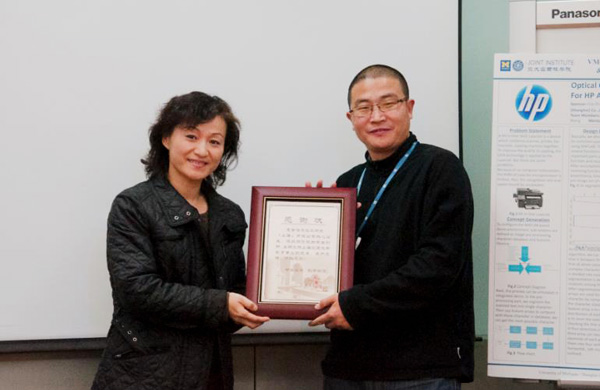 Kathy Xu, Director of Institutional Advancement, thanked HP representative Yumao Zhu
Since 2013, JI has had 4 rounds of collaboration, 10 projects in total, with Hewlett-Packard. Both parties are very satisfied with the results and enthusiastic to deepen and broaden the collaboration. A HP official marveled, "It is amazing how much the students can achieve in 2 months' time. Their prototypes are very close to our target and will be put into production. Our cooperation with the Joint Institute has been very successful and we look forward to more collaboration in the future."
JI's 2014 Winter Design Expo will be held on December 17 at the SJTU Library in Minhang campus. The three HP-sponsored projects will be demonstrated at that time.