The winner list of the 2015 Shanghai Jiao Tong University Teaching Awards has been announced. Among the 115 entries from 29 schools (departments), the University of Michigan- SJTU Joint Institute (UM-SJTU JI) faculty team featuring "Innovative Education with Corporate Sponsorship" has won one of the first prizes.
The teaching team, composed of Professors Vincent Chang, Kai Xu, Chengbin Ma, and Mian Li, summarized their achievement in developing an innovative model of Capstone Design with corporate sponsorship. Students of both majors in ME and ECE take the course together and work in teams on projects sponsored by various companies. Students get hands-on experience from solving practical engineering problems under the supervision of both JI faculty and company engineers. This collaborative model helps students apply multidisciplinary engineering knowledge to actual projects and provides opportunities for students to work on projects in a corporate environment. It strengthens students' real life practice experience and improves their ability to solve practical problems. Sponsor companies include Covidien, General Electric, Intel, National Instruments, Siemens, HP and other well-known international companies. The projects also reflect the forefront engineering needs of those established enterprises.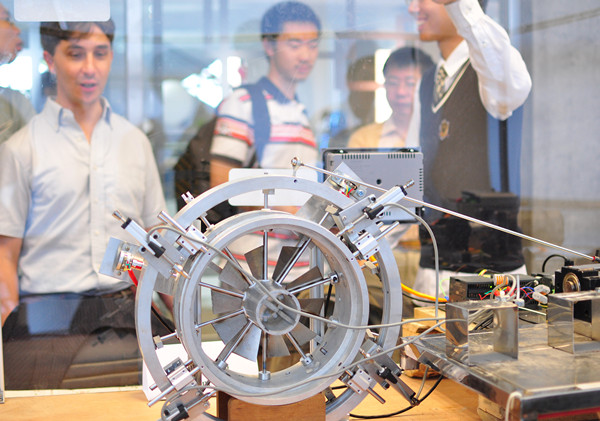 "IGV Actuation Control System Integration," a continuous capstone project sponsored by Siemens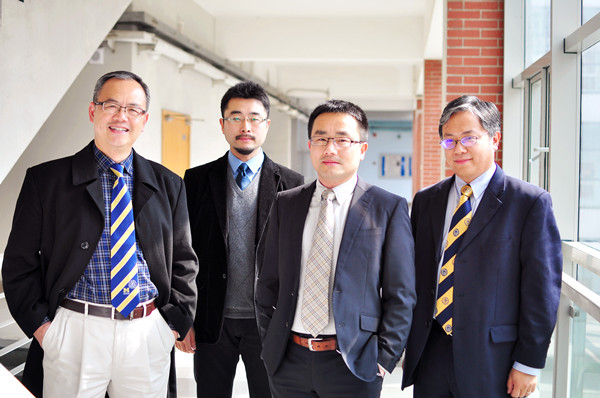 The winning team ( from left:Vincent Chang, Kai Xu, Chengbin Ma, and Mian Li)
Over the past five years, the percentage of JI's corporate-sponsored capstone design projects has increased drastically from 33% in 2011 to 86% in 2014. The outstanding performance of JI students has received accolade from the industry and proved the success of the model of corporate collaboration. From 2011 to 2014, JI students have completed 96 corporate-sponsored projects, covering the fields in health care, energy and power, open source software, mobile networks, wireless technology, electronic technology, 3D printing, etc. Corporate sponsorship has successfully resolved the major teaching problems facing the traditional graduate design course, such as integrating classroom learning with industrial practice, connecting capstone design with the needs of cutting-edge technology and achieving the win-win situation of fully utilizing both the corporate resources and school resources.
Related reading
2011-2014 Corporate-Sponsored Capstone Design Projects