The award ceremony of 2014 Andrew Heiskell Awards for Innovation in International Education, one of the highest honors in international higher education, was held on March 14 in New York City. UM-SJTU Joint Institute wins the award in the category for best practices in international partnerships. Dean Jun Ni was present to receive the honor from the Institute for International Education (IIE). This is the first time a Chinese university wins the award.  "An excellent example of a successful, mature, and sustainable partnership," remarked Daniel Obst, deputy vice-president of International Partnerships, IIE.


Jun Ni commented, "JI's winning this award recognizes the long-term collaboration between SJTU and the University of Michigan. It also reflects the importance of the collaboration for both partners, through which both universities have laid solid foundation and reaped mutual benefits. Of course, the collaboration goes beyond the two universities. It has also improved mutual understanding between the two great countries. I am proud to see the Joint Institute serving as an excellent channel for two peoples to understand each other and it has become a bridge of international communication. I wish for a strong continuous collaboration between the two universities and thereby between the two countries."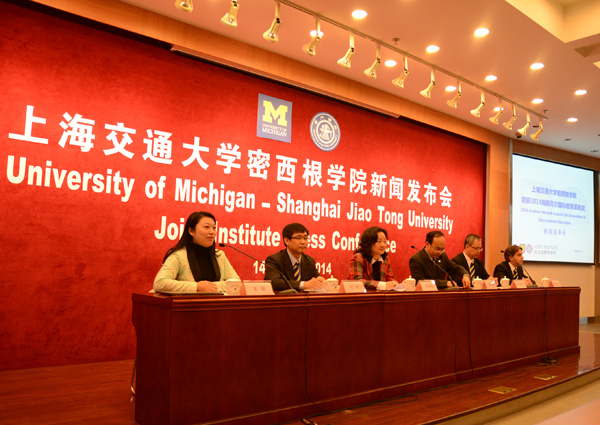 At the same time of the award ceremony, JI called a press conference in Shanghai to share the honor and JI's achievement in innovative education and corporate cooperation.  Professor Lisa Xu, the vice-president of SJTU, Professor Xinwan Li, JI Associate Dean for Research , Dr. Gang Zheng, JI Associate Dean for Undergarduate Education, JI faculty representatives, Dr. Reberto Dugnani and Dr. Vincent Chang, and the students representatives, participated the press conference.
About Andrew Heiskell Awards for Innovation in International Education
The Andrew Heiskell Awards were established in 2001 by the Institute for International Education (IIE), a New York-based nonprofit organization which is the world's largest for international education. The awards were named after Andrew Heiskell, a former chairman of Time Inc., a long-time member of the Executive Committee of IIE's Board of Trustees, and a renowned international and cultural philanthropist. The awards are dedicated to promoting and honoring the most outstanding initiatives in international higher education conducted by the 1,200 IIENetwork member universities and colleges around the world. In 2014, the awards are given in four categories: Internationalizing the Campus, Study abroad, International Exchange Partnerships, and Internationalizing the Community College Campus.  JI wins the award in the category of international partnerships which aims to recognize strategic, comprehensive and innovative international partnership efforts.
News Reports
——Domestic news
[新民晚报]上海密西根学院今获国际教育最高荣誉奖
[文汇报]上密西根学院获国际奖
[新闻晨报]密西根学院获最高荣誉奖
[东方网]上海密西根学院获国际奖 结合中美教育理念
[新民网]国际教育最高荣誉奖花落交大 中国教育机构首获奖[图]
[上海政府网]上海交通大学密西根学院荣获海斯克尔国际合作奖
[上海商报]交大首获国际教育最高荣誉奖"海斯克尔奖"
[上海教育新闻网]密西根学院缘何捧回国际教育最高荣誉奖?
[上海热线]密西根学院获"2014海斯克尔国际合作奖"
——International news
[The Washington Times]China-based U. of Michigan institute wins award
[CHINADAILY]Shanghai-Michigan venture wins award
[Global Times]Sino-American joint institute of higher learning wins special partnership award
[University of Michigan]U-M's partnership in China wins award for excellence, innovation
[WEMU]U-M Program Receives Award for International Education
[INSIDE HIGHER ED]A Partnership Approach
[China.org.cn]Sino-American joint institute of higher learning wins special partnership award
[University World News]Andrew Heiskell Awards: And the winner is?
[THE PIE NEWS]IIE announces winners of 2014 Heiskell Awards
Cover people (from left to right):
Jun Ni, Dean of UM-SJTU Joint Institute
Allan E. Goodman, President and CEO of the Institute of International Education
Amy Conger, Assistant Vice Provost for Global and Engaged Education
James Holloway, Vice Provost for Global and Engaged Education