The opening ceremony of JI's Yu Liming Student Activity Center as well as signing ceremony of Yu Liming Scholarship was held at JI on June 18. VIPs include Ansheng Zhang, SJTU Vice President, Jie Yin, Vice President of SJTU Education Development Foundation, Mr. Yu Liming, entrepreneur and philanthropist, his wife, and Youzhi Yao, Secretary of Zhejiang Charity Foundation. JI's Dean Ni, some faculty and staff members, students, and parents presented and witnessed the significant moments. Peisen Huang, Executive Dean, officiated.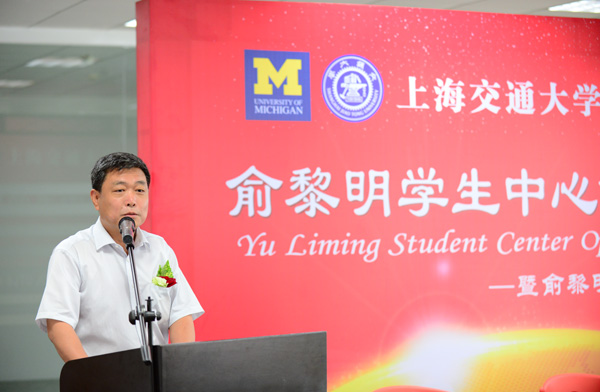 Vice President Zhang expressed his gratitude to the Yus. He remarked: "Cultivating talents has been SJTU's mission for 120 years. The Joint Institute has accomplished a great deal despite her short history. We hope the Yu Liming Student Activity Center and Scholarship will further reach this goal." He pointed out Mr. Yu builds his successful enterprise based on his business ideal of "manufacturing excellence with character, striving for number one in China and first class in the world." His generous social returns reflect SJTU's motto of "Gratitude and Responsibility." He has set a model of social responsibility for students to emulate.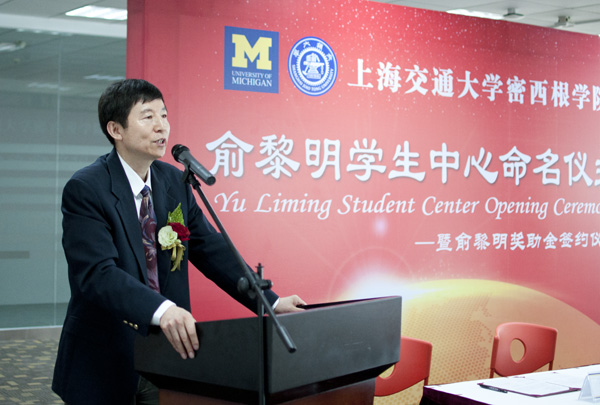 In his address, Dean Ni emphasized that JI's 'students-centered' education ideal corresponds with Mr. Yu's business philosophy of caring about employees and payback to the society. Yu's giving to JI shows his high expectation for JI students to become global leaders. Yu Liming Student Activity Center provides a cradle for future elites; Yu Liming Scholarship will fulfill many JI students' academic dreams. Dean Ni hopes Mr. Yu's support will be a long-term commitment.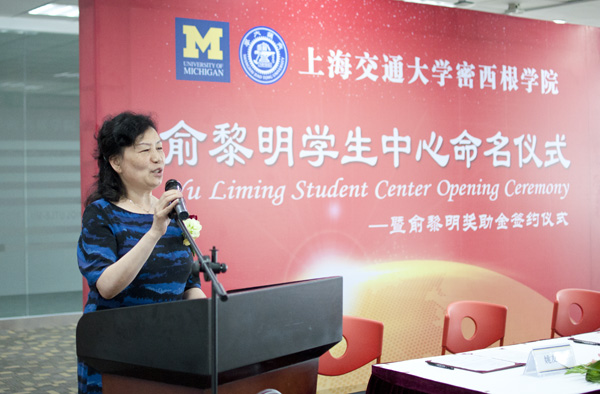 In Secretary Yao's introduction, she pointed out: "Mr. Yu is a great philanthropist. He has donated almost 9 million RMB so far which has benefited more than 300 students with financial difficulty. Mrs. Yu has been standing by her husband on the increasingly significant charity endeavor." Ms. Yao showed her deep gratitude to the Yus' generosity and exhorted the students to return the Yus' kindness with hard work.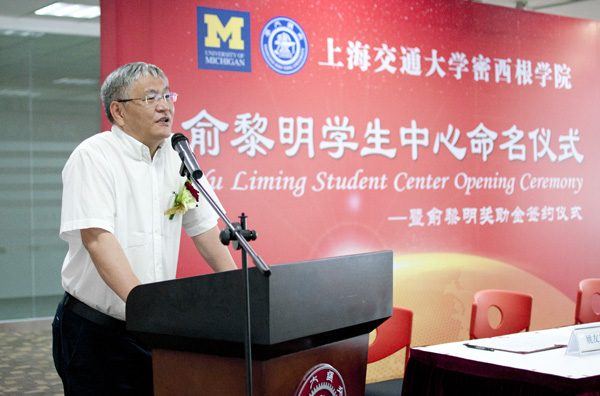 In Mr. Yu's address, he expressed his earnest hope for our students to study hard and revive China's manufacturing industry which is lagging behind other countries in core technology.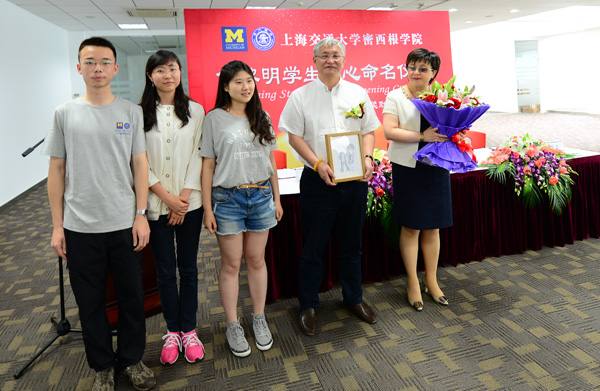 Student Peng Yuan spoke on behalf of JI students: They deeply appreciate JI's emphasis on educating talents and recognize that they would benefit greatly from Yu Liming Student Activity Center and Scholarship. The students would not forget Mr. Yu's generosity and would work hard to fulfill his expectation. On the occasion of the Yus' silver wedding anniversary, the students presented a hand drawn caricature of the couple as a present.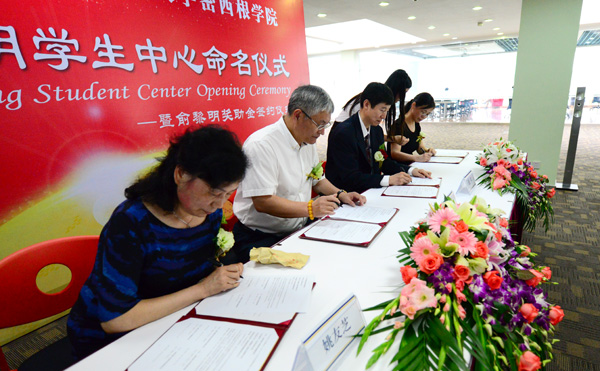 Under the witness of leaders, faculty and staff, students, and parents, the donation agreement was signed in 4 copies by Mr. Yu, Secretary Yao, Vice Secretary Yin, and Dean Ni. VP Zhang and Dean Ni presented the donation certificates to Mr. Yu.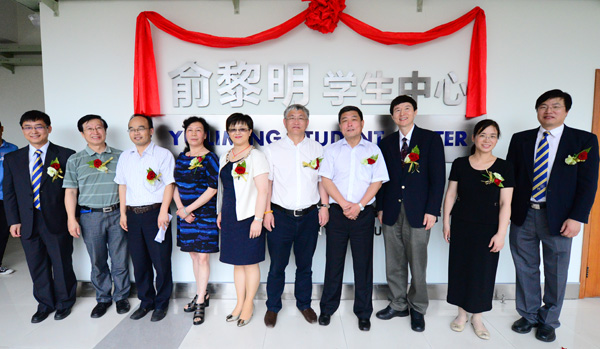 The grand finale of the ceremony was unveiling of the plaque for Yu Liming Student Activity Center, which formally commemorated the establishment of the Yu Liming Student Activity Center and Yu Liming Scholarship.
Introduction of Yu Liming
Mr. Yu Liming is the President of Zhejiang Liming Engine Parts Co., Ltd. and Honorary Vice President of Zhoushan City Charity Foundation. Mr. Yu abides by his business ideal of "manufacturing excellence with character, striving for number one in China and first class in the world." His company is the leader in China's engine parts industry. Mr. Yu adheres to his mission of "employee care, customer satisfaction, corporate development, and social return." For years he has established various scholarships to help financially challenged students achieve their goals. His company has won charity awards from dozens of provinces and the State Council. Mr. Yu himself has received many honors such as "Zhejiang Philanthropist Award" and "Zhoushan Outstanding Entrepreneur."
Yu Liming Student Activity Center is situated on the right wing of the third floor in JI Building, with an area of 860 ㎡. The center includes student guidance center, writing center, study room, meeting room, computer center, recreation room, library, gallery, and water cooler. The purpose of the student activity center is to provide a comfortable environment for learning, meeting, and one-on-one teaching and counseling. The center will promote the exchange and cooperation among the students and improve learning efficiency and student coherence.
Yu Liming Scholarship, in a total of 400,000 RMB, aims to support JI's financially challenged students so they can complete JI education and contribute to the society.