On April 11, 2015, SJTU's 119th anniversary as well as the Joint Institute's 9th anniversary, the Yu Liming Endowed Scholarship Fund was established at JI's Yu Liming Student Activity Center. The signing ceremony was attended by Mr. Yu Liming, President of Zhejiang Liming Engine Parts Co., Ltd., Ms. Huiqin Wang, Vice President of Zhoushan City Charity Foundation, SJTU President Zhang Jie, Vice President Zhang Ansheng, and JI deans, faculty and staff, alumni, and student representatives. Dean Peisen Huang officiated.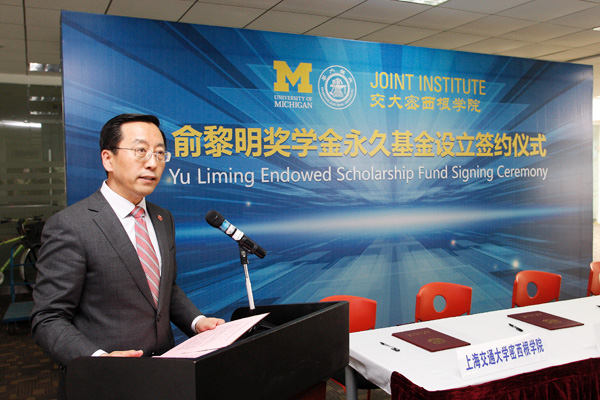 In his opening remark, President Zhang expressed his gratitude to Mr. Yu and high hope for the Joint Institute, recognizing JI's achievement over the past 9 years: "As SJTU is trying to promote internationalization in education through international cooperation and exchange, the Joint Institute shines as a model of implementing this strategy through her successful cooperation with the University of Michigan. Perusing the historical photos of JI's development in the Yu Liming Center, I can't help feeling so proud." He thanked Mr. Yu for his great support for education: "Mr. Yu not only donated the Student Center, but also set up scholarships, sponsored SJTU Mechanical Competition, and serves as a board member on JI's Development Advisory Board. He has dedicated himself to JI's advancement; his charity and care for students are admirable. Mr. Yu's company upholds the mission of 'Building China to become number 1 in the world with character' which is consistent with SJTU's education ideal and aspiration. Mr. Yu sets himself as a model for SJTU students."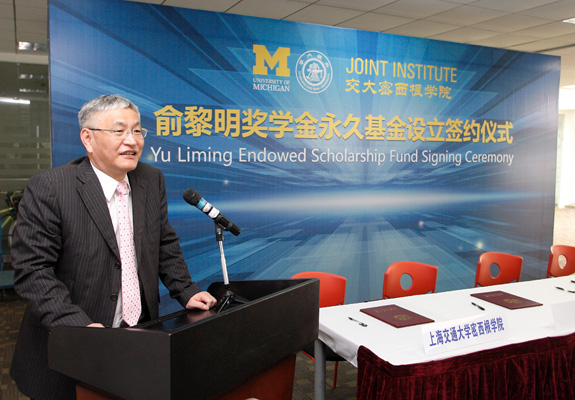 In his speech, Mr. Yu shared his experience of building his company from scratch to today's accomplishment and he aspires to bring China's manufacturing to the world level. He has high expectation for SJTU's future talents to assume this historic mission. He exalted the students to "Strive and be China's backbone."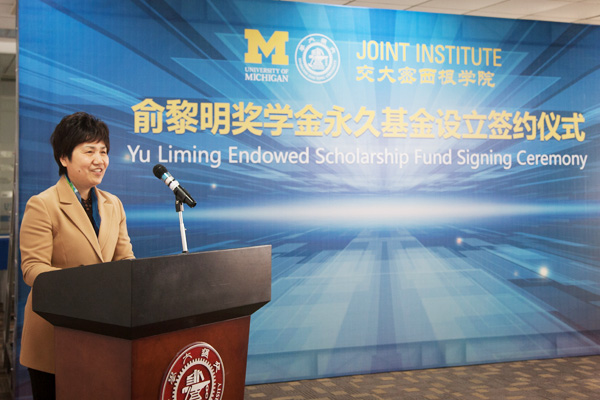 As Vice President of Zhoushan City Charity Foundation, Ms. Huiqin Wang highlighted Mr. Yu's contributions to charity: "For decades, Mr. Yu has been donating a percentage of his annual profits to charity. His Liming Scholarships have helped more than 400 financially challenged college students complete their education. He has also set up Endowed Scholarship Fund at Jilin University and SJTU to benefit more students. Mr. Yu has been recognized by the government for his extraordinary charity contributions."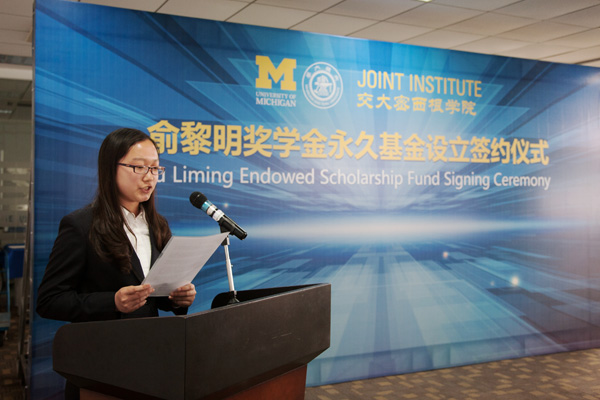 Jian Zhu, a student of JI's Class of 2012 and a beneficiary of the Liming Scholarship, showed her gratitude and conviction to pay back to the society. "The establishment of Yu Liming Endowed Scholarship Fund not only provides us with financial aids, but also teaches us the spirit of selfless dedication to education," she remarked. "Pride and joy aside, I also sense the great responsibility upon our shoulders. Only by working hard and striving for excellence, can we justify this honor."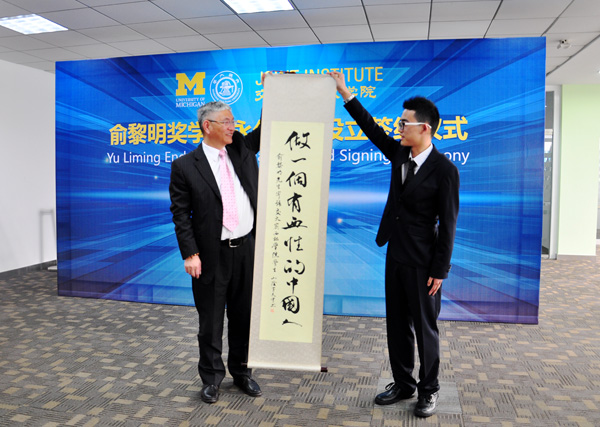 Representing JI students, Tianyu Mao presented Mr. Yu with his calligraphy work which writes "Be a courageous Chinese" which mirrors Mr. Yu's exaltation to JI students at the opening ceremony of Yu Liming Student Center.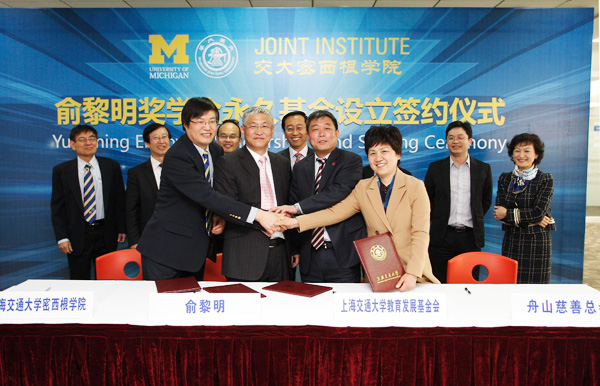 At the signing ceremony, under the witness of JI deans, faculty, staff, students, and alumni, Zhang Ansheng, Yu Liming, Peisen Huang, and Huiqin Wang, representatives of 4 parties, signed the endowment agreement and celebrated the successful inception of "Yu Liming Endowed Scholarship Fund."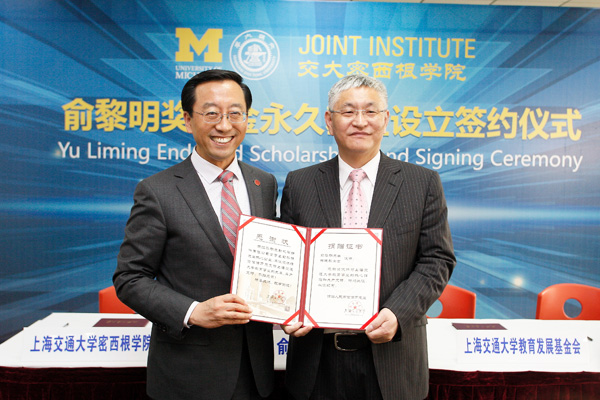 On behalf of SJTU, President Zhang Jie presented Mr. Yu with appreciation and donation certificates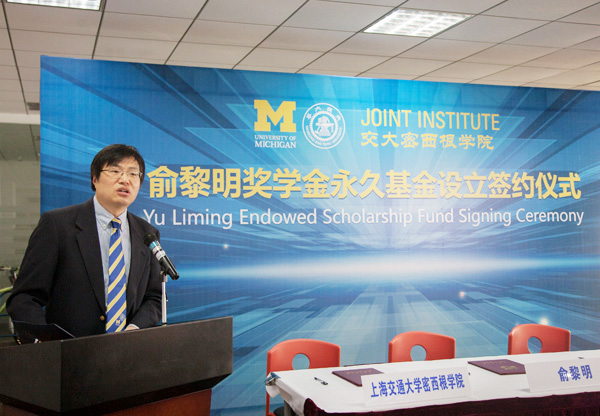 Concluding the ceremony, Dean Peisen Huang showed his gratitude again to Mr. Yu who has been giving to JI repeatedly over the past year.  As JI's first endowed scholarship fund, the "Yu Liming Endowed Scholarship Fund" has significant impact. "JI has a dream, which is to provide equal educational opportunities for all talented and motivated students. The dream cannot be fulfilled by the Joint Institute alone but needs the support of the society, the university, and parents. Mr. Yu's generosity is undoubtedly the important first step toward realizing this dream. I believe his kind gesture will encourage more people to participate in JI's development and help cultivate more talents for China's future."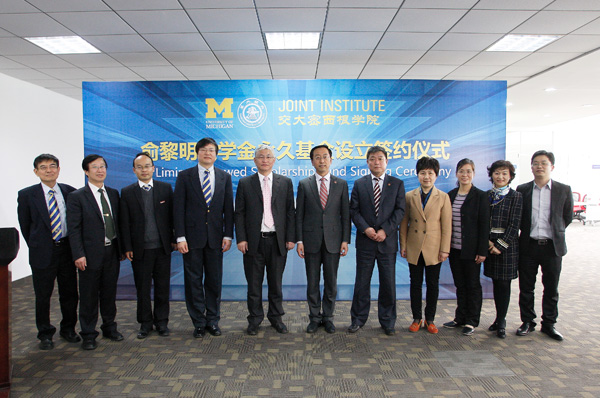 The "Yu Liming Endowed Scholarship Fund" is a permanent fund for SJTU. Every year, a percentage of the investment profit will be earmarked as scholarships for JI's outstanding, hardworking, and well-rounded students, so that more students can fulfill their dreams of academic pursuit and become China's future leaders.  At the same time, the Joint Institute is continuing the fundraising campaign to provide more scholarships for our students.
(photography by Xinmin Wu, Erda Ban)