On June 19, a group of University of Michigan- Shanghai Jiao Tong University Joint Institute (UM-SJTU JI) faculty, staff and students, led by Dean Peisen Huang, visited Bosch (China) Investment Co., Ltd. Dr. Yudong Chen, CEO of Bosch and a member of JI Development Advisory Board, received them warmly and awarded the Bosch Scholarships to six students.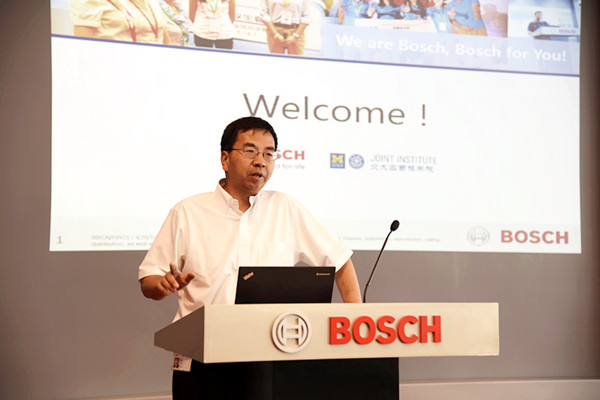 Dr. Chen gave a briefing on Bosch's history and current status. He talked about Bosch's philosophy of "Making life better with technology" which traces back to the charitable deed of founder Robert Bosch who had donated 92% of his stock option to establish the Bosch Foundation. He welcomed JI visitors and looked forward to more collaboration with JI.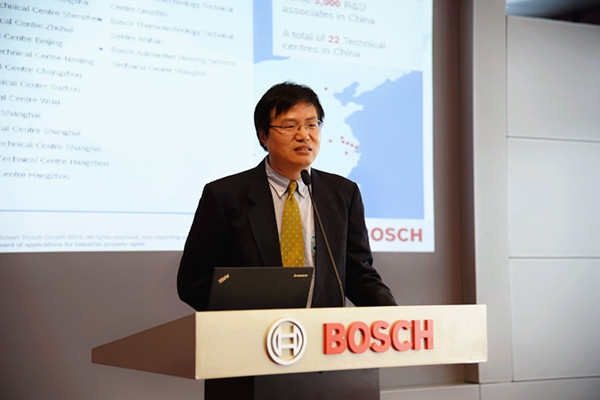 Dean Huang showed his gratitude to Bosch for their long-time support for JI through research collaboration and scholarships. Over the last two years, 12 excellent JI students have benefited from Bosch's generosity, which also serves as a connection between JI and the company.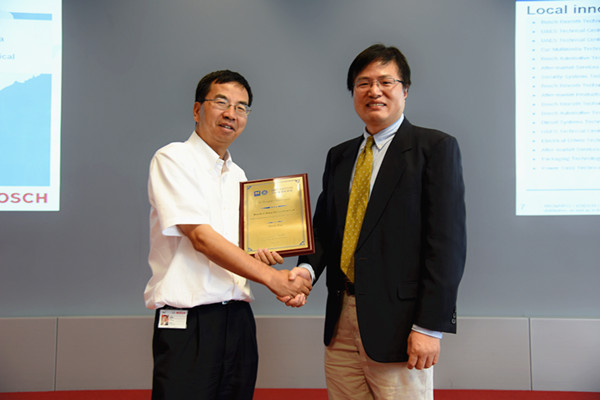 Dean Huang presenting a certificate of appreciation to Dr. Yudong Chen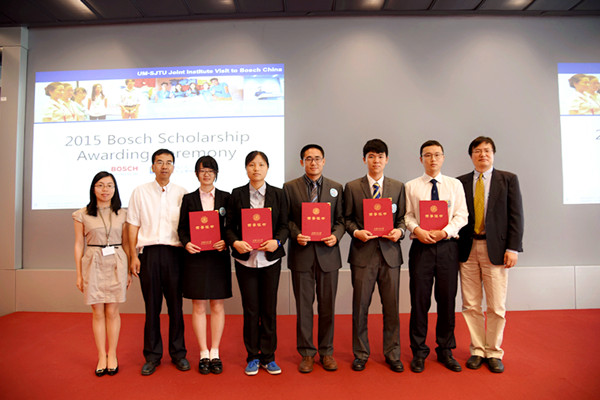 Dr. Yudong Chen, scholarship awardees and Dean Huang
The SJTU Bosch Scholarship was established in 2011 and has been distributed annually to excellent JI undergraduate and graduate students. This year, six students received the honor.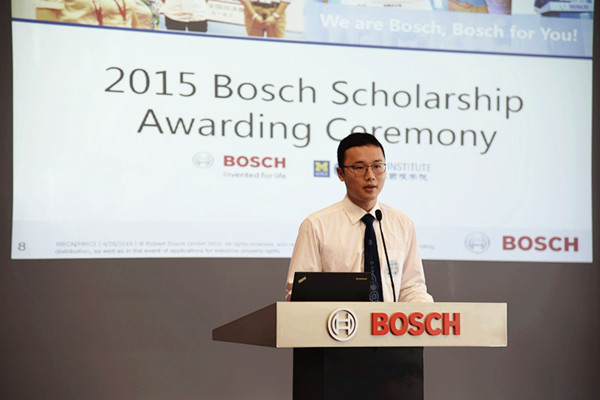 Wanyi, on behalf of the six scholarship awardees, thanked Bosch for their generous support so he could fulfill his dream of going to study at UM in the fall.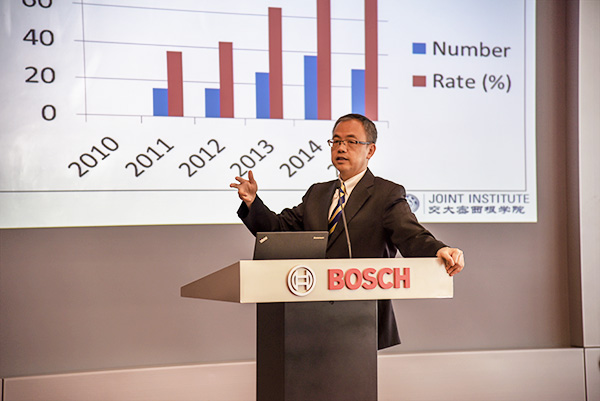 Professor Vincent Chang, JI's Faculty Director of Corporate Relations, made a multi-media presentation on the achievements of the JI-Bosch collaboration over the years.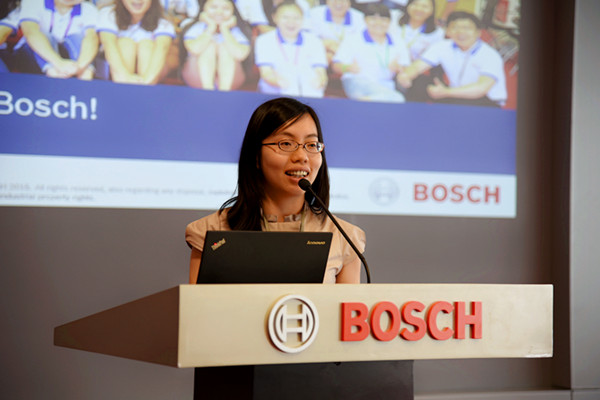 Yunyan Cao, Bosch China's Human Resource Manager, encouraging JI students to join Bosch.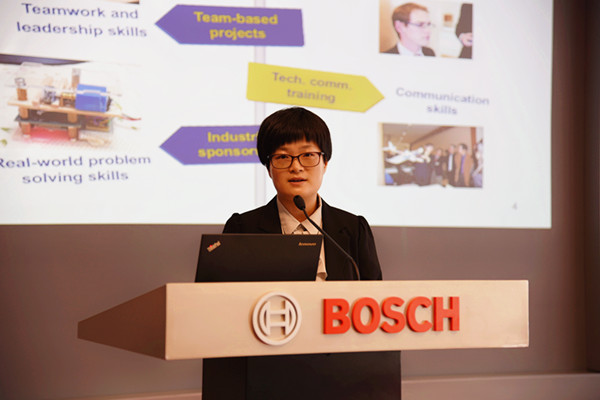 Candice Liu, JI's career counselor, reporting on JI graduates' excellent placement results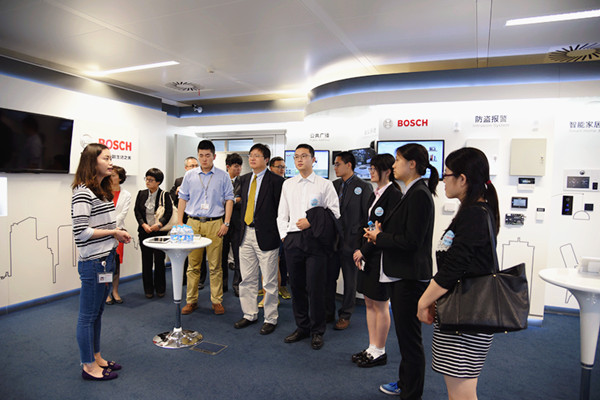 After the award ceremony, JI visitors had the opportunity to tour Bosch's security system testing center and home appliance exhibition. Through a professional demonstration, JI teachers and students gained insight into Bosch's advanced technology and outstanding products in the areas of automobiles, industrial technology, consumer products and smart architecture.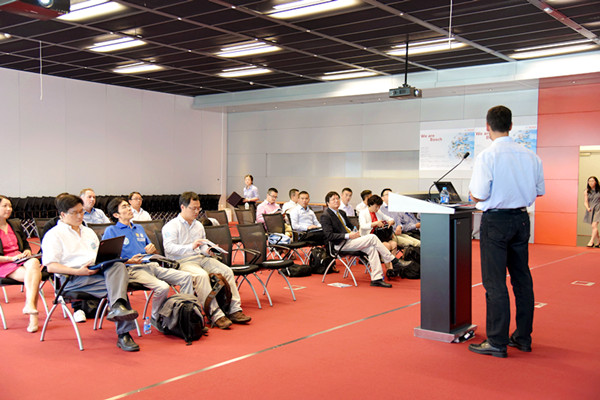 A discussion session was held for JI faculty members and Bosch researchers to exchange ideas and plan for further collaboration.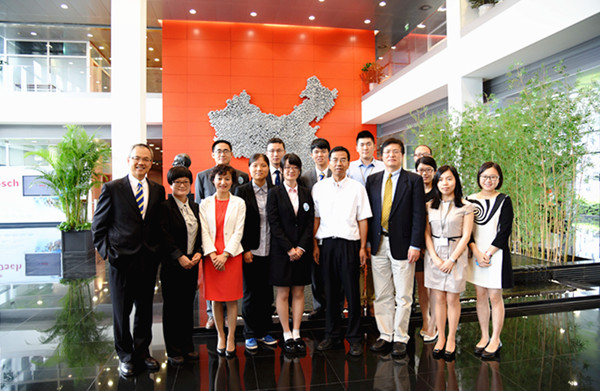 JI visitors and Bosch representatives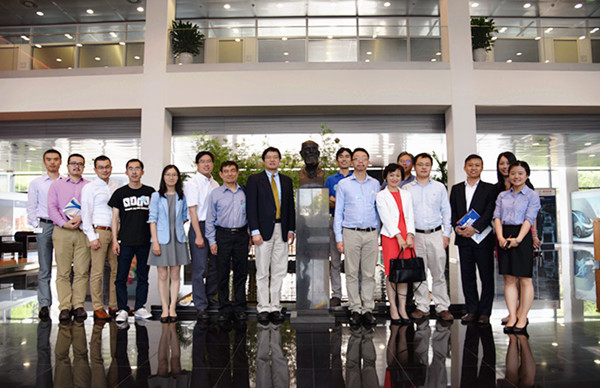 JI faculty members and Bosch researchers