To celebrate the tenth anniversary of the founding of the University of Michigan – Shanghai Jiao Tong University Joint Institute (UM-SJTU JI), you are cordially invited to participate in our centerpiece commemorative event, the International Symposium on Global Education.
The aim of the International Symposium on Global Education is to provide a platform for academic leaders and professionals from international communities with various experiences and cross-disciplinary expertise to reflect upon global education and discuss multiple strategies for educating next generation global leaders.  The Symposium on Global Education invites speakers who have a vision for global education and have made major efforts and lifelong contributions which resulted in the development of world class academic institutions with a focus on fostering creative global leaders.   The speakers will discuss their vision, strategies, difficulties and obstacles, and significant contributions for global education. (More detailed information please click here)
Time: April 10th, 2016 (Sunday) 1:30PM
Venue: Auditorium of JI Building, Minhang campus, Shanghai Jiao Tong University
Keynote speakers:
Dr. James Holloway, Arthur F. Thurnau Professor, Vice Provost for Global and Engaged Education, University of Michigan, "The Art of Partnership".
Dr. Larry Shuman, GE-3 chairman, Senior Associate Dean for Academic Affairs and Distinguished Service Professor of Industrial Engineering, University of Pittsburgh,  "The effectiveness of various forms of international experiences on students achieving a global perspective".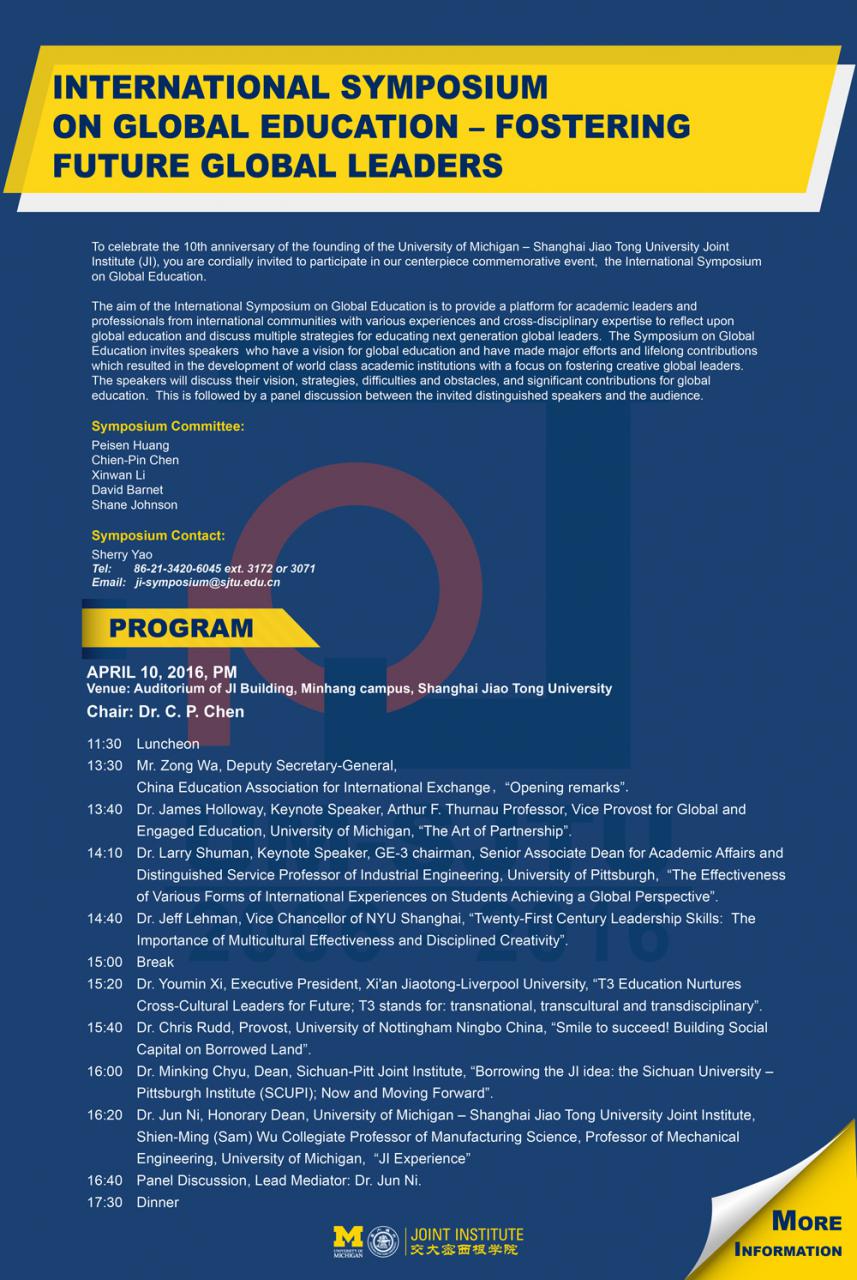 Online registration and payments: http://umji.sjtu.edu.cn/10/cn/Reg.php
*The early-bird registrants by March 23th will get the mascot of UM-SJTU Joint Institute as a gift.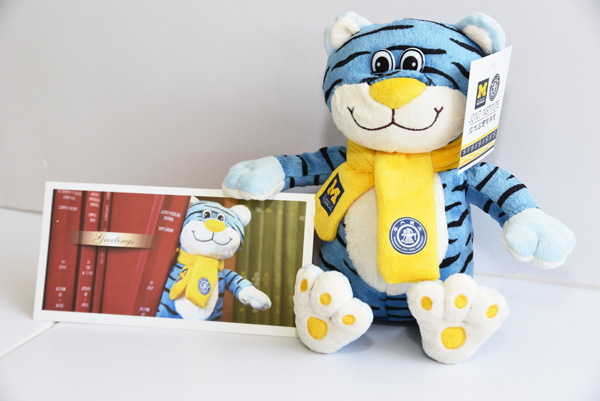 For questions regarding the symposium, please contact:
Sherry Yao
Tel:       86-21-3420-6045 ext. 3172 or 3071
Email:   ji-symposium@sjtu.edu.cn
Below is a list of accommodation around the symposium venue. The information provided is only for your convenience and does not constitute an endorsement or recommendation by UM-SJTU Joint Institute. It is advised to make the reservation as soon as you register, as room bookings are subject to availability.
Academic activity center, Shanghai Jiao Tong University
ž021-54740800
 No. 800, Dongchuan Road, Minhang District, Shanghai, 200240 (on Campus)
Shanghai Huhua International Hotel (He Qing Lu Branch、Wu Jing Branch)
ž021-61268299 (He Qing Lu Branch)  No.300, Heqing Road, Minhang District, Shanghai, 200240
021-64508999 (Wu Jing Branch)  No. 368 Jianchuan Road, Minhang District, Shanghai,200241
Attachment: UM-SJTU Joint Institute Map