A total of 26 students were conferred their graduate degrees at the 2019 University of Michigan- Shanghai Jiao Tong University Joint Institute (UM-SJTU JI) Graduate commencement Ceremony held at CIMC Auditorium of Long Bin Building on March 30. The ceremony was attended by invited VIP speaker Qun Chen, CEO of the Central Research Institute of United Imaging Healthcare,  JI leaders including Dean Peisen Huang,  Associate Dean for Academic Affairs Chien-Pin Chen, Associate Dean for Graduate Education David Hung, Deputy Party Secretary Scott Yang, as well as faculty and staff representatives and all master and doctoral graduates of 2019. David Hung hosted the ceremony.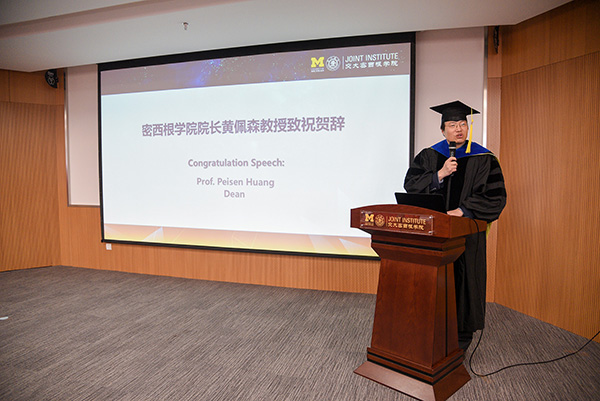 Peisen Huang congratulated the graduates on behalf of JI faculty and staff. Since JI started its graduate program in 2010, the quality of its graduate education has been increasingly recognized in China and around the world. He shared stories of three outstanding graduates including  winner of 2018 SJTU Excellent Doctoral Dissertation Award Aimin Tang, master graduate Yang Wan who attended 6 conferences and co-authored 9 papers during his graduate study, and awardee of 2019 Outstanding Graduate of SJTU Yuehan Liu who ranked first with her academic results. He hoped graduate students have all tasted the joy of discovery, become a better world citizen after years of studying at JI, and been prepared well for a rapidly changing world.

Qun Chen who is also Adjunct Professor of SJTU delivered a keynote speech. He shared with the students life insights based on his personal experience. The only thing constant in life is change and life is an amazingly unpredictable journey full of risks as well as opportunities, said Professor Chen who  quoted actor's lines of the movie Forrest Gump, life is like a box of chocolates,  to encourage the students to embrace the challenging future by creating their own achievements.
JI Professor Yongxing Shen made a speech as a faculty representative to congratulate and offer his blessing to the graduates. He advised the students to bear in mind the core values of JI including internationalization, interdisciplinarity, innovation and quality. Wherever they go, the graduates should hold a high standard for themselves, stand out by doing the right things and doing things right, dare to be the first and do not live on auto-pilot mode.
Han Xie made a speech on behalf of the doctoral graduates. He shared with the graduates his journey of scientific research. JI's unique international atmosphere and his adviser's care benefited his graduate career a lot. JI graduates should always remember to be bold, passionate, spontaneous and curious, said Doctor Xie who quoted one sentence from Kung Fu Panda to encourage his fellow graduates: "You story may not have such a happy beginning, but it doesn't make you who you are, it is the rest of your life who you choose to be".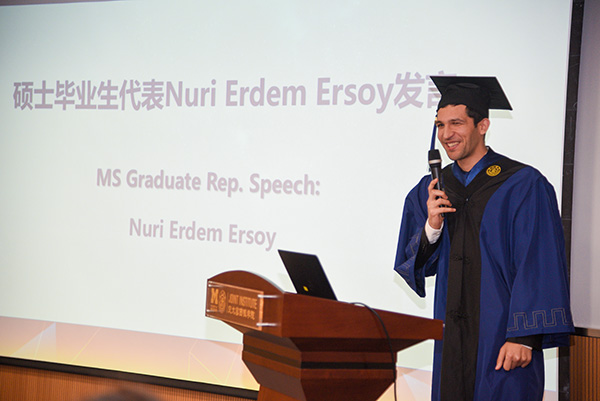 Nuri Erdem Ersoy made a speech on behalf of the master graduates. He expressed his gratitude for JI by sharing three stories. JI's "student-centered" atmosphere made international students feel comfortable, and the faculty offered invaluable  guidance and support enabling students to face up to the challenges. JI graduates must strive to be the best of themselves, fly through the turbulence and live life like a warrior. Be phenomenal or be forgotten, he said.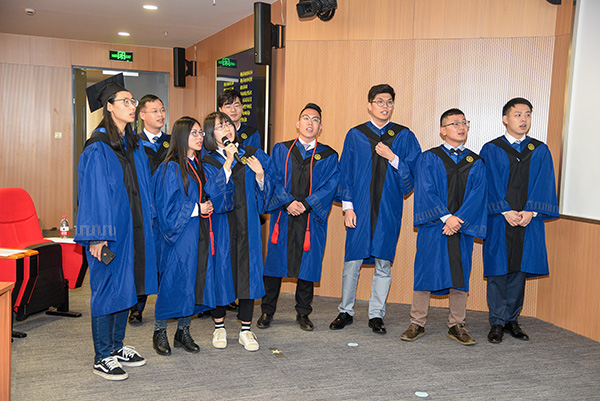 Singing performance by graduate students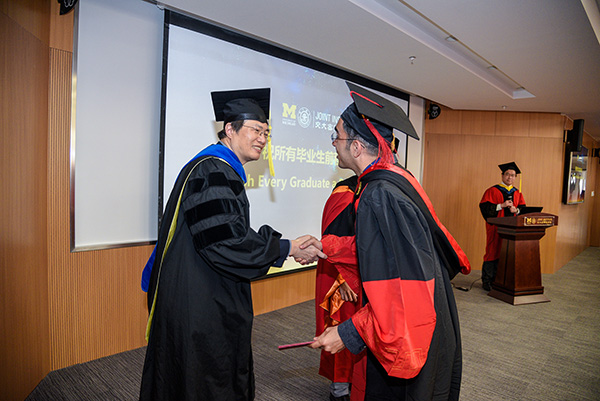 Hooding and turning the tassel ceremony for graduate students
This year, JI bestowed a total of 22 master degrees and 4 doctoral degrees, including 2 for international students. Among them, two will continue advanced study in other world-class universities including the Brown University and Johns Hopkins University. The others have successfully landed jobs at Huawei, Ctrip, SenseTime, KLA-Tecor, Bank of Communications, Netease and other well-known multinational companies.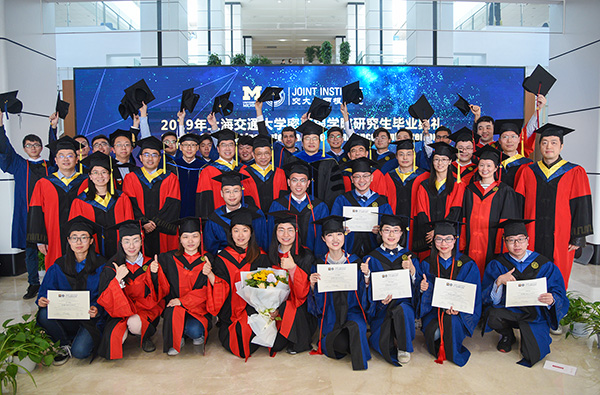 Group photo of graduate students of JI's Class of 2019