In January 2019, the University of Michigan – Shanghai Jiao Tong University Joint Institute (UM-SJTU JI) Professor Soong-Chul Ro led  a team of students from JI and other instiutes of SJTU to visit Thailand and Bangladesh. The visit of the Bangladesh Poverty Reduction Challenge Camp project team serves to provide pragmatic solutions for local partners and poverty-sticken communities to achieve sustainable economic and social development through science and technology.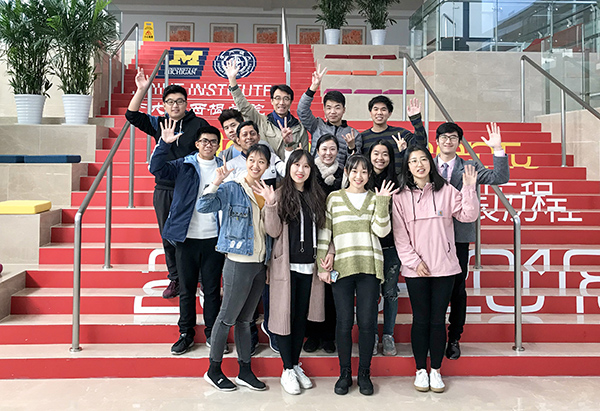 Group photo of the project team
Bangladesh Poverty Reduction Challenge Camp is an initiative under SJTU Global Engagement Program and a part of Sustainable Development Technology Entrepreneurship Program(TESD), which is also an extension of the Mobile Health of Belt and Road Initiative Project (mHBR) led by Professor Pradeep Ray, Director of JI's Center for Entrepreneurship. Based on the resources for international cooperation of SJTU's International Affairs Division and the scientific research collaboration between JI and less developed countries, the Camp aims at discovering, nurturing and developing projects to connect with these countries. Embodying the international "value orientation" and through on-the-spot exploration and practice, the purpose of these projects is to make students better understand international community issues and blend into multi-culture by direct experience, to deliberate and solve the common problems faced by human development, and then to nurture students' responsibility consciousness and patriotism of community with shared future for mankind. The multidisciplinary, multi-grade and multinational team is composed of undergraduates, postgraduates and doctors from JI, School of Mechanical Engineering, School of Biomedical Engineering, School of Electronic Information and Electrical Engineering, School of Physics and Astronomy, School of Media and Communication, Koguan School of Law, and so on.
Sufficient preparation before the trip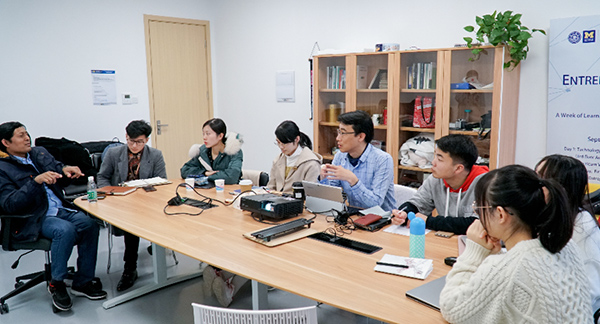 Professor Ro discusses with students during weekly meeting
Bangladesh is one of the least developed countries with the highest population density in the world, divided into seven administrative regions including Dhaka, Chittagong, Khulna, Rajshahi, Barisal, Sylhet and Rangpur. It is dominated by raw and semifinished materials industry, such as cement, fertilizer, jute and its products, white sugar, cotton yarn, soybean oil paper and so forth. In addition, Bangladesh has a weak foundation in heavy industry and its manufacturing is underdeveloped. The Camp will conduct field research in Dhaka, the capital of Bangladesh, Bogra, the important northern town, and Chittagong, the largest port city.
From December 2018 to the end of January 2019, the members conducted 11 training sessions under the leadership of Professor Ro, which covered a wide spectrum of topics including Bangladeshi language and culture, information collection and understanding of partners, task allocation of the members, pre-departure preparation and others. After training, the team members have had a better understanding of this Camp's purpose and have fully prepared their knowledge reserve.
Fulfilling journey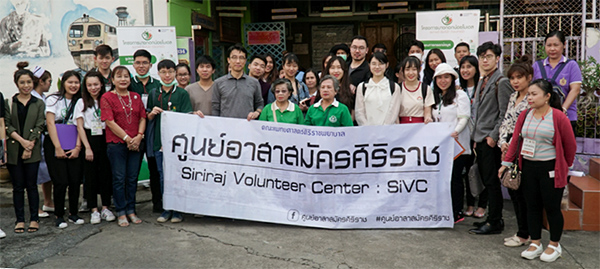 Group photo of project team and Bankok Noi workers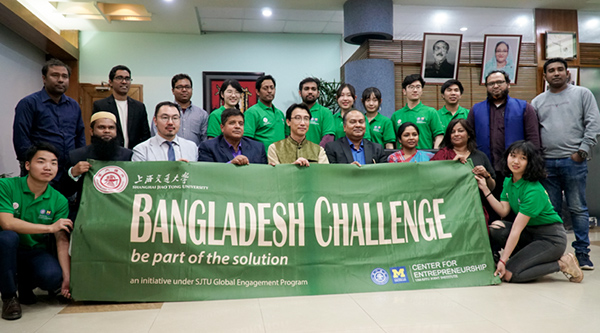 Group photo of project team with the dean and faculty of School of Business Studies, Dhaka University
The Camp visited project sites in Greater Bangkok, Thailand and four provinces of Bangladesh, understanding the working environment and content of the partners in detail and identifying the problems that SJTU could help to solve. The project sites consists of Asian Institute of Technology (AIT)in Thailand, Thailand Mobile Medical Pilot Project in Bankok Noi, Dhaka University (DU)in Bangladesh, Access to Information(A2I), International Cholera and Diarrhoeal Disease Research, Bangladesh(ICDDR,B), Bangladesh Rural Development Acadamy (RDA), Grameen Shakti(GS), Yunus Center, and Grameen Communications.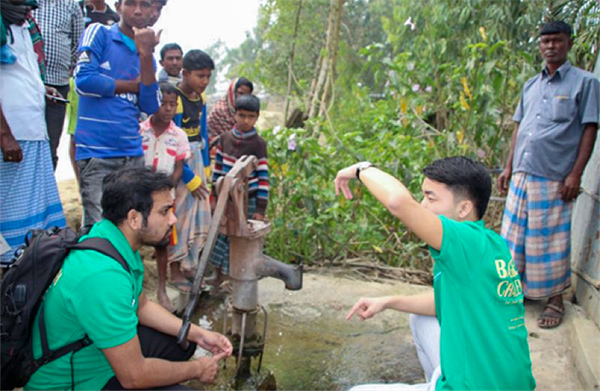 Team members' field trip at ICDDR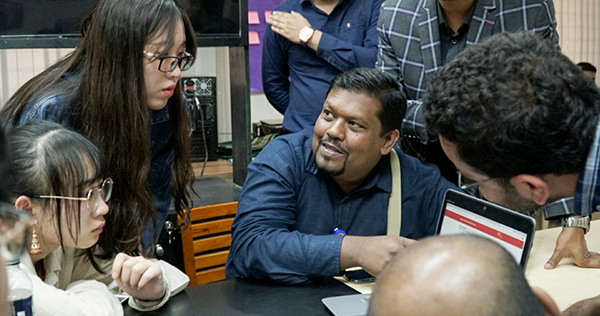 Project team members discuss with  A2I Innovation Lab staff
Fruitful accomplishments
The camp project team is committed to the sustainable development through science and technology, with special attention to mobile medical technology, information technology and industrialized prototype production for poverty reduction. Three immediately feasible short-term projects and three long-term projects with partners have been formulated to strengthen the connection among the seven established partners of academic, non-governmental and governmental institutions working for sustainable development.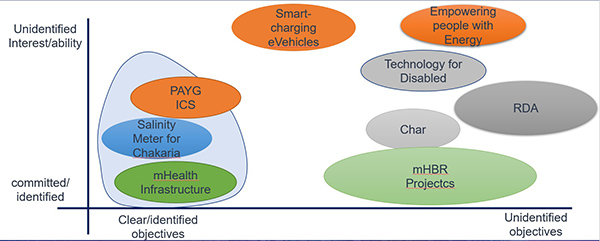 Diagram of the plan
Three Feasible Projects
1)      Development of Pay-As-You-Go Liquefied Petroleum Meter with GS
2)      Development of Salinity Meter with ICDDR, B
3)      Development of Mobile Medical Project Platform
Long-term Cooperation Projects
1)      The Project of Realizing Electric Tricycle's Rapid Charge and "Empowering People with Energy" with GS;
2)      Agricultural Science and Technology and Agricultural Technique Training Project with RDA;
3)      Disabled Group Aid Project through Science and Technology with DU, including the establishment of reading platforms
for the blind and the development plan of libraries.
Entrusted by local partners, up to nine sustainable development technologies have been put on the agenda. In the future, the team intends to cooperate with Shanghai Renji Hospital, the People's Hospital of Luzhai and several other technology companies interested in mobile health in China. Internationally, the team will strengthen communication and deepen cooperation with A2I, a governmental research institute of Bangladesh in Balochistan, Pakistan.
Bangladesh challenge in the eyes of team members
Following the project, we visited Dhaka University and headed north to Bogra, a large agricultural region in northern Bangladesh, to explore possible ways of cooperation with the Bangladesh Rural Development Acadamy. We were invited to the Bogra Police Station for the head of Bogra District hopes to introduce rapid drug detection technology to help them fight the drug trade. At the same time, they warmly welcomed Chinese companies to come to Bangladesh, especially those in the health care industry. Escorted by a small group of armed police, we arrived at Bangladesh's unique char land, a typical poverty-stricken area and one of the most impoverished areas in Bangladesh. The villages we investigated on the spot are eager for that we can help them in agricultural planting technology, medical treatment and education. In our team there are Demi from Indonesia and Andy from the United States, senior interns from School of Medicine and Ph.D. students from School of Physics and Astronomy, along with Pengcheng from School of Media and Communication and USC-SJTU Institute of Cultural and Creative Industry who were responsible for taking photographs and making documentaries. It is precious for me to enjoy such collision of ideas when working with them as I was immersed in laboratory every day before. I was able to know how the students in other majors ponder and view problems, and what kind of technology they utilize to solve problems. When I follow Sam to advance the project, for the first time I have faced and thought about team organization, tasks assignment, stimulation of each member's subjective initiative, negotiation with others, problems consideration from the other side, and the weight between advantages and disadvantages.  

What a tiring, hard, splendid and worthwhile project it is!
——Han Li (School of Biomedical Engineering)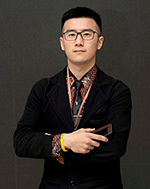 The project was an eye opening and thoughts provoking journey for me. Somehow, I and the other team members, felt like we are travelling back in time, and peeking through the cradle of the rapid development of many advancing and developed countries, as China had been not long ago. The journey also provides a perspective on possibilities of how our know-how in science and engineering, as a student, can be integrated for aiding the economic development and welfare improvement of other countries. During our field study to Bangladesh, due course we had a short layover in Thailand, and learn even more. This project turned out to be more captivating and enchanting than what I can imagine prior to the departure. One that I would like to testify is how remarkable positive changes have brought about by China's Belt and Road initiative, down to the grassroot citizens of these countries who take part in it. I am grateful for the opportunity to be in the project and hope more amazing outcome can be worked out in the future.

——Dominikus Brian (JI)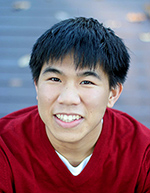 Last year I helped organize the Entrepreneurship Week hosted by CFE and met and learned from many inspiring professors and entrepreneurs regarding social businesses. I witnessed research, pictures, demos, and other forms of evidence of how a social business can be achieved, but all of this became reality when I was fortunate enough to have the opportunity to visit Bangladesh.   Working with a diverse set of disciplinary experts, I was able to see and interact with a wide range of social businesses and most importantly I discovered a lot of potential for how I can contribute as both an engineer and an entrepreneur.  I hope others can learn, not only the theory, but also learn from the experience of direct application in the field.
——Andy Hsiao (JI)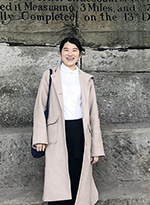 Before the field trip of Bangladesh Challenge Project, I imagined the situation might be this or that, and by doing this or that I could solve the existing problems, which sounds very heroic, haha. But the fact turned to be that, BC field trip was more like a process of learning. We learned exactly what the challenges were, how Bengalese faced these Challenges and what we could record or innovate. What impressed me most is the model of social business in Bangladesh, very illuminating yet hasn't been applied in China, which deserves a try.
—— Liyuan Cao (School of Medicine)