Editor's Note: Meskerem Abebe Mekuriaw from Ethiopia is a senior student of the University of Michigan-Shanghai Jiao Tong University Joint Institute (UM-SJTU JI, JI hereafter) majoring in Materials Science and Engineering. Because of the global COVID-19 pandemic, the Ethiopian girl was not able to return to the Minhang Campus in 2020 and had to take online courses at home for the following two years. In retrospect of her overseas study at the SJTU Minhang Campus in Shanghai, Meskerem Abebe Mekuriaw said she fell in love with the city, people and culture, "I want to thank SJTU and JI for allowing me to have a great campus life. Even though it was just a year and a half, I was able to enjoy it to the fullest."  To mark the sweet memories of JI campus life, she selected three photos as below with captions of her heartfelt impressions of JI, SJTU and the city of Shanghai.
Breathtaking Sunset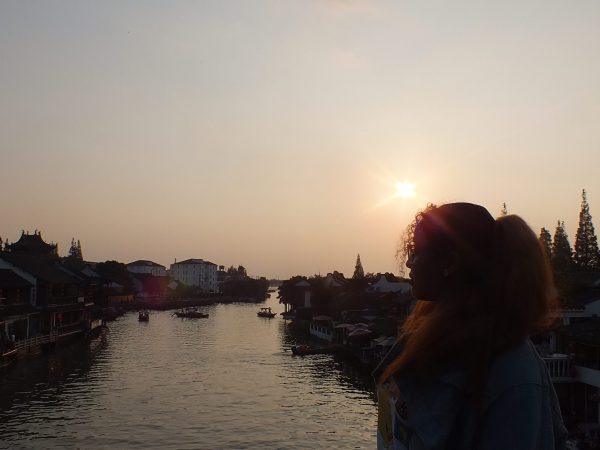 The breathtaking sunset reminds me of the ending of bad times in life. I remember being awed by the view while standing at the top of the bridge in the Zhujiajiao Ancient Water Town of Shanghai. This moment in the picture is one of the highlights of my campus life. Despite the struggle one goes through, such scenes can heal it in a second. The sunset made me realize that no matter how good or bad my day was, it always came to an end. It inspired me to end the day, take a break and start again. As a university student, there will be ups and downs. Moreover, being an international student in a foreign country is not easy. But we learn to face the worst and overcome it.
One should be open to changes, just like how the sun disappears and comes back daily. Change is a part of life, and I have changed for the better after coming to Shanghai for my studies. I hope people seeing this picture can feel the hope this sunset holds.
Vibrant Shanghai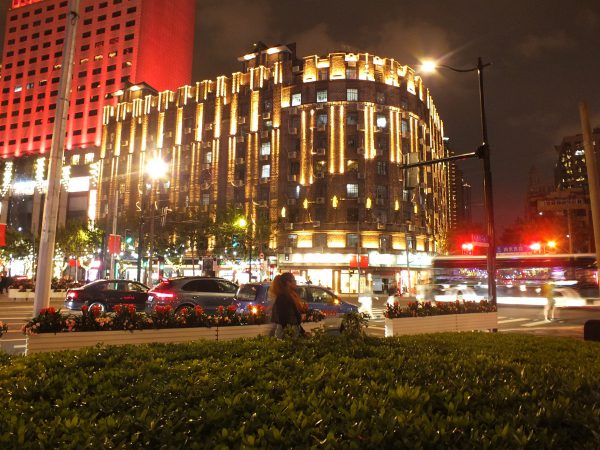 My study at JI also created the opportunity for me to explore the city of Shanghai. This picture captures how vibrant Shanghai is. To me, Shanghai is an ever-bright city, looking dazzling every day and night. In this picture, one can feel its pulse, the rush, colors, and buildings. It is full of energy and life. Shanghai offers many attractions, both eastern and western cultures included. The campus life I experienced in Shanghai was vibrant like the city, influenced by cultures in and out of the campus. It is an unforgettable experience to live in a city like Shanghai.
The SJTU Minhang Campus located at the southwestern part of Shanghai is a bit far from the downtown area. Every time I visited the downtown Shanghai, it was always fascinating to see my relatively small body next to the huge skyscrapers that I was never familiar with. The city is filled with a stunning skyline, mesmerizing cultures and loving people. I do not doubt that you will enjoy your campus life in the ever-bright dazzling Shanghai.
Stunning Bridge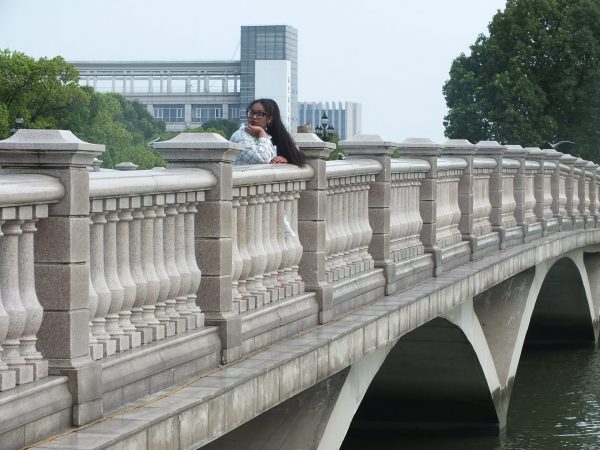 This picture shows my most favorite bridge on the SJTU Minhang Campus. During the daytime, I enjoyed walking and during nighttime, I enjoyed cycling over it. I also loved standing on it and staring at the moon at night. If you ask me what makes this bridge special, I can not give you one specific answer. It is a feeling I get every time I see it. It is truly stunning.
Bridges are symbolic. They show the need for interaction, communication and connection in the world. As I cycled at night across it, I felt like I was crossing one challenge in my life. Learning how to speak mandarin, how to use chopsticks, how to ride a bicycle, how to manage my money and how to live on my own in a foreign country are some of the bridges I crossed during my study at JI. Students may encounter many challenges in their campus life, but knowing that there is a bridge to pass that obstacle is important. When you come across the bridge, you need to cross it to be what you want or have what you desire.