Editor's Note: Zeeshan Qaiser from Pakistan received a master's degree and a doctoral degree in mechanical engineering from the University of Michigan – Shanghai Jiao Tong University Joint Institute (UM-SJTU JI,JI hereafter) at SJTU in 2016 and 2020, respectively. After graduation, he pursued post-doctoral research at JI under his doctoral advisor Shane Johnson. During his overseas study, Qaiser won the SJTU Excellent International Student Award and received the SJTU Distinguished Masters Scholarship. He is the recipient of the Shanghai Government Doctoral Type A Scholarship, the CSC Excellent Student Award for Doctoral Research, the 2022 ASME Best Paper Honorable Mention Award and the Chenxing Star Postdoctoral Award.
China, a country that offers life-changing opportunities
Before coming to China, Qaiser's earliest impression of the country was formed by the films he had seen during his childhood. Chinese action movies and TV shows like Journey to the West filled him with wonder about this ancient and mysterious country. He has been looking forward to the opportunity to visit and explore China.
In 2014, Qaiser was lucky enough to be admitted by the Shanghai-based JI on the SJTU campus to pursue master's studies. His intelligence and excellent performance won him a full scholarship. He finally stepped on the Chinese land and fell in love with the country during the two-year program. Qaiser decided to stay in China for further studies. "The scholarship SJTU offered included tuition, insurance, housing and monthly allowance, which allowed me to focus on my schoolwork and scientific research. China provided me with an opportunity to change my life, and I am grateful for that."
Qaiser likes to travel across China. Cities including Shanghai, Beijing, Chengdu, Suzhou and Wuxi left him with good impressions. He also likes to experience food and culture across the country. "In my hometown, I often ate Chinese food such as noodles and grilled fish. But when I came to China to taste real Chinese food, I realized that what I ate in my hometown was not authentic. Years of living in China have brought me a Chinese stomach, and Sichuan cuisine is my favorite Chinese cuisine."
Qaiser (L) plays a Chinese musical instrument.
From Qaiser's opinion, China is a perfect combination of modern and traditional values. In the past eight years, he learned a lot from working with the Chinese people. He was impressed by their way of thinking and the great importance that Chinese culture attaches to wisdom, modesty, honesty and education. "In my daily study and life, I found that Chinese people often think carefully before making decisions. They are able to hold an honest and modest attitude as always, which is worth learning from. In addition, I have always seen my Chinese partners putting a lot of time into their work. Their concentration and efforts towards work and research, as well as their never-give-up spirit, also benefited me a lot. In my opinion, all these gave rise to China's economic miracles in the past 20 to 30 years."
He also admired the Belt and Road Initiative launched by the Chinese government and achievements made by the Communist Party of China in leading the people in the fight against poverty. "The initiative integrating regional economies is very far-sighted. It brings people from different countries closer and plays a very important role in promoting regional harmony and stability, including Pakistan. China's success in lifting a large number of people out of poverty is one of the greatest achievements of mankind in the past century, and it has set a good example for developing countries."
Forging a strong sense of belonging at SJTU
SJTU is a place where Qaiser felt he belonged after his arrival in China. He spent eight years in the campus, where he received his master's and doctoral degrees and finished his post-doctoral research.
Speaking of his impressions on the campus, Qaiser said, "The campus has beautiful environment, and I like to study and live here. The university is equipped with advanced teaching and experimental equipment and rich living facilities to meet all kinds of needs for our daily life and study. SJTU also has a strong technical and management team, striving to create the most convenient and comfortable campus environment for its students." As an international student, Qaiser felt the enthusiasm and warmth from a foreign country. When facing difficulties, he always received support from teachers, classmates and working staff here.
Qaiser marveled at the excellent teaching, as well as cutting-edge academic platforms and development opportunities available at JI. He likes the teaching styles and culture of the institute, which features openness and inclusiveness. The JI advocates innovative and international tutoring and allows its students to select courses based on their own interests. "The institute comes out top for its teaching quality. The professional curriculum is substantial and rich, and is consistent with the technical standards of the current academic and engineering circles," he said.
Qaiser (R) with his mentor, Shane Johnson (L).
Qaiser (R 1) in a group photo with his colleagues, Dr. Johnson (R 2), Dr. Kang Liping, and M. Yaru.
The JI faculty members come from top universities and research institutions all over the world, and more than half of them are foreign scholars. Shane Johnson from the United States, Horst Hohberger from Germany and Shen Yongxing from China are Qaiser 's favorite professors. "Professors are highly professional, always punctual in class, fully prepared for teaching, and they truly care for their students."
Qaiser is a sports enthusiast. He loves to ride his bike, play ball games and swim on campus. "The sports facilities at SJTU are complete and advanced, and playing sports here is very affordable. Frequent culture and sports activities organized by various associations have greatly enriched the lives of us students."
Shanghai, Qaiser's second home for long-term living
To Qaiser, Shanghai is a metropolis with rich culture and possibilities and a place that is suitable to live and work in. The urban transportation infrastructure in Shanghai is advanced, with its ground and underground transportation networks extending in all directions, providing convenient travel. There are many transit stops around the SJTU campus, among which the terminal of Shanghai Metro Line 15 is located next to the JI Building. Shanghai also provides a large number of job opportunities as it is home to many headquarters of large multinational companies, helping students to work and apply for internships.
Qaiser cycles a bicycle at the Bund of Shanghai.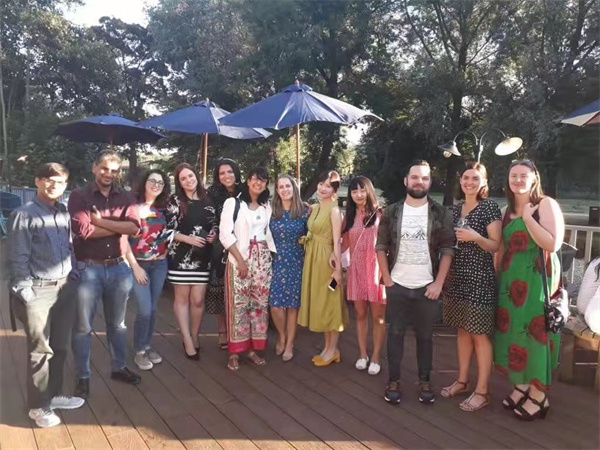 Qaiser (L 2) in a group photo with his friends.
Moreover, he regards Shanghai as a city full of vitality and enthusiasm, as he can always learn something new and embrace new ideas here. People hold a more open and inclusive attitude towards different cultures, and are willing to accept different cultures, languages and ideas. They are very friendly to foreigners. "Shanghai is my second home. I like its living conditions, cultural atmosphere, humanistic environment and food very much. I can always feel the care and support offered by the society and the government when I study and work here, so I decided to live here for long term."
Qaiser chose to stay in Shanghai after completing his post-doctoral research at SJTU. He has found a job as an assistant professor at the College of Civil Engineering of Tongji University. He will continue to devote himself in the academic field as he realizes his dreams.
The above story is also published by China Daily, the leading national English-language news group in China. Please refer to the weblink: http://regional.chinadaily.com.cn/en/2022-11/11/c_831942.htm