Invited by Shanghai NYU, JI Men's Basketball Team had a tense and exciting game with the home team on April 15.
The game was sluggish in the beginning. Shanghai NYU scored the first points and took lead, but JI caught up and performed brilliantly. The two teams were equally strong so the competition was very fierce, with scores following each other closely. Each team's cheerleaders tried to beat each other by shouting "Go blue" or "NYU." After an hourof intense competition,the Shanghai NYU team won the game by a small margin.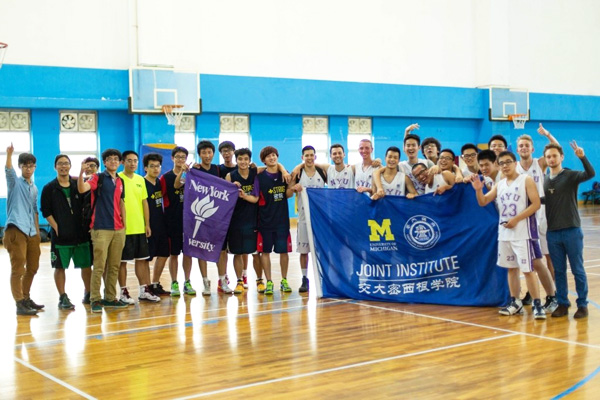 At end of the game, both team members shook hands and complimented each other. A group photo was taken and gift pennants exchanged. Shanghai NYU President visited and greeted JI team members. This inter-university exchange was a success in connecting the two universities and promoting friendship among the students through athletic games.  
JI promotes exchange with other universities. This game is JI's first and successful try on cultural and athletic exchange, a good start. Reportedly, JI will host the second friendship game, of soccer.