The 2014 SJTU Freshman Mechanical Innovation Competition sponsored by Liugong Group was held at the School of Mechanical Engineering on May 16. Among the 8 finalists, JI's freshman class F1337201 won the second prize and class F1337202 won the fourth prize.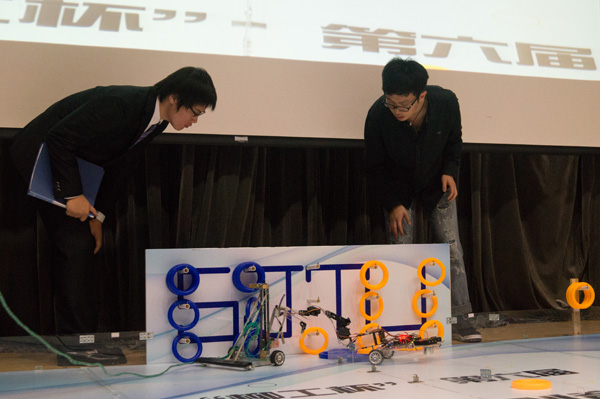 The competition consisted of a series of Tic-tac-toe games. Each team maneuvered their self-designed mechanical vehicle through various hurdles. On passing a test, the team earned points and a ring to be hung on a peg of the Tic-tac-toe board. The team which won a game of Tic-tac-toe also got bonus points.
The contest was very fierce. Besides competing in the innovative car design, each team tried to beat the rival team by skillful maneuver and cunning strategy. There were intense attacks and defenses in each game. As teams were allowed to steal each other's rings in the public score area, many heated rivalries erupted at end of each game. The excited audience added to the white hot atmosphere with loud cheers and applauses.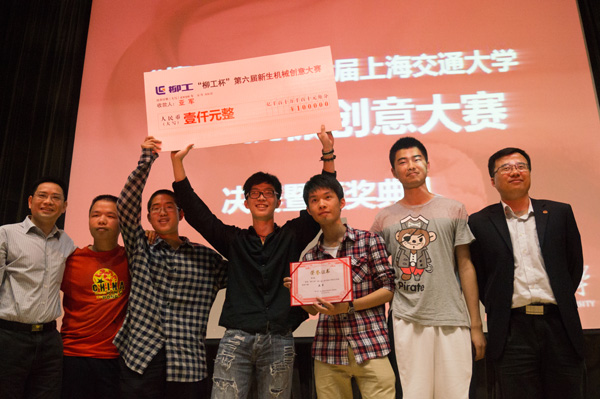 At the end of the tournament, JI's Class F1337201 proudly snatched the second prize, only 5 points behind the champion, School of Mechanical Engineering. Another JI team won the fourth prize.
This is the 6th year for the annual SJTU Freshman Mechanical Innovation Competition, a popular stage for SJTU mechanical engineering freshmen to show off their imagination, creativity, and hands-on capabilities. The competition provides an invaluable opportunity for students to practice and learn and set a foundation for their innovative future.
Photo: Shuqun Jin
Translator: Yi-Ling Bauchau