To prepare the new teaching assistants for the fall semester, the Center for Learning and Teaching (CLT-JI) held the 2015 fall TA Orientation Conference at the University of Michigan- Shanghai Jiao Tong University Joint Institute (UM-SJTU JI) on September 19, 2015.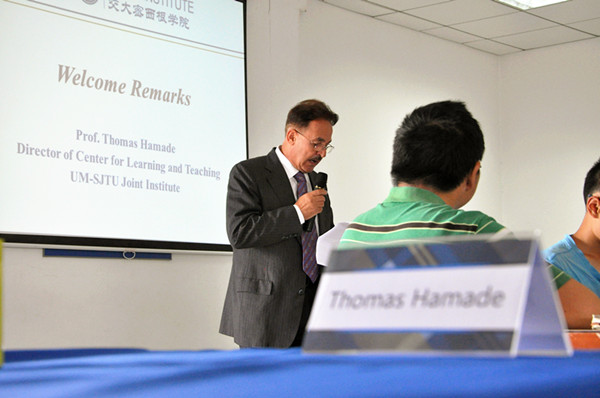 The action-packed day kicked off in the JI Lab at 8:30 in the morning. In his welcome remarks, Professor Thomas Hamade, Director of the center, emphasized the TAs' important role and encouraged the TAs to be highly responsible in assisting the teachers and helping assure JI's teaching quality.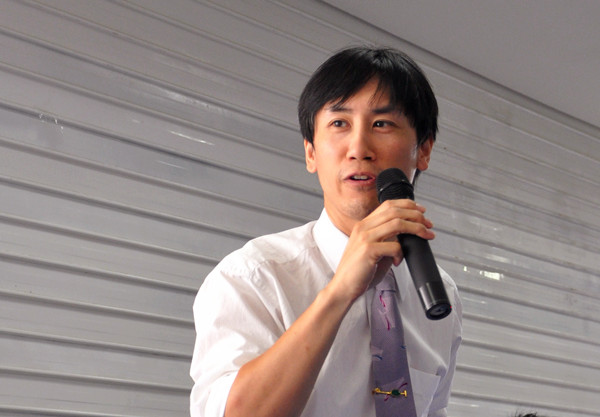 Dr. Andrew Yang, Lecturer, described the TAs' job as a leader in guiding the students as well as helping them; both TAs and students can learn from the process. He pointed out the TAs' key role of bridging the faculty and students. He asked the TAs to uphold the honor code and insist on communicating in English.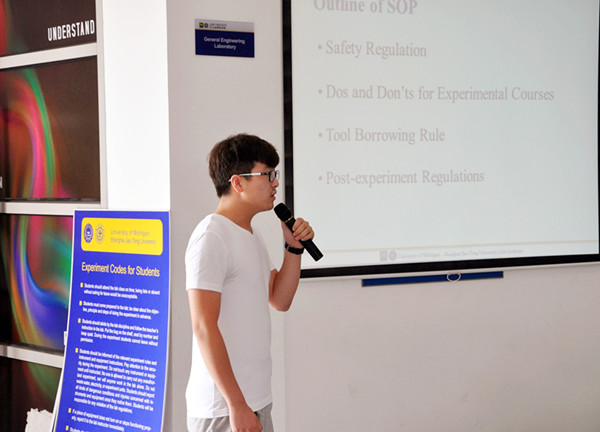 Zexu Wang, a JI junior and experienced TA, briefed the TAs about laboratory regulations, especially the safety issues.
Then based on their needs, the TAs learned about the nitty-gritty of a TA's job by attending one of the three practical workshops, i.e., "Sakai use," "Grading homework and examination," and "Motivating students to learn on their own."
The popular faculty/staff panel was opened by our humorous Professor Shane Johnson and joined by Gang Zheng, Thomas Hamade, Andrew Yang, Mingjian Li and David Barnet, who shared their views on TAs' jobs and techniques. The TAs appreciated it greatly when instructors and staff come together to share insights and answer TAs' questions.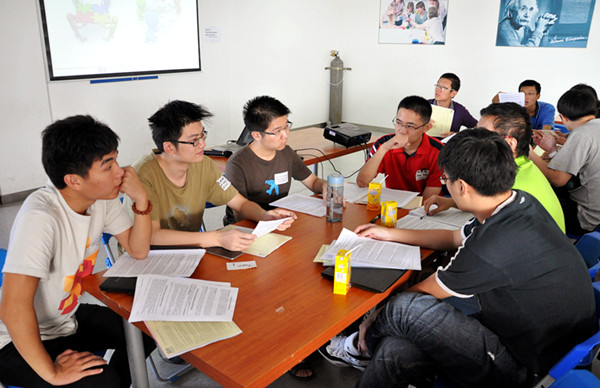 During the practical training, the TAs worked in teams to tackle 4 sticky issues such as "How to establish effective teaching relationship," "To communicate with students by QQ or email," "How to satisfy students' different levels of need," and "How to handle students' requests for raising grades." After discussions, each team presented their solution by acting out a skit. It was a good exercise for problem solving. Then, the TAs carried out a heated debate on "How to insist on communicating in English during course review."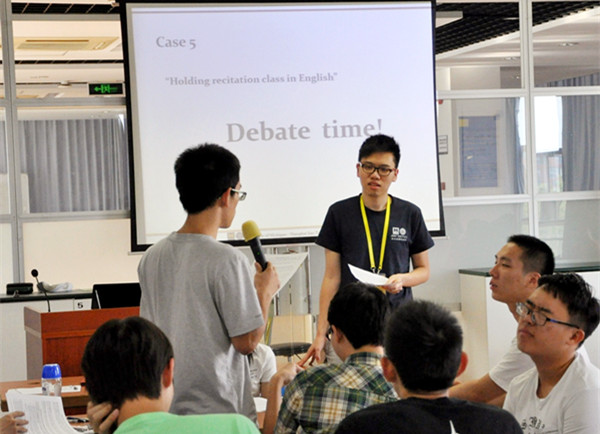 The judge panel consisting of Dr. Andrew Yang, Dr. Victor J. Rodriguez, Dr. Cynthia Vagnetti and experienced TAs gave comments and awarded 2 winning teams, 4 best team members, 5 lucky TAs and 2 most helpful volunteers.
Dr. Cynthia Vagnetti giving awards to the lucky TAs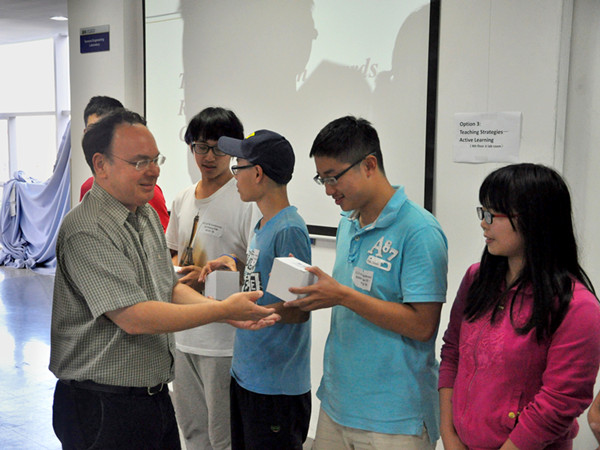 Dr. Victor J. Rodriguez giving awards to the 2 winning teams
Dr. Victor J. Rodriguez giving awards to the 2 most helpful volunteers
The Center for Learning and Teaching (CLT-JI) has been sponsoring the TA Orientation Conference twice a year (at the beginning of the summer and fall semester) over the last 10 years. The unique TA training program is a brand of JI, serving to facilitate TA's extraordinary job in assisting the faculty and students and to assure JI's teaching excellence.