The signing ceremony of the Shanghai Jiao Tong University (SJTU) KLA-Tencor Scholarship was held at Yu Liming Student Center on September 15. Eight business representatives, including Jianuo Shi, General Manager of KLA Semiconductor Equipment Technology (Shanghai) Co., Ltd., Dominic David, President of KLA-Tencor India Branch and Lee Jeong Ho, President of KLA-Tencor Korean Branch, attended this ceremony. SJTU representatives included Jinxian Huang, Deputy Secretary-General of SJTU Education Development Foundation; Jian Xiong and Xiaohong Huang from SJTU School of Electronic Information and Electrical Engineering; the University of Michigan-SJTU Joint Institute (UM-SJTU JI) Dean Peisen Huang, JI Associate Dean Chen-pin Chen, Kathy Xu, Director of JI Institute Advancement Office and some graduate students.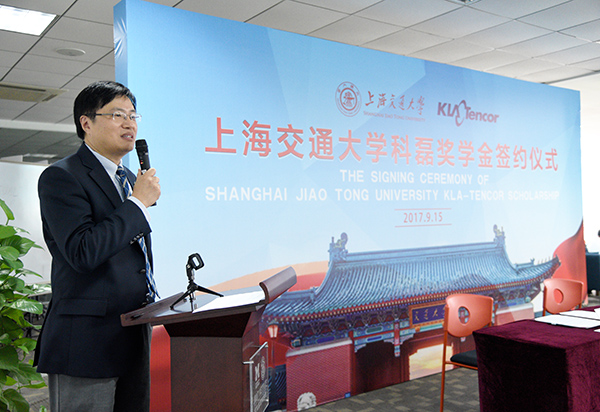 On behalf of JI, Dean Huang expressed gratitude for KLA-Tencor' strong support for education, saying that, as a multinational company, KLA-Tencor is a perfect match to JI who strives for internationalization. The company's generous donation will help more students complete their studies, some of whom will join KLA-Tencor in the future. With the completion of the new JI building, both sides will also continue to expand cooperation in scientific research.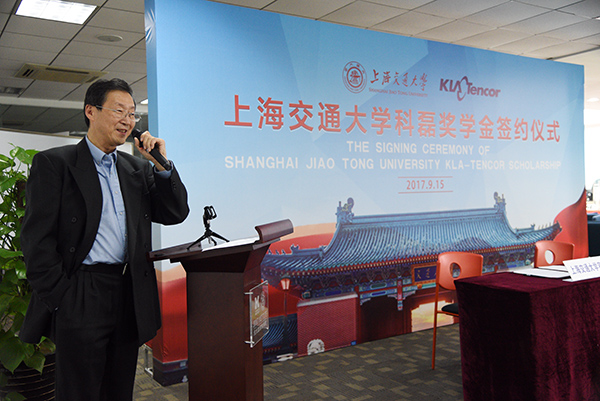 In his speech, Jianuo Shi said that it was an honor to engage in a win-win partnership with such a well-known model of international collaboration as JI. He briefly introduced the history and talent training plan of KLA-Tencor. He hopes that the establishment of the scholarship would lead to further cooperation with JI and welcomed more SJTU students to join KLA-Tencor.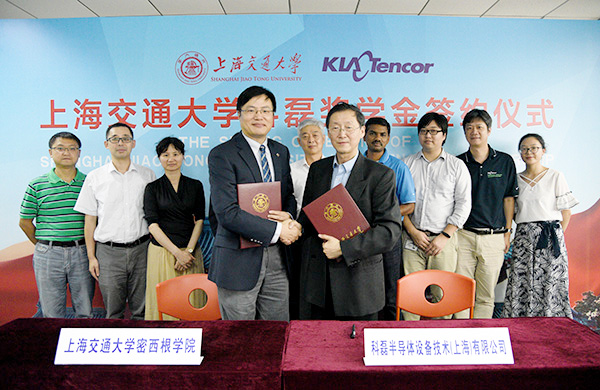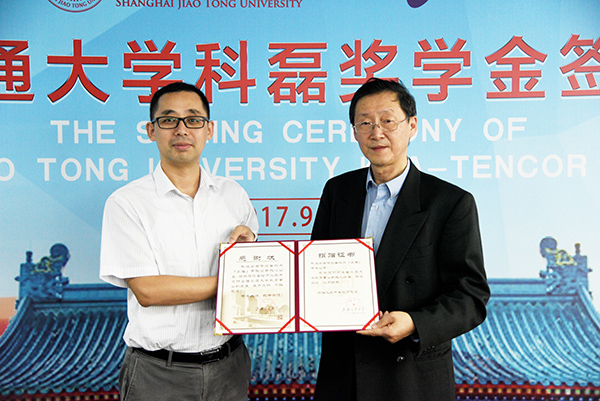 At the ceremony, Jianuo Shi and Dean Huang signed the donation agreement. On behalf of JI and SJTU, Dean Huang and Jinxian Huang presented a donation certificate and souvenirs to Mr. Shi respectively.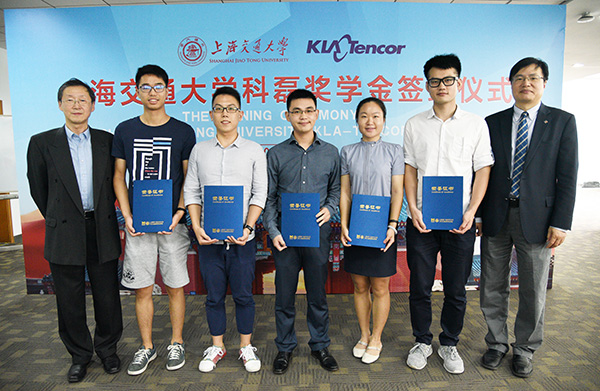 Shi and Huang distributing the scholarships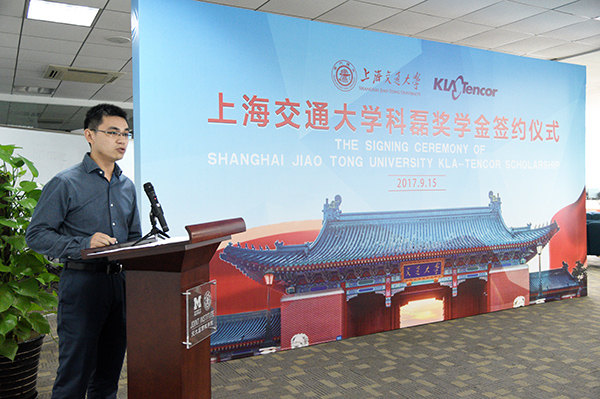 On behalf of the award-winning students, Aimin Tang, a JI doctoral student, expressed his sincere gratitude to KLA-Tencor, JI and his adviser. He said that the award was the greatest affirmation and encouragement to him and he will continue to work hard.
The SJTU KLA-Tencor Scholarship is open to all full-time graduate students majoring in electronic engineering or computer science and engineering at JI or SJTU's School of Electronic Information and Electric Engineering. The scholarship aims to encourage outstanding SJTU students to study hard, practice research and become professionals with global vision. Already in 2015, KLA-Tencor had set up scholarships to support JI's development of graduate education.
Introduction of the KLA-Tencor Corporation
The KLA-Tencor Corporation, founded in Silicon Valley, California in 1976, is the world's leading supplier of semiconductor testing equipment, with annual sales of 3 billion US dollars and more than 70 percent of the market share. The company provides capacity management and process control solutions for semiconductor manufacturing and related industries, helping semiconductor (chip) manufacturers create high-quality products. It is a leading provider of equipment testing and yields solutions for the semiconductor industry. Clients include Intel, TSMC, SMIC, etc., with sales and service network throughout the Americas, Europe and Asia.
KLA-Tencor Semiconductor Equipment Technology (Shanghai) Co., Ltd., a wholly-owned R & D (Research and Development) center established in Shanghai in 2004, is principally engaged in the research and development, testing and application of semiconductor testing equipment. Since its inception, the company upholds the value of KLA-Tencor, paying attention to personnel training and technology research and development and has made outstanding achievements. The company's R & D strength covers software design, hardware building, application development and provides technical support for new products in China and around the world.