The University of Michigan-Shanghai Jiao Tong University Join Institute (JI) Associate Professor Yanfeng Shen has become the 2020 winner of the Achenbach Medal, an international award serving as a recognition for outstanding academic achievements of a young scholar in the field of Structural Health Monitoring (SHM).
The Achenbach Medal has been created to recognize an individual (within 10 years of PhD) who has made an outstanding contribution to the advancement of the field of Structural Health Monitoring. It is an international award with a very strict selection standard through fierce competition. Each year, only one winner is chosen out of numerous nominees from all over the world.
According to the announcement of the award committee, the 2020 Achenbach Medal is jointly won by Professor Yanfeng Shen and Professor Thomas Schumacher from Portland State University. This makes Professor Yanfeng Shen the first recipient of the medal from the Chinese research institutes, in ten years since the establishment of the award. The 2020 Achenbach Medal will be presented at the International Workshop for Structural Health Monitoring (IWSHM) to be held at the Stanford University in September 2021.
Professor Shen's research covers: Structural Health Monitoring (SHM), Nondestructive Evaluation (NDE), actuators and sensors, as well as mechanical waves and vibrations. His research aims at utilizing advanced sensing technologies to achieve the embedded real-time monitoring of mechanical, civil, naval, and aerospace structures. By establishing the structural self-awareness, SHM systems strive to detect incipient structural damage sites and evaluate the residual service lives of structural components, so as to reduce the maintenance cost, prevent catastrophic failures, and enhance the safety and reliability of engineering infrastructures. He published 20 journal articles and over 40 conference papers in recent years and received the financial support from National Natural Science Foundation of China (NSFC) via both the Young Scholar Program and the General Program.
Biography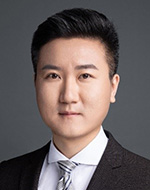 Dr. Yanfeng Shen is a tenure-track Associate Professor at the University of Michigan–Shanghai Jiao Tong University Joint Institute. He received his Bachelor's degree in engineering mechanics from Wuhan University in 2010 and his Ph.D. degree in mechanical engineering from the University of South Carolina in 2014. Thereafter, he worked as a Postdoctoral Research Fellow in the Department of Aerospace Engineering at the University of Michigan. Dr. Shen started as a tenure-track Assistant Professor at the Joint Institute in 2016 and was promoted to Associate Professor in 2020. He is serving as an Executive Member for Equipment Structure Health Monitoring and Prognostics Society (CSHMP) of China. He is also a member of Nondestructive Diagnostics and Prognostics Division (NDPD) of American Society of Mechanical Engineers (ASME).