The third annual Innovation Insight Short Course, a 3-day program co-sponsored by UM-SJTU Joint Institute and Covidien, a leading global company in healthcare products and services, was held in Shanghai on June 14-16.  The intensive, hands-on course aims to serve as an essential building block in teaching the participants how to develop good ideas into successful businesses in the medical technology field.
The short course kicked off at Covidien CCI Training Center on June 14. VIPs included Mr. Jian Zhu, Vice Secretary of the Communist Party at SJTU, Prof. Olivier Bauchau, Associate Dean of the Joint Institute, Alex Gu, President of Covidien China, Clifford Emmons, Dong Wu, and Kurt Smith, Vice Presidents of Covidien. Thirty-five SJTU students had been selected to participate in the short course, including 15 JI students (12 Undergraduates and 3 graduates), 6 students from Antai College of Economics & Management, 7 students from SJTU School of Medicine, 3 medical doctors from Ruijin Hospital, and 4 students from SJTU Entrepreneurship Institute.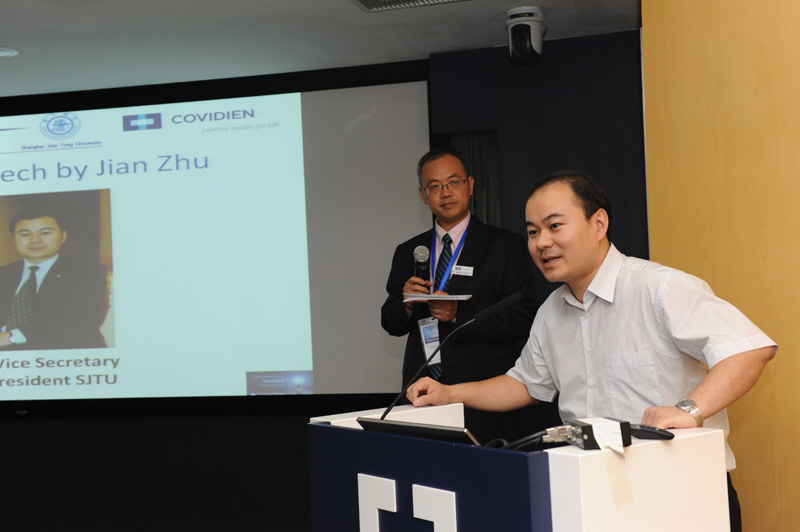 In his opening address, Vice Secretary Zhu remarked, "SJTU and Covidien complement each other because SJTU's mission is to educate talents in the three areas of developing capabilities, exploring knowledge, and building character, and Covidien upholds the ideas of entrepreneurship and innovation. It is a win-win partnership between the university and the company. I look forward to further collaboration."
 Prof. Olivier Bauchau thanked Covidien for establishing scholarships for JI's undergraduates and graduates, supporting JI's capstone designs, and organizing innovative entrepreneurship seminars and short courses. This has benefited more than 200 students in the past three years, strengthening their training on innovative design and improving their international competitiveness.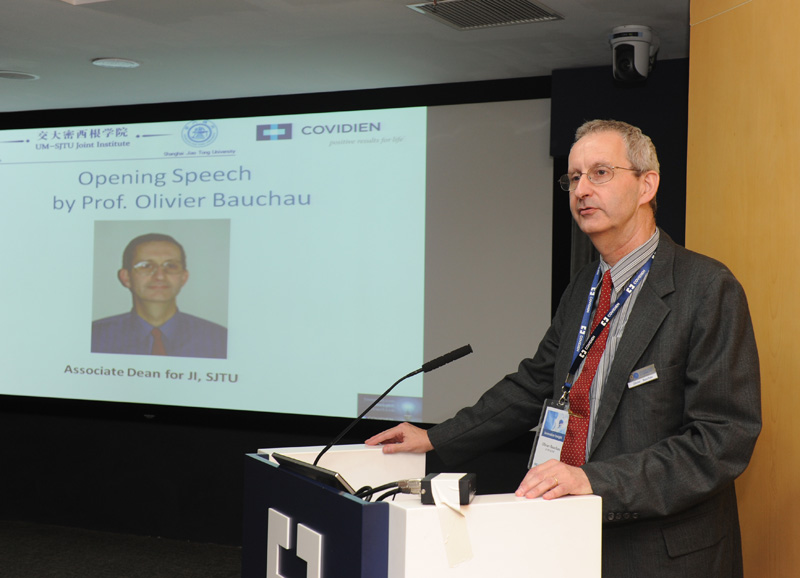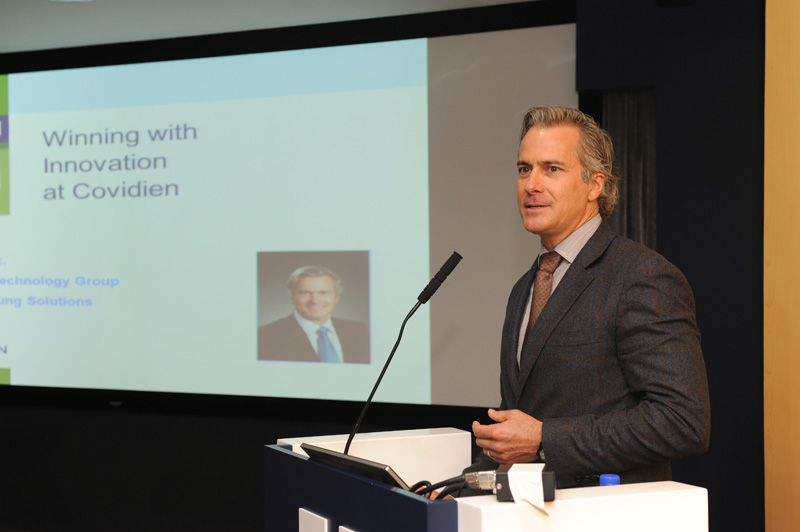 Mr. Kurt Smith, Covidien Vice President for New Growth Platforms & Upstream Marketing, Energy-Based Devices, gave a warm-up speech. He pointed out that today Covidien has evolved into a company that delivers multidimensional medical products and is impacting 10,000 people a day. The company has invested a great deal in research & development for innovation, but Innovation needs collaboration. That is why Covidien selected SJTU as a partner for her resources and potential. The partnership has been beneficial to both parties. He encouraged students to take advantage of the intense short course, open up, and learn how to turn an idea into something that impacts a patient's life.
After the opening ceremony, participants were divided into seven groups and given a team building exercise. Within 40 minutes, using simple materials, students had to design and construct an apparatus that would let an egg withstand a drop from a height that the team specified. Dr. Smith designed the task to teach students how to deal with unsatisfactory results.  "I know most groups will fail. Entrepreneurs should be ready to face failures which happen often." he explained.
On June 15, the course got intense. Given the case study topic of "breast cancer," groups of students spent all day brainstorming and discussing. Under the guidance of the instructors, students with different academic backgrounds explored the topic from various perspectives of engineering, medicine, business, and law. By the end of the day, each group had come up with a business plan to treat breast cancer, which was the final product of their knowledge and innovation as well as what they had learned in the Innovation Insight practice.
On June 16, all teams presented their proposals and tried to convince the investors to finance their innovations. The judges, composed of five Covidien directors and five JI professors, gave compliments on many proposals.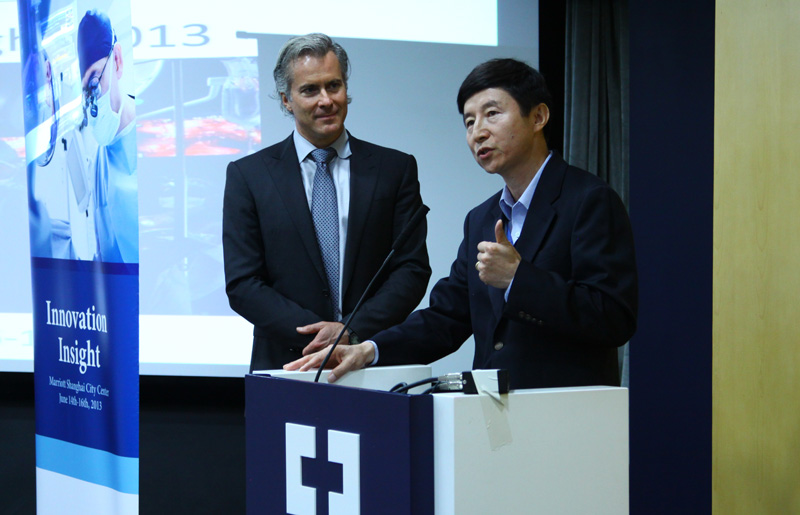 At his closing statement, Dean Jun Ni of JI remarked that he was very impressed with the students' performance in innovation, cooperation, and leadership. He thanked Covidien for providing this excellent learning opportunity for JI students and he looked forward to continued collaboration with Covidien.