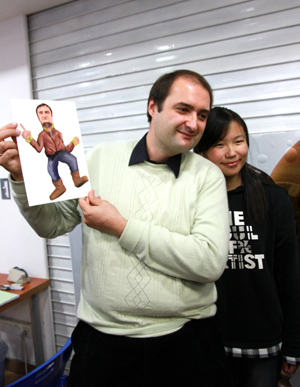 Dr. Horst Hohberger, JI's popular mathematics lecturer, has won the award as one of "the Most Popular Teachers of SJTU" this year, among ten awardees that have been selected by SJTU students through electronic ballot.
As soon as the news was released, Dr. Hohberger was showered with congratulatory messages from students as well as colleagues including JI leaders. Dean Ni says, "This is a distinct honor that you earned not only for yourself, but also for the entire JI."
Dr. Hohberger remarks that he is humbled and honored by the award which he attributes to the excellent support and help that he has received from JI faculty and staff over many years. He believes the award says much more about the JI and its students than about himself. "We have built a truly exceptional teaching and learning environment and it is great to see JI being recognized among SJTU students."    Dr. Hohberger is one of the early JI pioneers. He joined JI in 2007 after he received his Ph.D. in mathematics from Potsdam University, Germany. Since then he has dedicated himself to educating JI's future global leaders. So far, he has offered a dozen of math courses of various levels. Every JI student has taken at least one of his interesting and engaging courses which play a significant role in building a solid foundation for engineers.  In fact, this is not Dr. Hohberger's teaching award. In 2010, he had also won the second prize of the SJTU Excellent Teacher Award.