On March 17, a seminar titled "Graduate students, let's talk about life" was successfully held at Yu Liming Student Center. The talk was presided over by Yanji Liu, Career Guidance Counselor, and attended by Chien-Pin Chen, Associate Dean for Graduate Education, Prof.  Chengbin Ma, and Prof. Mian Li.
First, graduates shared their plans after graduation. Most of those who choose employment concentrate in well-known automotive and electronics companies. Quite a few choose entrepreneurship. Some will pursue advanced degrees in famous universities in the United States, Canada, UK, and other European countries. Yanji Liu congratulated the graduates and wished them success in both career and life in the next 5 to 10 years. The teachers and students agree that each year the alumni will return to their alma mater to keep JI updated.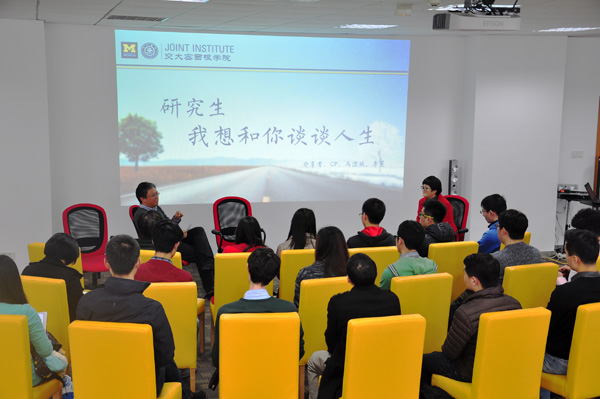 At the seminar "Graduate students, let's talk about life"
At the seminar, Prof. Chengbin Ma, who had studied in Japan for many years, talked about the importance of "details for success" based on his personal experience. He cautioned the graduates to be prudent, humble, patient, and foot on earth despite being in the golden age of China's development. He encouraged them to adhere to strict self-discipline, strive for their best, set a long-term goal for professional development, and challenge themselves by seizing the opportunity for entrepreneurship if available.
Prof. Mian Li targeted the question most students are concerned about: "What kind of people employers like" and provided his own answers. He summed up the four traits: responsibility, professionalism, attitude, and paying attention to details. Associate Dean Chen urged the graduates to visit "home" often and he assured that JI is working hard to provide strong support for their career development.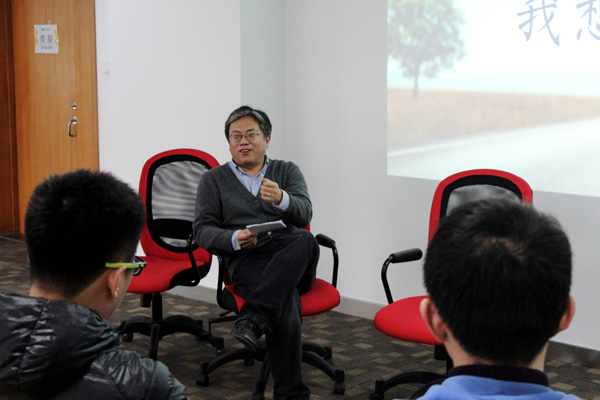 Prof. Mian Li sharing his life experience with graduates
After the seminar, Dean Peisen Huang, Prof. Li, and Prof. Ma distributed the diplomas. JI Party Secretary Xinwan Li delivered honorable certificates to outstanding students of Shanghai and SJTU.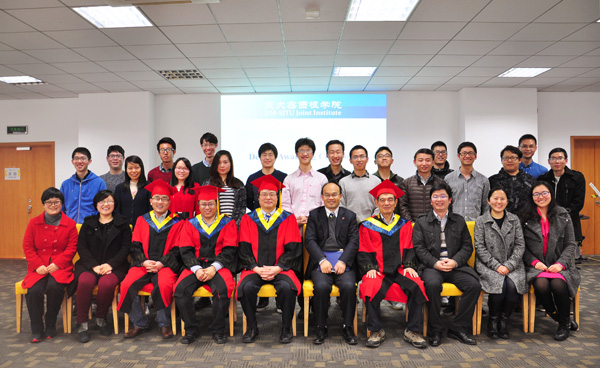 Group photo of JI F12 Graduate Student Class