The first Tang Junyuan University of Michigan- Shanghai Jiao Tong University Joint Institute (UM-SJTU JI) Scholarships were awarded on the occasion of 2015 JI Summer Design Expo and open house held on August 5. The winners Ziqi Guo and Xieyang Liu received the awards from Dean Peisen Huang and officials of Shanghai Tang Jun Yuan Education Foundation.
The Tang family has a long history of valuing education and deep ties with SJTU. In 1992, the foundation set up the Jun Yuan Scholarship to provide long-term financial assistance to freshmen at SJTU and other famous universities, which is still ongoing. The Tang Junyuan JI Scholarship was established on June 27, 2015 (news link), aiming at helping JI dual-degree and SGUS students complete their studies at the University of Michigan and return to serve China. The first application kicked off on July 6 and two winners have been selected following a stringent and fair procedure. .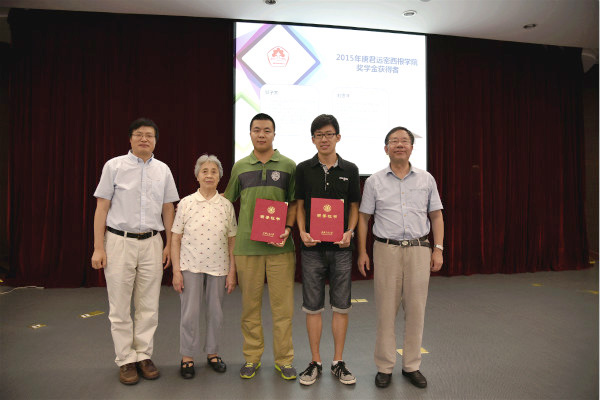 (from left to right) Dean Peisen Huang, Xinying Tang, Xieyang Liu, Ziqi Guo, Tongkang Jin
Shanghai Tang Junyuan Education Foundation was established by Mr. Tang Xiangqian, a patriotic overseas Chinese and his family, in the name of his father, former Shanghai CPPCC Vice Chairman Tang Junyuan, a famous patriotic businessman. The foundation provides education supports, scholarships and donations to charity and social development.