The reputable American financial media Forbes recently released the 2017 list of "Forbes 30 Under 30 Asia." The University of Michigan-Shanghai Jiao Tong University Joint Institute's (UM-SJTU JI) alumnus Shaolong Sui (Class of 2011) is one of the honorees.
The list features 30 young innovators, entrepreneurs and leaders in each of the ten categories, including Consumer Technology; Enterprise Technology; Entertainment & Sports; The Arts; Finance & Venture Capital; Industry, Manufacturing & Energy; Healthcare & Science; Social Entrepreneurs; Media, Marketing & Advertising; and Retail & E-commerce. All honorees are under 30 years of age and selected based on their challenging conventions and impacts on the current world by accomplished and acclaimed experts in their respective fields.
Rana Wehbe, Senior Digital Editor, Asia at Forbes Media said, "It's fascinating to see how these millennials are using technology to disrupt their industries, empower their communities and overcome cultural barriers."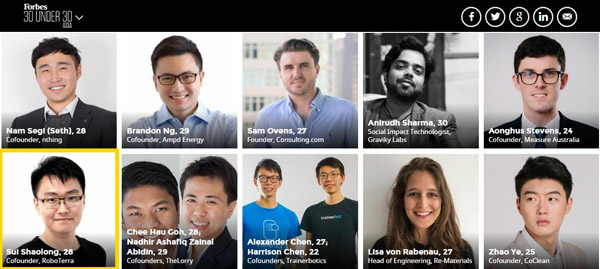 Shaolong Sui (lower left)
It is noteworthy that in the category of "Industry, manufacturing, and energy," only a very small number of honorees come from mainland China, one of whom is Shaolong Sui.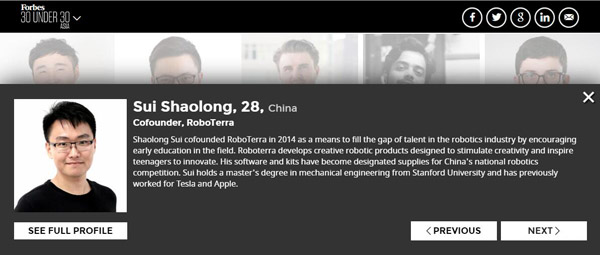 Sui graduated from JI in 2011 with SJTU- UM dual degrees in mechanical engineering and aerospace engineering. In 2013, he earned a master degree in mechanical engineering from Stanford University, specialized in intelligent product design. He was a key member of Stanford's champion Robotics team. For several years, he first worked as a battery engineer at Tesla Motor, Inc. and then a mechanical design engineer at Apple, Inc. His 2013 blog "Tips for seeking engineering Jobs in North America" got more than a million hits and earned him the nickname of "Dragon Brother" in the circle of North American Chinese engineers.
In 2014, Shaolong Sui co-founded ROBOTERRA (www.roboterra.com), a robotic education product brand, in the Silicon Valley with a couple of alumni of Columbia University and Stanford University. He is currently the CEO of its China branch. The innovative start-up has attracted many talented engineers and experienced high school educators. ROBOTERRA has obtained two US patents. The core product is a set of simple and effective robotics education solutions for teachers and students, providing an innovative approach to problem-solving while adhering to STEM standards. ROBOTERRA aims to prepare students for future employment by stimulating them to independently solve complex problems through design and creativity.
About being on the "Forbes 30 Under 30 Asia" list, Shaolong Sui said, "it cannot be separated from JI's strong impact on me. There are many kinds of wonder in life. I hope JI's unique system will shape independent and confident students and helped them fulfill their dreams."
Related links: Forbes 30 Under 30 Asia