The University of Michigan (UM) – Shanghai Jiao Tong University (SJTU) Partnership Board held its 23rd meeting on August 25 via simultaneous videoconference in China and the United States. Board members from the two universities attended the meeting co-presided by SJTU President Zhongqin Lin and UM President Mary Sue Coleman.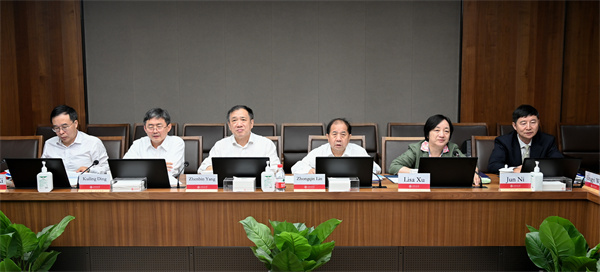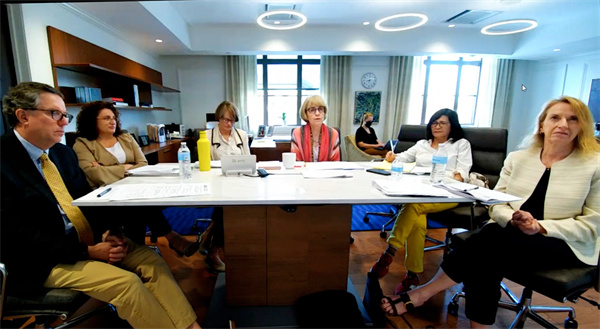 The UM-SJTU Joint Institute (JI hereafter) Acting Dean Ming Yang updated the board members the latest developments and achievements of JI in a progress report featuring international programs, student recruitment, faculty and staff, research achievement, graduate placement, alumni, scholarship support and financial status. JI Associate Dean Gang Zheng reviewed faculty and student mobility between the two universities. During 2016-2022, more than 700 JI students graduated from the Dual Bachelor's Degree (DD) program. Over 90% of the DD students pursuing graduate studies in the United States entered the Top 20 graduate schools. Nearly 70% of the students attending the Global Degree Pathway (GDP) program went on to the UM.
In the Consent Agenda, board members approved new membership of JI's Academic Program Group (APG) for Kevin Pipe, Associate Dean for Undergraduate Education of the UM College of Engineering, faculty appointments of Mo-Yuen Chow as professor with tenure, Sung-Liang Chen and Yongxing Shen as associate professors with tenure, and renewal of Faculty and Student Mobility Agreement between the two universities.
Board Co-chair Zhenbin Yang and Mary Sue Coleman delivered closing remarks for the meeting.
As a role model of international cooperation in higher education, JI serves as a platform and offers a great opportunity for faculty and students of the two universities to develop intercultural understanding and appreciation.  The partnership not only benefits the two sides, but also contributes positively to the world peace and helps to address many global challenges. Mutual respect and trust are key foundations for long-lasting relationship. Both parties should work jointly and move forward together to achieve more in the future, said Yang.
While expressing affirmation of recent JI achievements and appreciation for the great contributions by leadership teams of the two universities over the past 16 years, Coleman said she expected the exchanges and cooperation between the two universities would usher in more development opportunities with the gradual improvement of the global COVID-19 pandemic. The two universities should work further to build up a more diversified international exchange and learning platform for the faculty and students.