Nineteen international students from the University of Michigan – Shanghai Jiao Tong University Joint Institute (UM-SJTU JI, JI hereafter) have embarked on a one-semester Study Away program in Singapore, thanks to the sponsorship of the SJTU Asia Pacific Graduate Institute (SJTU-APGI) based in the tropical city state.
JI students take photo on the opening ceremony of the exchange program on August 6.
The 19 undergraduate students from 8 countries are the first batch of students for the exchange program starting in fall. From August to December, they will be able to take JI courses as well as courses of Nanyang Technological University (NTU) and get access to facilities and services of the Singapore university. SJTU-APGI will also organize University Tours, corporate visits, and educational tours for the students to enhance their learning process. Upon completion of the program, the students will return to their home countries or the main campus of SJTU in Shanghai.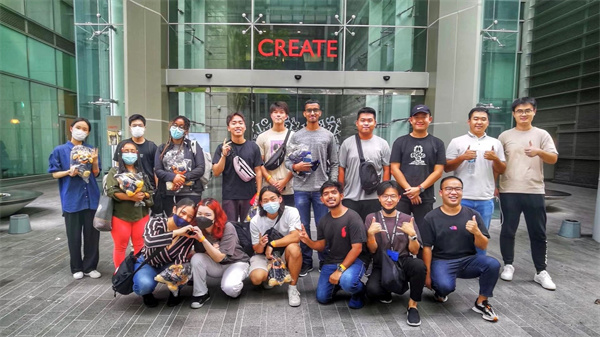 JI students take photo at National University of Singapore during a "net-zero" laboratory tour.
JI students take photo at the gate of the National Museum of Singapore.
The Study Away program was launched at the beginning of this year by SJTU-APGI to provide a unique opportunity for JI international students, who are unable to attend classes in Shanghai because of COVID-19 restrictions, to study on the campus of NTU, one of Asia's most highly ranked Universities. Throughout the program, SJTU-APGI will function as the university's overseas campus and provide the students with an international learning experience across different campuses.