The University of Michigan-Shanghai Jiao Tong University Joint Institute (UM-SJTU JI, JI hereafter) undergraduate student teams have captured all the major awards at the 13th SJTU Liming Cup Mechanical Innovation Competition for Freshmen. In the grand final of the competition held at the Tang Junyuan Student Innovation and Entrepreneurship Center on May 14, the JI teams took all the top four prizes as well as the three Best Design awards.
Twenty-three teams from different institutes of SJTU participated in the event starting at the beginning of April. After the preliminary round on April 13 and semi-final on May 13, eight teams entered the grand final competition.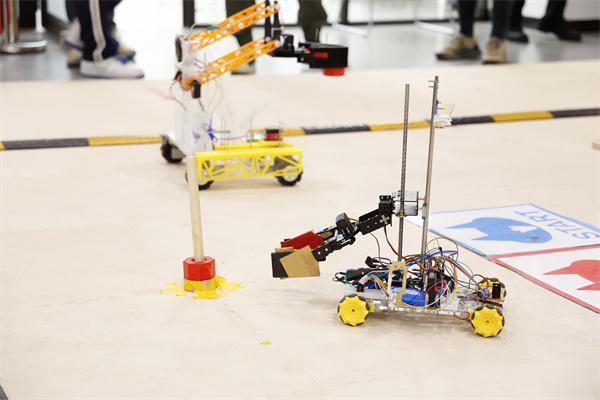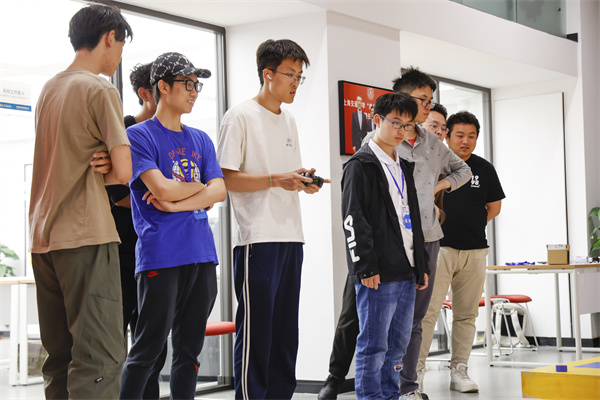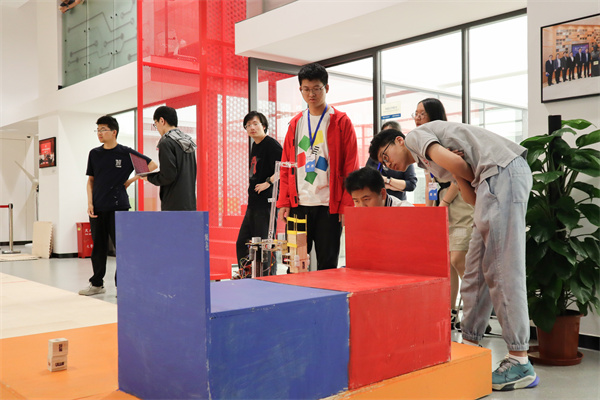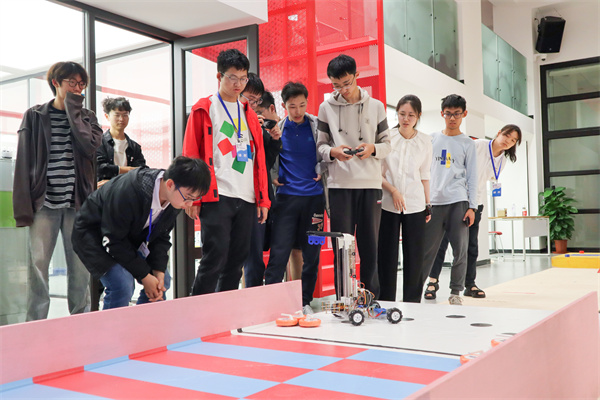 Onsite scenes of the final competition
The competition revolved around the theme of "Island," featuring a venue adorned with elevated islands, curling stone islands, and button islands, which served as task points. This innovative setup rigorously tested the comprehensive capabilities of mechanical structures, including their off-road ability, construction proficiency, and competitive prowess. Participating teams were tasked with designing intricate mechanical structures and devising tactical strategies to navigate between the islands, triumphing over diverse challenges like ring tossing and curling.
The final competition adopted an elimination format, with eight teams competing against each other in pairs, vying for the ultimate championship.  After multiple rounds of deliberation by the organizing committee regarding the final results, the JI Team "Roaming the Stars for You" from Class 2203, Team "Equal Pressure, Like a Code" from Class 2205, Team  "Four Two One" from Class 2206 and Team "Don't Mess with Me" from Class 2202 took the first four places. Team "Stark Industries" , Team "cancanneed" and Team "Stone Orchid" were awarded the Best Design Prize.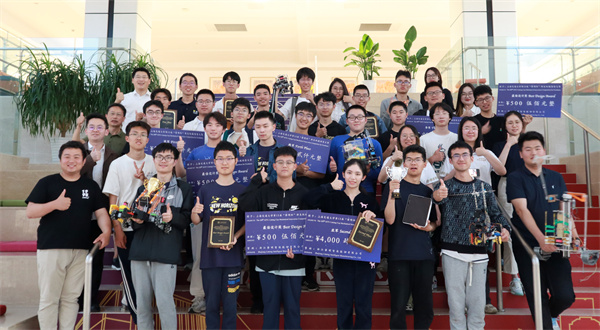 Group photo of prize-winning teams