The 15th UM-SJTU Joint Institute Board Meeting was held via video conference in both the University of Michigan and Shanghai Jiao Tong University on 8 p.m. May 9, 2014, Beijing time (8 a.m. same day, Ann Arbor Time).
Attendees in the University of Michigan included board members Mary Sue Coleman, President, Martha Pollack, Provost and Executive Vice President for Academic Affairs, Jack Hu, Interim Vice President for Research, David C. Munson Jr., Dean of the College of Engineering, James Woolliscroft, Dean of Medical School, and JI's Dean Jun Ni. In SJTU, JI board members Sixian Jiang, Chairman of the SJTU Council, Jie Zhang, President, Zhongqin Lin, Deputy President, Zhen Huang, Vice President for International Cooperation,Xuemin Xu, Vice President for Education as well as associate deans of JI and related deans of SJTU attended the meeting. All APG members of both UM and JI were present. President Jie Zhang and Provost Martha Pollack co-chaired.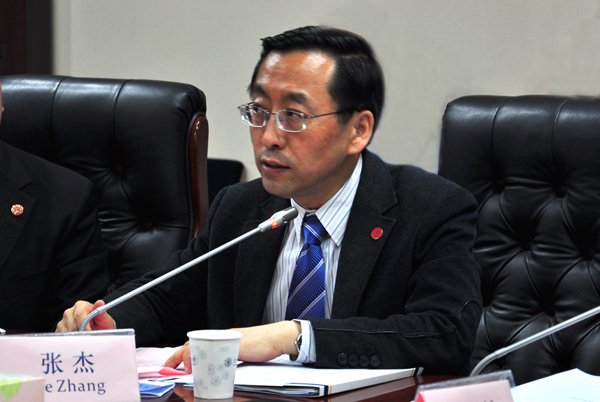 President Zhang first introduced Mr. Sixian Jiang, the new Chairman of the SJTU Council who succeeds Madame Ma Dexiu. Chairman Jiang is a SJTU alumnus with decades of experience in university as well as municipal administration.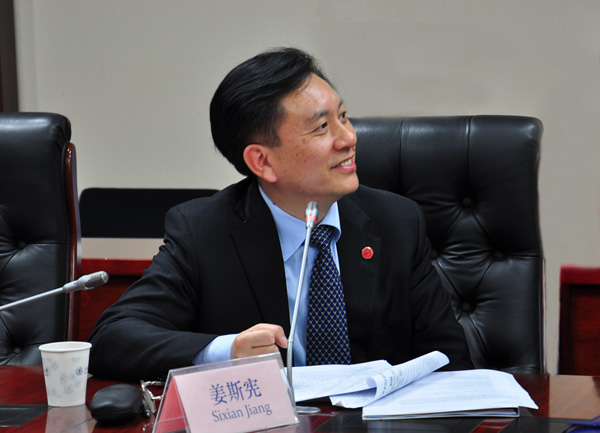 Dean Ni presented an update on JI's status, including a detailed financial report, statistics on student enrollment and placement, faculty recruitment and research development, and the progress of JI building. He showed that JI students' quality is catching up with that of Tsinghua University. He unveiled JI's new mascot, the Blue Tiger, which symbolizes all the good qualities of the JI students. On the other hand, he pointed out JI's challenges in revenues, faculty development, international student recruitment, autonomy in management, and fierce competition from other international universities in China.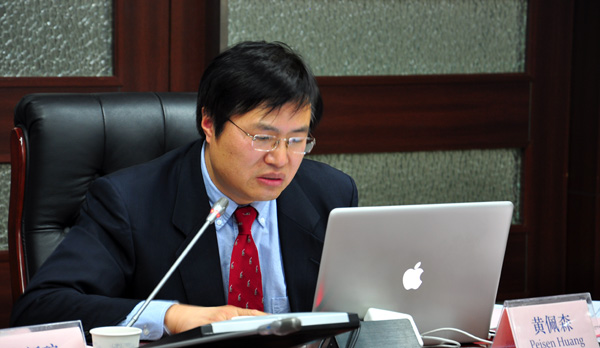 Representing the JI Dean Search Committee, Prof. James Holloway, UM Vice Provost for Global and Engaged Education, announced that Prof. Peisen Huang, currently JI's Deputy Dean for Academic Affairs, has been appointed as the new dean of JI, effective August 15 when Dean Jun Ni steps down. As JI's future dean, Prof. Huang introduced his vision for JI: Innovation, Internationalization, Quality (I2 Q). He intends to further internationalize JI and improve overall quality by innovative means. He laid out his 5-year plan for ABET accreditation, world-class faculty, state-of-art research facilities and IT technology, 30% international student body, highly competent staff, and substantial outside donation.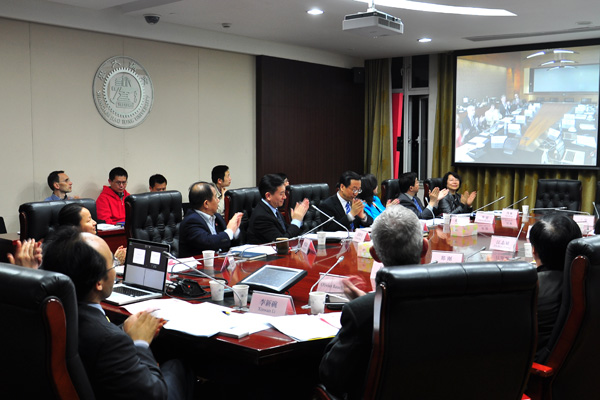 During the meeting, there were constructive comments and lively discussions on JI's new initiatives, including the proposal for a new Material Sciences and Engineering Program (MSE) at JI in collaboration with SJTU's MSE program (SMSE). The proposal was approved by the board. The attendees also discussed the challenges that JI is facing and gave feedbacks on the progress of UM-SJTU Joint Research Labs.
In her closing remark, President Coleman said she has enjoyed the wonderful experience of nurturing JI and she is proud of the successful collaboration between UM and SJTU. She believes that her successor, Prof. Mark Schlissel, will continue her legacy. Chairman Jiang thanked UM for their support and Jun Ni for his 8 years of contribution to JI and SJTU. He concluded," I believe that both universities will undergo rapid development as our cooperation deepens. I am confident in the future of our win-win collaboration. Let's continue to work together and create a new era of Sino-US educational cooperation."