Infinite creativity, frontier technology, and strong corporate presence abounded at JI's 2014 Winter Design Expo held at the SJTU Library on December 17. Forty-eight projects from freshman course Vg100 (Introduction to Engineering) and senior Capstone Design courses consisting of Ve450 (Major Design Experience), Vm450 (Design and Manufacturing), VM495 (Mechanical Engineering Lab), VX421 (Business Basics for Entrepreneurs), VX421 (Leadership and Business Management), and undergraduate Innovative Practice Program (IPP) were showcased. The throng of visitors including students, parents, corporate representatives, faculty and staff were dazzled by the wide array of innovative technologies, ranging from adjustable high-heels, barrier-free 3-D display, to finger-print recognizing printer.
Video Clips of JI 2014 Winter Expo
As a characteristic of the past Design Expo's, the corporate sponsorship was even more prominent this time. Nearly 20 projects were sponsored by 9 international and domestic companies, including GE, Siemens, Hewitt Packard, Intel, Covidien, Liming Engine Parts, Logic Solutions, and Giti Tire. A Siemens-sponsored project "Gas Turbine IGV Actuation System Miniature Model Development & Demonstration" won the gold prize of the Design Expo competition.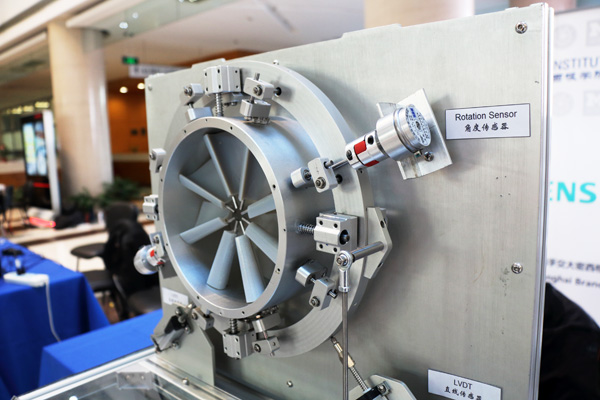 Design Expo Gold Award winner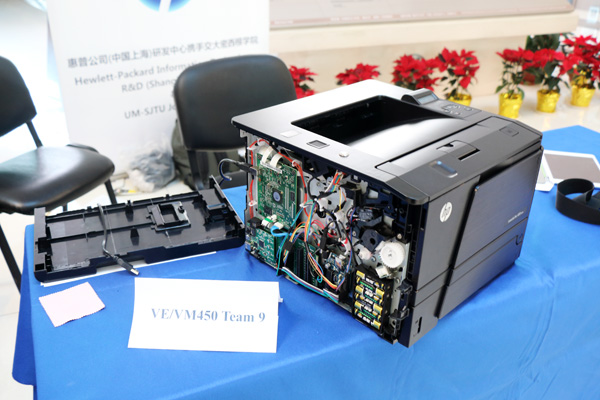 Best Teamwork Award:'Fingerprint-recognizing Printer'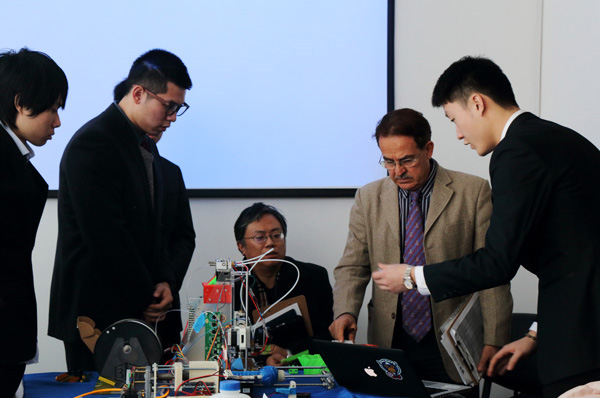 Demonstrating'Bioprinter for Heterogeneous Biomedical Scaffold Fabrication'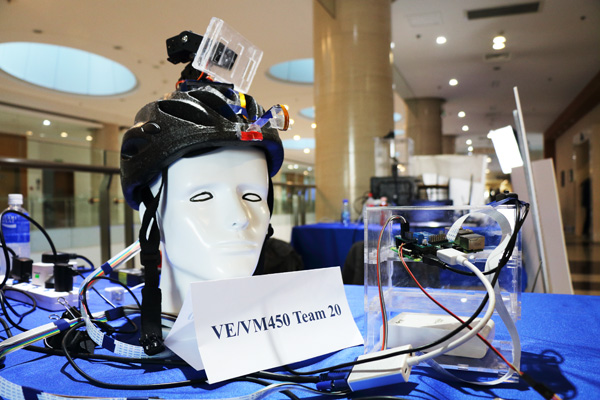 A Head Wearing Eye-tracking Camera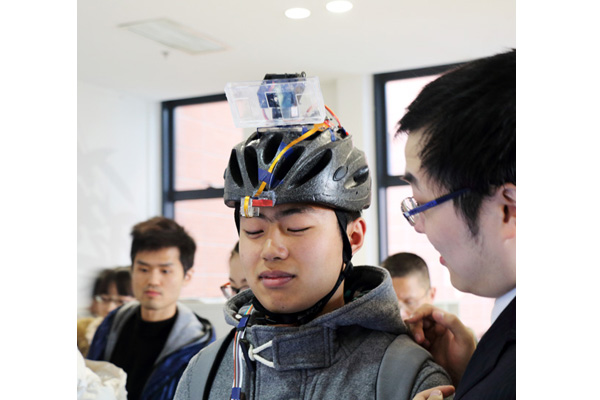 Demonstrating'A Head Wearing Eye-tracking Camera'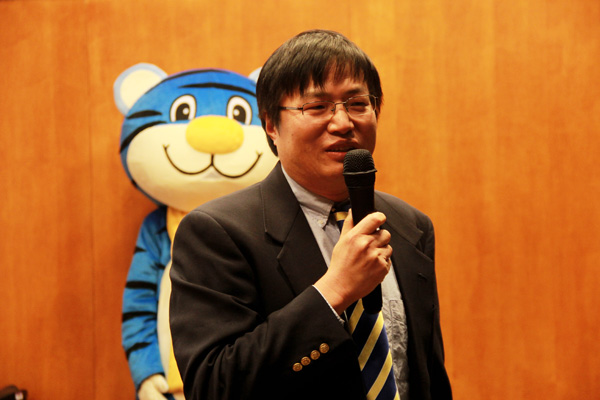 Dean Peisen Huang speaking at the award ceremony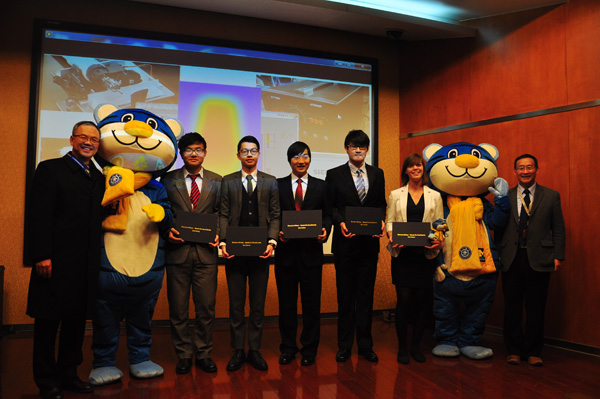 Vincent Chang, and Jin Chen, SJTU Library Director, giving award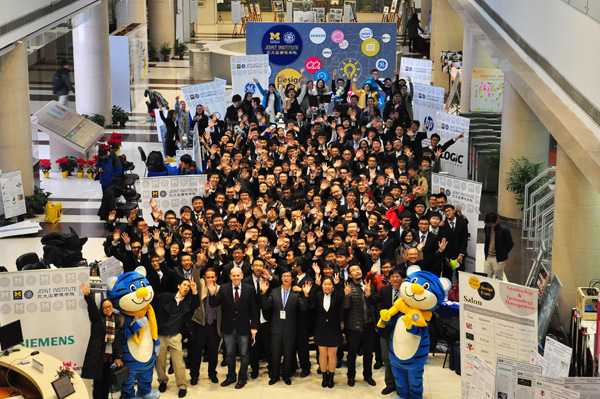 Design Expo participants and staff

The Winner List of JI 2014 Winter Design Expo:
Capstone Design:
Gold Prize:Gas Turbine IGV Actuation System Miniature Model Development & Demonstration
Team members:Yichao Yao, Jianwei Sun, Zhiqun Zhang, Junxi Zhu, Xiaofan Xu
Silver Prize:Bioprinter for Heterogeneous Biomedical Scaffold Fabrication
Team members:Renjie Li, Xiaomin Zhuang, Wendao Cheng, Jiayu Cao, Yingtao Wang
Silver Prize:True 3D Display Device without Glasses
Team members:Jianfan Yang, Fengkai Bao, Yuyang Huang, Ke Peng, Yuxin Song
Best Teamwork Award:Fingerprint-based Identity Recognition Printer
Team members:Linye Han, Yuxi Wang, Guangyu Jin, Paulina Tiana
Introduction to Engineering:
Best Technology Award:
Team members:Lars Vaagnes, Yubo Ren, Wei Hang, Zhenwei Yang, Jiaqi Zuo
Team members:Andy Hsiao, Yifan Jiang, Shenbin Zhu,Shihao Feng, Zijian Wang
Best Exhibition Award:
Team members:Yixiu Liu, Minghai Li, Wenhao Peng, Dongyan Xue,Ying Zhou
Team members:Zhen Chen, Zeming Luan,Tianyu Wang, Ru Xiang, Yihe Yang
Entrepreneurial Innovation Salon:
Best Commercial Project Award:  DITE-Disease Termination
Team members:Therece Bonnier, Ji Yin, Xi Deng, Kaiyu Chen, Wenqi Cao