At the 2014 SJTU Freshmen Debate Competition held on December 21, the JI debate team won the championship for the first time. As the cherry on the cake, two team members also earned the titles of "the Best Debater" and 'the Most Popular Debater" respectively.
At the final against the team from the School of Foreign Languages, JI team delivered an extraordinary performance debating on "Confidence versus humility – which is more important for university students." JI team argued convincingly on the merit of humility.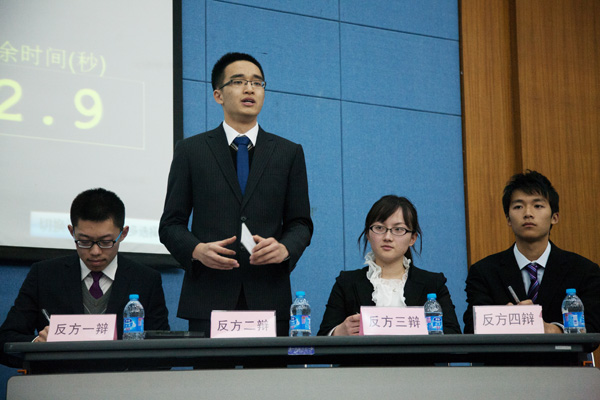 JI team delivering an outstanding performance at the final
As both teams are equally competitive, the debate was fierce with heated arguments flying like shuttlecocks. Facing the challenges, JI team members kept their cool, carrying out strong defense and smart offense brilliantly. First debater Xubo Leng opened their argument calmly and solidly; second debater Ximing Wu supported the argument with rich data; the third debater Xiyu Zhao carried out sharp rebuttals which augmented their winning chance; the fourth debater Jiacheng Li quipped like a natural, his eloquence rousing applauses from the audience. Finally, Xiyu Zhao won the title of "the Best Debater," and Jiacheng Li was selected unanimously as "the Most Popular Debater" by the judge panel.
The core of the JI debate team
Undoubtedly, teamwork is the key to JI's team's winning the championship. The JI team is composed of 20 freshmen (who participated in this competition) and sophomores who practice and train diligently under the coaching of experienced upper-classmates.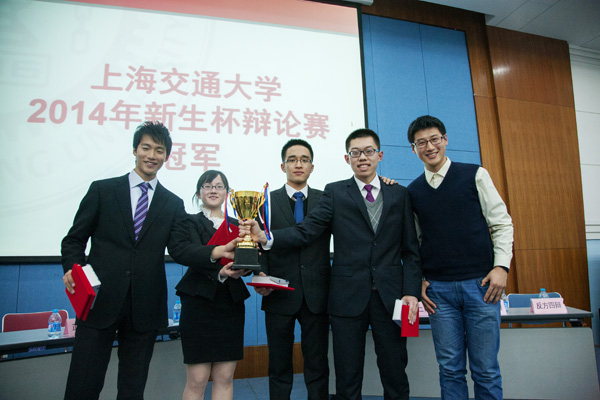 JI team savoring the sweet victory
JI students not only excel academically but also are well rounded with extracurricular activities. They have won numerous competitions over the years, including 2010 tennis tournament, 2012 soccer game, and 2012 women's basketball game, before this debate competition. The team members are confident that they will continue to make progress with hard work.