Forbes China, the Chinese-language edition of Forbes, unveiled the  2019 edition of its annual "30 Under 30 China" list recently featuring 600 young innovators, entrepreneurs and leaders who are challenging conventions and making an impact in the world.  The University of Michigan-Shanghai Jiao Tong University Joint Institute (JI) faculty member Rui Yang and alumnus Junbin Zhang were among the listees in the categories of science,energy and environment respectively.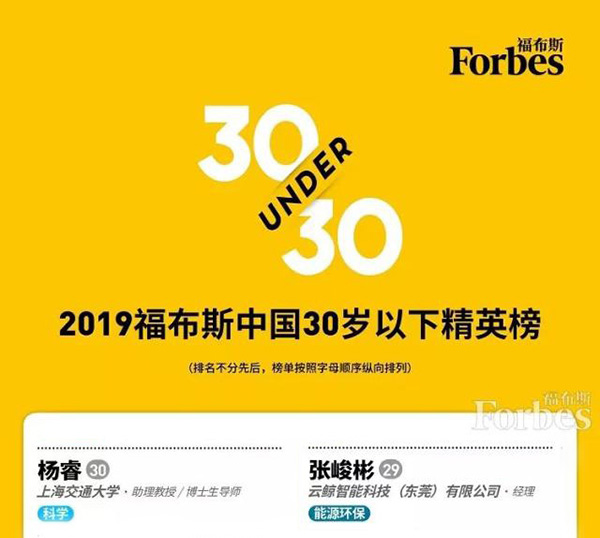 According to the announcement published on the official website of Forbes China, the listees of the 2019 list were vetted from aspects of influence, performance and innovation. Candidates must be born after January 1 of 1989 and be an outstanding entrepreneur, a leader of a big team in a company, a person-in-charge of a key project, a pioneer of scientific and technological invention, or various kinds of founders and leaders not limited to the above situations.
Rui Yang is a tenure-track Assistant Professor and Ph.D. advisor of JI.  He obtained a Bachelor's degree from Tianjin University in 2011, and a Ph.D. degree from Case Western Reserve University in 2016.  From 2016 to 2018, he worked at Stanford University as a postdoctoral scholar.  Professor Yang joined JI in August 2018.  His research group mainly focuses on RRAMs, NEMS, and 2D devices.  He also serves as the Associate Editor of journal Micro & Nano Letters, and the Reviews Editor of journal Nanotechnology.  In 2019, he was awarded sponsorship from the Shanghai Youth Science and Technology Talent Sailing Program by the Shanghai Municipal Science and Technology Commission, and obtained the Young Scientist Award in MINE 2019.  His research has been published in journals and international conferences including Nature Electronics, Advanced Materials, Nano Letters, Nanoscale, and IEDM, etc., with Professor Yang as the first author or corresponding author.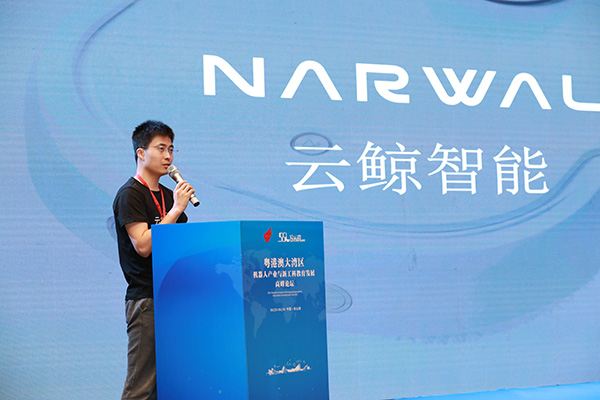 Junbin Zhang was a JI mechanical engineering graduate student of Class of 2012 under the guidance of Dean Peisen Huang, focusing on the development of super-precision mobile platform. Upon graduation, he set up the Yunjing(Narwal) Intelligence Technology Company, specializing in the design, development, and production of intelligent cleaning robots. "The idea of starting a business originated from campus, and was put into action after graduation. I am very grateful for Professor Peisen Huang who helped me most and is a very important advisor of my life. He taught me to treat everything strictly and meticulously. He taught me a lot of ways to do things. I also want to express my gratitude for JIers who have been accompanying and encouraging me all along. With your support, the future of Narwal is bound to be brighter," said Zhang.