The first East-China Penta-Hackathon was held at the University of Michigan- Shanghai Jiao Tong University Joint Institute (UM-SJTU JI) on November 21 and 22, attracting 120 participants from five universities in the east China. This competition was organized by Microsoft Research Asia and cosponsored by the Microsoft Student Clubs of SJTU, Fudan University, Tongji University, Huadong Normal University, Suzhou University and JI's Innovation Club. After 24 hours of fiery brainstorming, 28 teams completed the competition and presented their team projects. JI's two teams were among the five award winners and won both the "Best Technical" and the "Most Popular" awards.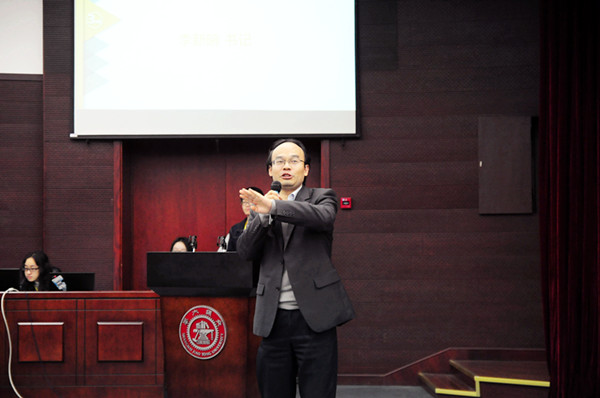 Professor Xinwan Li welcoming the participants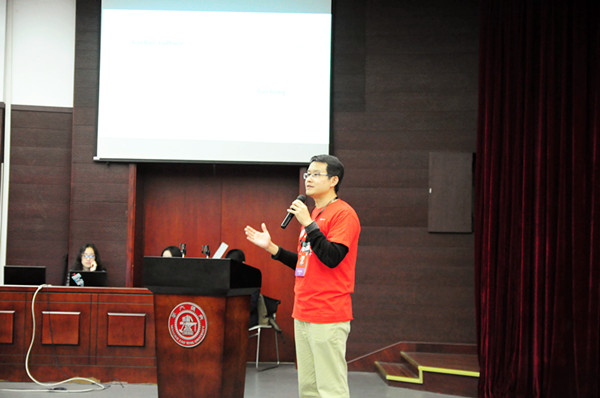 Dr. Wu Guobin, Head of Microsoft Student Club, introducing the hacker spirit
At the opening ceremony, Professor Xinwan Li, JI's Party Secretary, gave a warm welcome to the participants. Dr. kangping Liu from Microsoft Research Asia's Coop office and Dr. Wu Guobin, Head of Microsoft Student Club, introduced Hackathon and the geek spirit. As an industry sponsor, Mr. Zhao Huang, past contestant and now deputy manager of Turing Robot, shared his story of entrepreneurship and encouraged students to realize their dreams through teamwork and hard work.
Based on the software and hardware provided by the sponsors, participating teams consisting of four members had to brainstorm their solutions within 24 hours and presented their results with models and PPT"s.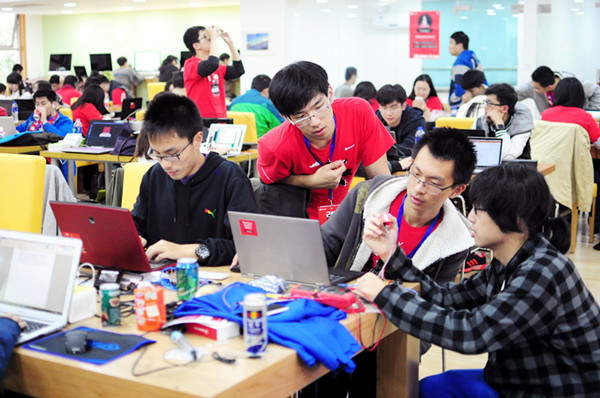 Intense discussion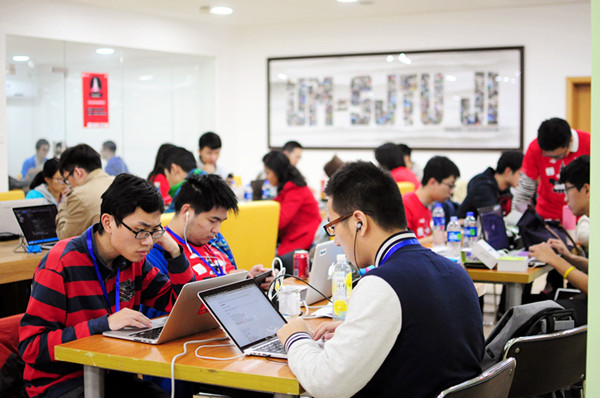 Racing with time
The contestants were mentored by many software companies such as Turing Robot, Hula Hoop, Simplr, Coding, Net and Star World. In addition to conventional research projects, the sponsors spiced up the event by sprinkling in flash speeches, a paper airplane contest and other fun activities. A wealth of information and entertaining programs attracted the attention of the participants, especially entrepreneurial speeches and robot performances. At the same time, Microsoft and other sponsors mentors provided advice on resource and feasibility through a three-minute Idea Review for each team.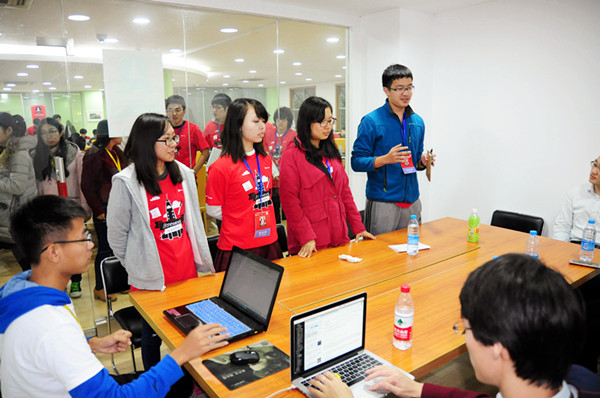 First round of Idea Review by mentors
After non-stop discussions and revisions, the contestants completed the 24-hour exhausting preparation at noon of November 22 and presented their projects at Microsoft's Zizhu Office in the afternoon. After the first round of heated defense, a total of twelve teams advanced to the finalists, which included three teams from JI.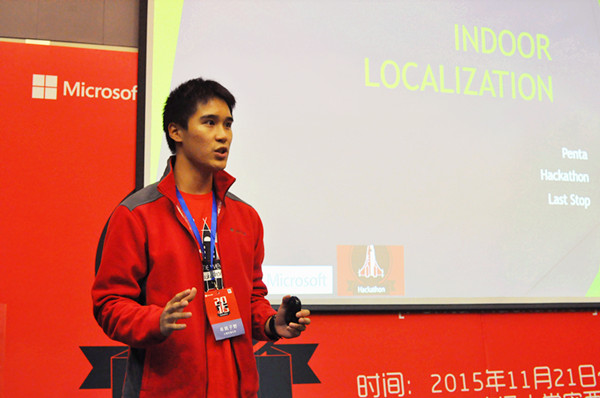 Final defense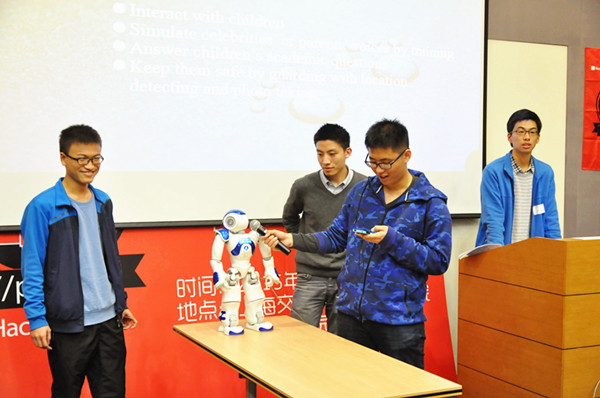 Demonstrating an interacting with NAO the Robot
The Hackathon gave out five awards. After fierce competition, JI's Ilers Team won the Best Technical Award with their Indoor Rastor Positioning project and another team won the Most Popular Award with their project simulating a space telescope with the Tracer. The other three awards are Best UI Design Award, Best Business Potential Award and Best Geek Award.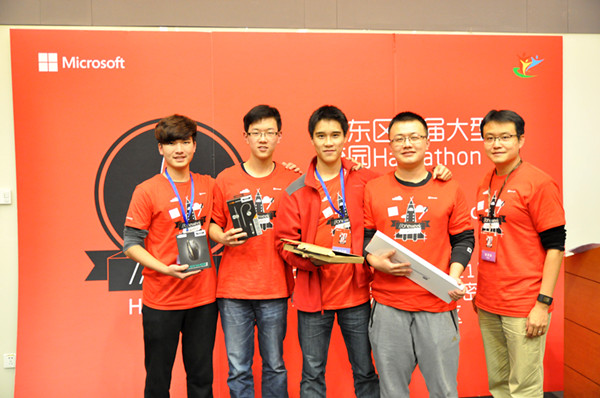 JI team ILers won the Best Technical Award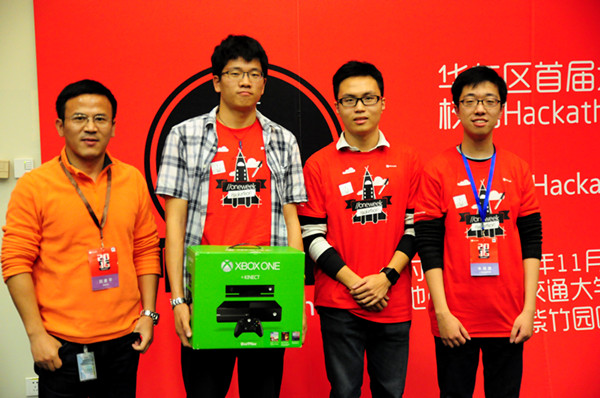 Dr. Kangping Liu of Microsoft with JI's winners of the Most Popular Award
About Hackathon
The word "hackathon" was a fusion of "hack"and "marathon,"originally referred as a marathon of programming competitions. After years of development , Hackathon is no longer limited to software development. Instead, it pays more attention to solving problems by team work. In recent years, the Hackathon has been held at world-renowned universities. Participants completed a project in a short time by brainstorming, which not only tests the contestants' programming skills and creativity, but also reflects the importance of teamwork. The Hackathon aims to instill the hacker spirit on each participant while ensuring that the participants enjoy the teamwork, innovation and hard work during the competition